In the Fade (Aus dem Nichts) is directed by Faith Akin, and stars Diane Kruger. The musical score is by Josh Homme of American band Queens of the Stone Age. The film is in the German language, and subtitled in English for American exhibition.
Katja, a German woman, is happily married to an ex-con of Middle Eastern descent; the two have had a child together, and he has cleaned up his life and now works in a tax office. When her husband and child are killed in a bombing, Katja must go to court to face those responsible. Will justice be served, or will she have to resort to other means to accomplish this?
In the Fade is not an action-packed thrill ride. It is a slow-moving character piece, looking at the life of one woman after her life is turned upside down following the deaths of the two most important people in her life. The drama feels authentic, and the fact that star Diane Kruger has chemistry with everyone she interacts with in the film, makes it all the more believable, whether she is paying a visit to the bath house with her best friend, or lunging in court at the woman responsible for her loved ones' deaths. Kruger makes the film in every single scene in which she appears, with the supporting cast faring nearly as well.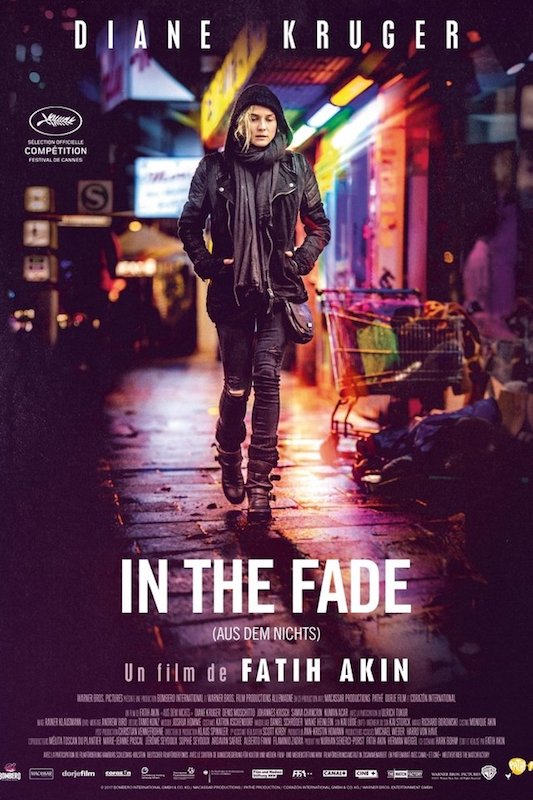 The film also benefits from making its leading lady a flawed human being. Her husband was once a drug dealer; this was how they met in the first place. She loved him while he was incarcerated, despite the ire of family and friends. To cope with her losses, she continues to use drugs. And yet, we grow to sympathize with this character and feel for her in her time of loss.
One must also give credit to the movie for staying grounded in reality; at no point does the movie feel over the top or like it is trying too hard. The circumstances and the hardships faced in the film are all quite believable. It is difficult to delve too deeply into plot details without spoilers, but you will be polarized and shocked by the movie's ending, even if you predicted it or saw it coming.
In the Fade is a realistic and brutal drama of a woman scarred by the loss of those she once cherished most of all in the world. The "slow burn" approach will not please all audiences, but those that give this movie a chance are sure to be impressed by what they find here.
Rating: Three stars out of four.
DISCLAIMER: The images in this review are the property of their respective copyright holders, including Warner Bros. Germany. For promotional purposes only. All rights reserved.