La Boda de Valentina (Valentina's Wedding) is directed by Marco Polo Constandse. It stars Kate Vernon, Ryan Carnes, Marimar Vega, and Omar Chaparro. The film is primarily in Spanish, but features English subtitles for American release.
Jason Tate is enjoying his life in New York City, working for the company of his mother Melanie, and having just gotten engaged to the beautiful Valentina, a Mexican woman residing in the United States. Unbeknownst to Jason, though, Valentina's family back in Mexico is a corrupt and controversial political family, with countless scandals to their name. During a return trip to Mexico, she agrees to help her father and his political ambitions, but it involves pretending to be married to an old flame! When Jason comes to Mexico to pursue Valentina, will the secret get out? And will their wedding go on as planned?
Around Valentine's Day, romantic comedies are a dime a dozen. And while La Boda de Valentina is not exactly anything revolutionary, the film manages to be laugh-out-loud funny with a great cast of characters, yet still has a heart. It also scores points for not giving the audience the obligatory ending that they may be expecting.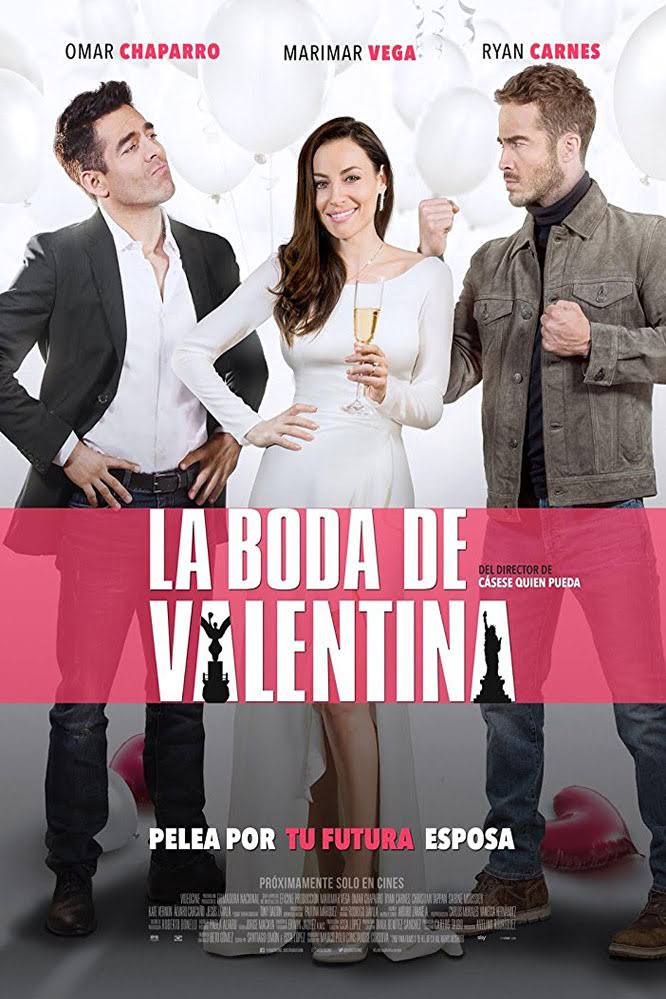 The cast of La Boda de Valentina is arguably the film's greatest asset; Ryan Carnes is quite convincing as Jason, who wants nothing more than to marry the woman of his dreams, all the while putting up with an overbearing corporate mother, and his wife-to-be's ex, with whom he has some unexpected misadventures in Mexico that are a definite comedic highlight. The beautiful Marimar Vega is fantastic as the titular character, facing the crisis of moving on with her life, and trying to find out who she really is. Despite the film's comedic nature, these scenes are quite believable and relatable.
Another major standout is the cast of actors and actresses playing Valentina's corrupt and boisterous political family. What is truly scary is that, despite this being a Mexican film and a comedy, this is a more accurate depiction of politics than many "serious" films are. Valentina's stepmother, a former beauty pageant contestant, gets some serious laughs, particularly in scenes where she is paired up with Jason's mother, something I wish the film had more of. These people are ridiculously over-the-top at times, yet the film still manages to maintain some semblance of reality and believability.
At roughly 110 minutes, the film is a little on the long side and does suffer from a few repetitive scenes, but it does at least have enough going on to keep the audience's interest, and does not let up on the humor. Finding a balance between laugh-out-loud comedy and a heartfelt story of sorts is no easy task, yet the movie succeeds here, and even may surprise audiences with its ending, albeit in a mostly good way.
La Boda de Valentina isn't going to win any awards for being a truly original film, but its cast beautifully combines hilarious humor with a more heartfelt and romantic storyline. You'll have a hard time keeping yourself from laughing throughout its duration, and should walk away satisfied with what you see here. A recommended viewing experience!
Rating: Three stars out of four.
DISCLAIMER: Images seen in this film are the property of their respective copyright holders, including Filmadora Nacional, HLP+Partners, Pantelion Films, and Videocine. For promotional purposes only. All rights reserved.