Film Stars Don't Die in Liverpool (hereafter simply referred to as "Film Stars") is directed by Paul McGuigan, and stars Annette Bening and Jamie Bell. The film is based on the book of the same name by Peter Turner.
In the late 70s, former famed actress Gloria Grahame is suffering from breast cancer. She befriends and strikes up an unlikely romance with much younger actor Peter Turner, and it is not long before the two become an item and are spending time with one another. The two reunite after a period of estrangement, but Grahame's health has taken a turn for the worst, with Turner's family taking her in to care for her in what could be her final days, with her refusing to see doctors or talk to her family members. Turner finds himself in a crisis of sorts as he debates how to handle the situation, knowing the woman he one had an unlikely romance with may not be around much longer.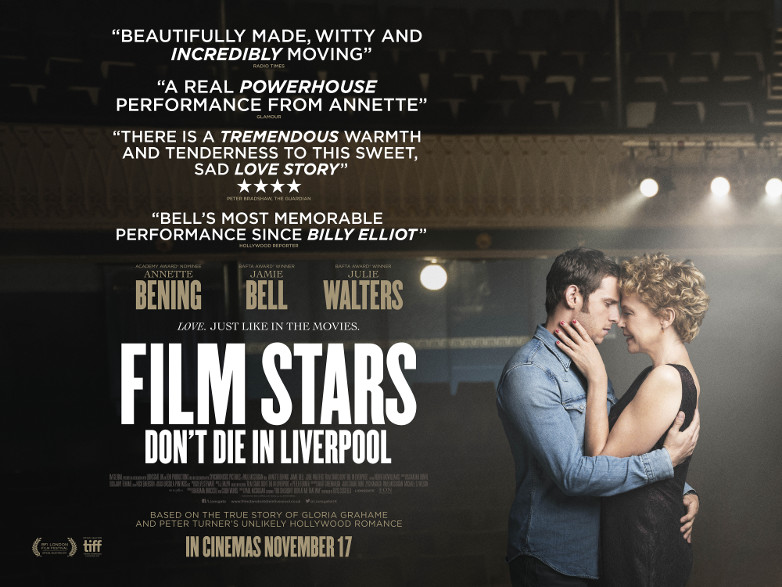 Film Stars sheds some interesting light on Grahame's later years; it is likely many people out there are unaware of what conspired in her life after her peak in Hollywood. Featuring a fantastic performance from Bening that ranks amongst her finest, and a well-written script, the movie manages to entertain with a solid mix of melodrama and humor alike, even if it is fairly predictable at times, with a few redundant scenes.
Annete Bening, who almost always satisfies, is the true highlight of Film Stars, portraying Gloria Grahame. Whether she is facing her own mortality, struggling with an identity crisis, striking up a new romance with a much younger man, or delivering a hilarious one-liner, this is Bening's movie from start to finish. And while the end results here are predictably heartbreaking, the journey along the way is filled with many heights. Her performance is further enhanced by Jamie Bell's portrayal of Peter Turner, who finds himself struggling to cope with the inevitable loss to come.
While the film is certainly melodramatic and at times disturbing due to its subject matter, it does score some points with its more humorous moments. A definite highlight for me would be an early scene in Grahame and Turner's relationship, going on a date to see a movie in 1979. The film itself is the absolute last one you would expect them to attend (I won't spoil it here), and Grahame's reactions, in contrast to the rest of the audience, make this a hilarious scene for the ages.
The film only has a few faults to its name, namely a run time that feels excessive in places, and a few redundant scenes. The "split narrative" that goes between the film's "present" and its past is a bit jarring in places, and it could have been a little more clear in regard to the transitions. But these are minor flaws in an otherwise solid film.
Film Stars features Annette Bening at her best, and delves deep into Gloria Grahame's dying days, shedding some light on this story. There are some minor narrative flaws, but they should not stop you from seeing Benning doing what she is best at, in one of her finest performances in years.
Rating: Three out of four stars.
DISCLAIMER: The images in this review are the property of their respective copyright owners, including Sony Pictures Classics and Lionsgate. For promotional purposes only. All rights reserved.