Black Panther is directed by Ryan Coogler. The film stars Chadwick Boseman, Michael B. Jordan, Angela Bassett, Martin Freeman, Letitia Wright, Forest Whitaker, Lupita Nyong'o, and Andy Serkis.
Following the events of Captain America: Civil War, Prince T'Challa, AKA Black Panther, returns to his homeland of Wakanda, to attend the ceremony at which he will be declared king, following his father's assassination. With Wakanda's true nature and advanced technology remaining isolated and hidden from the public and other nations, T'Challa and his warriors head to Korea in pursuit of longtime enemy and vibranium thief Ulysses Klaue, but also find themselves face to face with a mysterious new enemy with a connection to Wakanda, and T'Challa's own bloodline.
Long awaited and already breaking attendance records, Black Panther is another triumph for the Marvel Cinematic Universe, which has now entered its tenth year. Director Ryan Coogler's film gives us a look at new and unfamiliar elements of the Marvel world, with new and interesting locations, equally-compelling heroes and villains, and even some surprisingly strong racial and social commentary. And it manages to do all of this without alienating the existing Marvel fanbase.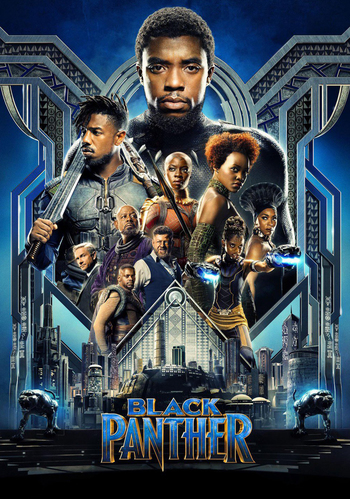 Enough praise cannot be given to leading man Chadwick Boseman, who was introduced into the MCU with Captain America: Civil War two years back. Right from his intro in that movie, this is a character the audiences wanted to know more about, and what the audience gets here is surprisingly entertaining, effective, and deep. Boseman plays T'Challa as someone who is flawed and conflicted, but who wants to lead his nation into a new age, helping others around the world and sharing resources, undoing the flaws and errors of his people in the past. Even if the movie is a bit predictable and overlong in places, Boseman has given this character the life on screen that he deserves.
We get an effective villain in the form of Killmonger, portrayed by Michael B. Jordan (who had previously appeared in director Coogler's earlier efforts, Fruitvale Station and Creed). Unlike many of the "paint-by-numbers" villains in the movies of the MCU, this character actually gets some depth, and a surprising connection to the hero. Hell, the audience will even find itself sympathizing with this guy, and it is likely many viewers will even agree with his plan rather than loathe him outright. Jordan is a criminally underrated actor, and it is great to see him finally coming into his own in recent years, getting the recognition that he deserves.
The supporting cast fares just as well, including Lupita Nyong'o as T'Challa's former lover, Martin Freeman reprising his role from Captain America: Civil War (and actually getting something to do this time around!), Letitia Wright as T'Challa's younger sister who also happens to be one of the most skilled inventors in Wakanda, and Andy Serkis (in a rare NON-motion capture role!) as Ulysses Klaue, reprising the role from Avengers: Age of Ultron. The movie throws a few too many characters at viewers, and it does become difficult to keep track of them all, but no one can deny that this film is perfectly cast and everyone plays their role ideally. It is one of the best cast MCU films to date.
That execution of the plot is handled surprisingly well, with nearly everyone seen in this movie being a new face to the MCU, with our titular hero and a handful of supporting characters being the few exceptions. From more emotional scenes between T'Challa and his followers to action-packed sequences, including an amazing street chase sequence in Korea, and the obligatory epic final battle with countless soldiers doing battle with one another, your eyes will be glued to the screen from start to finish, even in those rare moments where the two-hour-plus run time seems to lose some momentum and the narrative gets a bit bogged down. But there enough twists, turns, and compelling moments to win over viewers despite the shortcomings.
Where Black Panther succeeds surprisingly well is in its social and racial commentary. In the plight of the Killmonger character's past life (which I will not spoil in this review) and in T'Challa struggling with deciding how to run a country, this element of the film shines through. Race relations, revolutions, diplomacy, uprisings, the divisions of nations, and difficult moral decisions are all explored here. What is truly remarkable is that these elements do not come at the expense of action, humor, and the elements we have come to expect from the MCU over the years. In fact, this film easily ranks in the upper echelon of the franchise to date.
Black Panther gives us a three-dimensional hero, a compelling villain, powerful commentaries on real-world society, and everything else you could possibly want in a film based on a Marvel comic. Despite an overlong run time that drags in a few places, this does still manage to stand as one of the finest films in the franchise to date. Very highly recommended.
As with most MCU films, this one does include mid-credits and post-credits scenes.
Rating: Three-and-a-half stars out of four.
DISCLAIMER: All images seen in this review are the property of their respective copyright holders, including Marvel Studios and Walt Disney Studios Motion Pictures. For promotional purposes only. All rights reserved.