Every Day is directed by Michael Sucsy, and is based on the book by David Levithan. The film stars Angourie Ryan, Justice Smith, Debby Ryan, Lucas Jade Zumann, Colin Ford, Owen Teague, Maria Bello, Michael Cram, Jacob Batalon, and Amanda Arcuri.
Rhiannon is a teenager living with her family, which has become estranged and awkward following her father's breakdown. Her life away from home is frustrating in that she doesn't always get along with her boyfriend Justin. Over the course of several days, she has repeated encounters with "A," a mysterious being that wakes up in a different body every day, always in the same general area, and a person around the same age, either male or female. Through her encounters with A, she finds a kindred spirit and the hope for a better life, but quickly discovers that living a traditional relationship with A would be impossible, and finds herself struggling with how to make it work.
Every Day has an intriguing premise which has the potential to be a fresh spin on teen dramas, but sadly, the movie ultimately ends up bogged down in the traditional cliches of the genre despite trying to be original. That said, the talented young cast, in which many actors are portraying a single being, does well with the material at hand.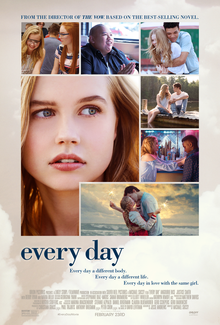 If there is one truly positive thing to be said of Every Day, it is the cast. Angourie Ryan is a regular girl living what seems like a regular life, and her reactions to the discovery of A are quite believable and natural. The bond they forge feels authentic, and this is no easy task considering how many characters are playing one being! So even if other aspects of the storytelling and the narrative falter, the movie does serve as a showcase for some up-and-coming teen actors who will hopefully have bright futures ahead.
Unfortunately, despite the premise, much of the movie does end up feeling like countless other teen movies out there. We have the typical boyfriend/girlfriend fights, problems at home that feel like they were culled from so many other films, and estrangement from friends/getting the wrong kind of reputation. Sadly, all of this works against the movie and leaves it feeling like something rather generic.
Every Day reaches high with an intriguing concept, but cannot escape the cliches of the teen drama genre despite its best intentions. That said, there are still things to enjoy about the movie, namely a large and talented cast, consisting primarily of actors playing teens, and in many cases, the same character in different bodies. It is a good but not great film, and will make for decent rental material upon its eventual home release.
Rating: Two stars out of four.
DISCLAIMER: All images in this review are the property of their respective copyright holders, including MGM, Orion Pictures, Likely Story, and FilmWave. For promotional purposes only. All rights reserved.