Firepower is the eighteenth studio album from Judas Priest, a heavy metal band that has never let up over the years. It marks the first album from the band to be produced by longtime collaborator Tom Allom in three decades. The band, particularly after reuniting with Rob Halford in the early 2000s, has continued to embark upon world tours, impressing fans in every corner of the globe.
Priest's lineup for Firepower consists of vocalist Rob Halford, guitarists Glenn Tipton and Richie Faulkner (who replaced KK Downing a few years back), bassist Ian Hill, and drummer Scott Travis. Disappointingly, following completion of the album, it was revealed that Glenn Tipton had been diagnosed with Parkinson's disease, and would not be able to accompany the band on tour, with co-producer Andy Sneap filling in for him on subsequent tour dates, although the band hasn't ruled out the possibility of Tipton making sporadic appearances on the tour.
Okay, now that we've got that out of the way, how does the latest album from the mighty Judas Priest fare? Are these British heavy metal maniacs still at the top of their game, or is it time for them to throw in the towel?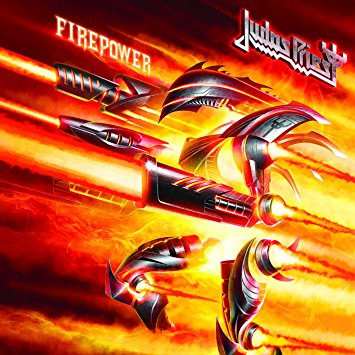 Anyone who makes the claim that rock is dead apparently hasn't heard Judas Priest lately. These guys are as hard and heavy as they've ever been, and their latest effort proves to be no exception. The reunion with producer Tom Allom proves to be a match made in heavy metal Heaven; from start to finish, this is one of heavy metal's greatest bands unleashing their strongest album since 2005's comeback record, Angel of Retribution.
Rob Halford is the voice of Judas Priest, and despite pushing 70, his vocals here are as good as they've ever been. This man has the pipes that put even men half his age to shame, giving these heavy metal anthems the force they need to keep the band as relevant and powerful as ever.
The rest of the band fares just as well, with the twin guitar assault of Tipton and Faulkner dominating on every track. Likewise, the rhythm section of Ian Hill and former Racer X drummer Scott Travis keeps things moving along brilliantly. Travis, in particular, shows on every single track what makes him one of the best men of his kind in the business. These guys have great chemistry, and the songwriting here is every bit as strong as anything they've ever done.
The album features a strong and diverse mixture of tracks. While the 14-track duration is arguably a bit excessive, when the songs are this good, I doubt anyone will mind. There are straight-up metal tunes, bluesy old-school rockers, and even a few slower moments including a great closing cut, though the acoustic moments on this record are fairly limited (hardly surprising with a heavy metal band). With Allom in the producer's chair, this album's sound hearkens back to their classic days, though doesn't exactly betray the more modern sound of recent records from the band. Will this album stand the test of time and one day be revered as a classic? Only time will tell there for sure, but so far, I'm loving the latest from one of England's most legendary bands.
Judas Priest kicks ass on Firepower; these guys are far from done rocking the world. Reuniting with Halford several years ago saved the band and revived them, and the equally-overdue reunion with producer Tom Allom makes this one of the most powerful Priest records in years. Are you a Judas Priest fan, or a fan of hard rock/heavy metal in general? If so, there's no reason not to add Firepower to your collection. Highest recommendations all around.