In the form of TailGun, rock and roll is alive and well in the City of Sin! Having started out roughly four years ago, these guys have been rocking venues all around Vegas with their bluesy hard rock, combining strong riffs with lyrics that approach Spinal Tap levels of rock and roll lunacy. Comin' in Hot, the first album from the group, was released in 2016. And now, two years later, we have the group's sophomore effort, Spreading the Truth!
TailGun is comprised of vocalist Dru Jaxin (formerly of the Aces High Iron Maiden tribute band), guitarists Rob EG and Larry Kelly, bassist Cory Kay, and drummer Mike Mitlyng (who has replaced former drummer Todd Turgeon). Anyone who follows the Vegas music scene knows this is a veritable "who's who" of rock and roll personalities, and seeing them together in one band is definitely something worth getting excited about.
With song titles like "Shakin' That Ass" and "3 Beers In," you can tell right away that these guys have fun with rock and roll. TailGun is that rare band that is musically proficient and quite talented, yet is not afraid of, to a lesser extent, going the Steel Panther route with many of their tracks; that they have the chemistry as a band to pull this off is impressive unto itself. And do not let that fool you; these guys are talented enough to rock the house, whether they're on the live stage or in a studio.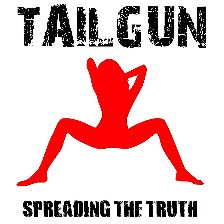 The thing I've always applauded TailGun for is their "back to basics" approach when it comes to rock and roll. There's definitely an AC/DC thing going on here, but the group also modernizes a bit, not content to play copycat. It's tough to compare them to any one band out there today, but that's a good thing. Jaxin's vocals dominate every track, and the twin guitars are right there up front too. These guys know how to keep your attention. The album doesn't exactly serve up any surprises or anything vastly different from the first record, but you'll have so good a time rocking out to this record you won't mind or care.
TailGun strikes back with Spreading the Truth! Again, it's not a release that's going to revolutionize the music industry or give you any substantial surprise after hearing the first album. It's just good old fashioned back-to-basics bluesy rock from a band whose musical chemistry is exceeded only by their senses of humor, yet at no point does the record feel like "comedy" or "parody." Highly recommended to all fans of classic-style, bluesy hard rock.