Nostalgia is directed by Mark Pellington. The film stars Jon Hamm, Nick Offerman, Amber Tamblyn, Patton Oswalt, Catherine Keener, Ellen Burstyn, Bruce Dern, John Ortiz, and James LeGros.
Nostalgia looks at the lives of many people, and what they leave behind when they die, as well as how those in their lives are impacted. Characters seen include an insurance claims agent, an aging and reclusive grandfather, his distant granddaughter, an old woman that lost her home in a fire but owns several valuables, a sports memorabilia store owner, and his sister that he meets up with to clean out their childhood home.
Nostalgia has an intriguing premise and some solid talent, but the movie is frustratingly dull, and its anthology-style storytelling prevents us from ever bonding with any of the characters. It ultimately boils down to frustratingly familiar melodrama, and stars that are not utilized to the best of their abilities. This story would have been a great television episode of an anthology series, but as a two-hour film, it's just boring.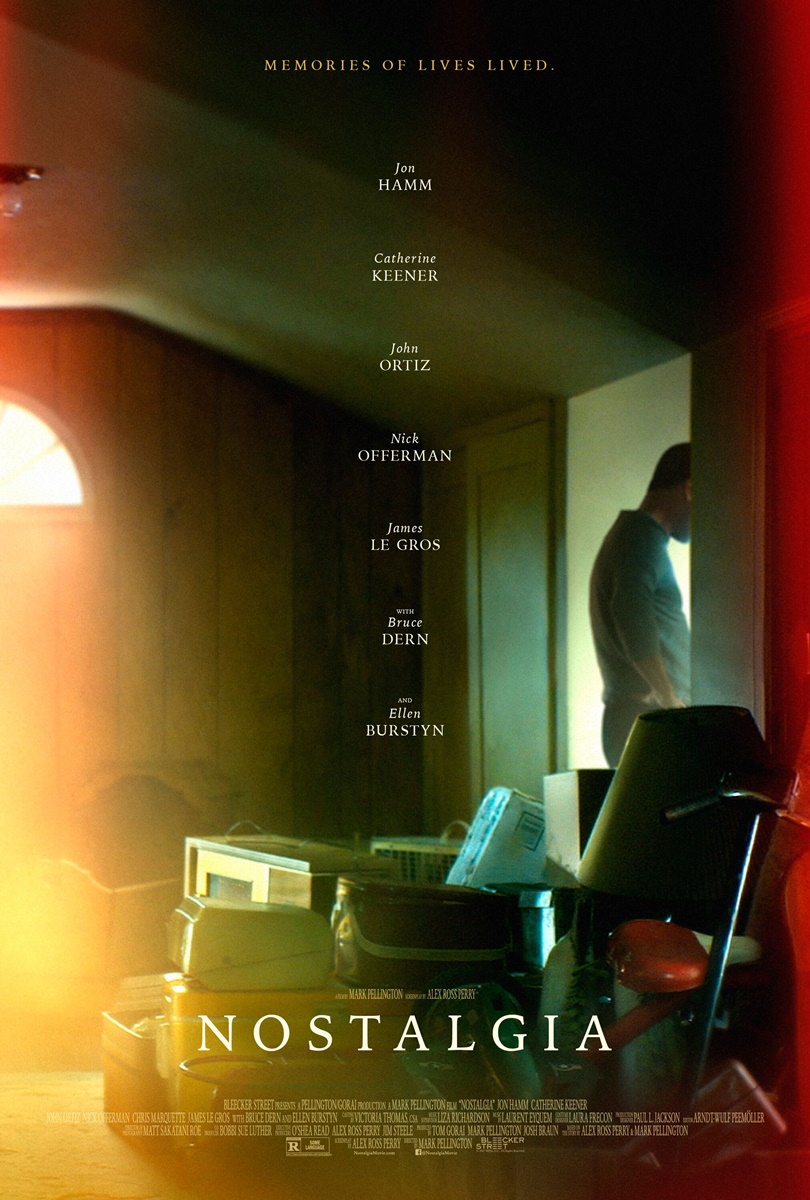 It is worth mentioning that there are a handful of talented actors in this film, and if nothing else, I'll praise their performances. Ellen Burstyn (probably best known as the mom from The Exorcist) does well as an aging woman contemplating her future following her home burning down, and Bruce Dern is solid as a distraught old man that has grown distant from his granddaughter. But because of the structure of the movie, neither gets to be in the movie that long. In fact, Dern doesn't appear again after the first scene! Another standout is John Ortiz as the insurance agent, and had this film been entirely from his point of view rather than abandoning him after the first act, odds are I'd be writing a more positive review.
The biggest problem with this movie is its structure. Essentially, we follow one story for a little while, and leave it behind to join someone else that was introduced in the previous story as they go on their way. This continues throughout the movie, and because of it, we never get to bond with anyone. We're left with unanswered questions in the brief time we get with each cast of characters, and as such, everyone lacks depth, no matter how strong their performances. At times, the film goes off on lengthy, drawn-out monologues that hardly feel real or authentic. The movie even feels the need to, for no reason at all, throw in a late-film tragedy out of left field that not only adds nothing to the movie, but turns it into more of a cliche.
I wanted to like Nostalgia, but the anthology-style storytelling simply doesn't lend itself well to a feature film, abandoning characters just as their stories are beginning to get interesting. Despite a few good performances from the cast, it just never quite comes together. If you're curious, wait and rent it when the home video release comes later this year.
Rating: One-and-a-half stars out of four.
NOTE: Although this film has been rated R by the MPAA, this rating is absolutely ridiculous, as the film, despite containing some thematic material, has almost nothing overly objectionable aside from one character who uses the word "fuck" on a few occasions. The content here is more PG-13 level overall.
DISCLAIMER: All images seen in this review are the property of their respective copyright holders, including Bleecker Street. All rights reserved. For promotional purposes only.