Thoroughbreds is directed by Cory Finley. It stars Olivia Cooke, Anya Taylor-Joy, Anton Yelchin, Paul Sparks, and Francie Swift. The film was released in January 2017 at the Sundance Film Festival, and got a wider release in March 2018.
Two former friends, Lily and Amanda, are reunited when Amanda's mom pays Lily to tutor her in school. The overly emotional Lily and the detached Amanda are polar opposites, yet the two rekindle their friendship and grow a strong bond with one another. Lily has grown disgusted by living with the torment of her pompous stepfather, leading the two to consider murdering him. Striking up an unlikely relationship with a sleazy man who owns a gun, the twosome seeks to put the plan into motion… but can they truly rely on one another, and will the plan work?
Thoroughbreds is the directorial debut of Cory Finley, and the final acting role of Anton Yelchin, who was killed in a freak accident just two weeks after filming his scenes here. But, if you've come to read this review, your question is surely whether the film is good or not. While it does suffer from a few too many plot elements and some minor shortcomings, the film is very good overall thanks to the performances of its two female leads.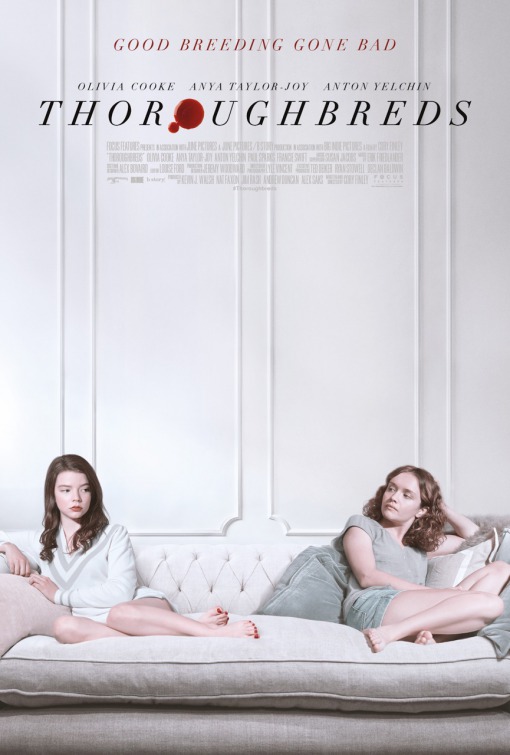 The standouts in this film are lead actresses Olivia Cooke and Anna Taylor-Joy. Much of the film is relegated to dialogue-heavy scenes in smaller locations with just these two, giving much of the experience the atmosphere of a stage play. With lesser cast and crew this could be disastrous, but the two have excellent chemistry with one another, and their (often witty) conversations feel believable. The direction and cinematography manage to keep things interesting, even when the movie gets a bit on the dialogue heavy side. A run time of just 90 minutes keeps things moving along smoothly, so you'll never be bored.
The supporting cast fares nearly as well, even if overshadowed by the leads. The late Anton Yelchin (best known to audiences for his portrayal of Chekov in the newer Star Trek films) plays a sleazy man, convicted of sex with a minor and who sells drugs to high school students, and is the one the girls turn to in their hour of need. This guy is genuinely creepy, and you'll hate him with each scene because Yelchin plays the role so brilliantly. It'd just too bad we'll never see him in another part after this.
If there's one minor flaw in an otherwise solid film, it's that not everything quite comes together as well as its should in terms of the narrative. The final scenes of the movie feel "tacked on" and don't quite sync up as well as they should. There are also many little subplots throughout the movie, and very few of them get the exploration that they should. But these things certainly don't derail an otherwise solid film.
Thoroughbreds is a fantastic debut from writer/director Cory Finley, featuring a fantastic script, superb leading ladies, and a great final performance from Anton Yelchin. This is a film that is well worth seeing.
Rating: Three stars out of four.
DISCLAIMER: All images seen in this review are the property of their respective owners, including Focus Features, B Story, and Big Indie Pictures. For promotional purposes only. All rights reserved.