The Strangers: Prey at Night (hereafter simply referred to as "Prey at Night") is directed by Johannes Roberts, and stars Christina Hendricks, Martin Henderson, Bailee Madison, and Lewis Pullman. It is sequel to the 2008 film, The Strangers.
Parents Mike and Cindy, and their two teenage kids, Kinsey and Luke, set out on a road trip to the boarding school Kinsey will be attending, as her rebellious nature keeps causing problems for her family and friends. Along the way, they stop off at a trailer park run by an extended family member, but before long, find themselves being hunted by mysterious masked killers. Isolated from society and technology in an unfamiliar environment, it's up to the family to keep their wits about them, and escape the killers.
Prey at Night is not going to score any points for originality, but it's a fun film for what it is. This slasher doesn't shy away from violence, and actually has a pretty solid cast including some superb youth actors, though in the long run, it does nothing to make itself stand out from other similar movies. Essentially, you pretty much know what you're getting when you come in here, with no real surprises.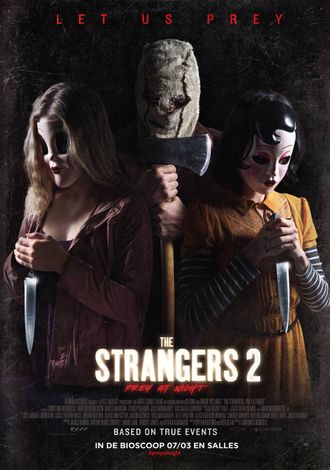 The best thing about Prey at Night is the cast. The family in the film, though they lack depth, and their drama is nothing new or original, is at least believable and fun to watch. In particular, Bailee Madison stands out at Kinsey, the girl who is troubled at home, but finds herself literally fighting for her life against mysterious masked assailants. The cast here does the best they can do with the material, and no one can argue that the film's central quartet is decently casted.
Unfortunately, the movie adds absolutely nothing new to the slasher genre. I give the filmmakers credit for making this a brief movie (it's over in less than 90 minutes), even if the pacing, particularly in its first half hour, is a bit slow and inconsistent. There's no depth or motivation whatsoever from the killers, either, which definitely detracts from their role. It boils down to something you've seen before countless other times on the big screen, usually done better. In many ways, especially with the quirky elements of the killers cranking 80s pop tunes, this feels like a throwback to classic 80s slashers. It isn't a bad film, but there's nothing here to make one want to run out and see it in theaters, either.
Prey at Night offers no depth, no surprises, and nothing new to its genre, but the performances from the young actors and the brief run time alleviate what would otherwise have been a below-average experience. It will be a decent rental title when it hits home video formats.
Rating: Two stars out of four.
DISCLAIMER: All images in this review are the property of their respective copyright holders, including Aviron Pictures, Rogue, BLOOM, White Comet Films, Intrepid Pictures, and The Fyzz Facility. For promotional purposes only. All rights reserved.