Love, Simon is directed by Greg Berlanti. The film is based on the novel Simon vs. the Homo Sapiens Agenda by Becky Albertalli, and stars Nick Robinson, John Duhamel, Jennifer Garner, Katherine Langford, Alexandra Shipp, Jorge Lendeborg Jr., Keiynan Lonsdale, Talitha Bateman, Tony Hale, Natasha Rothwell, Logan Miller, and Joey Pollari.
Simon Spier lives a fairly normal life in a suburban town, living with his mom, dad, and sister, going to school and hanging out with friends. But there's one major twist – no one knows he's gay. Not even his family or best friends. Befriending another gay classmate on an online forum he doesn't know the identity of, he contemplates his future, debating whether to come out of the closet or not, fearing the impact it may have, and the changes it may bring. Things become even more complicated when he's blackmailed by another student who knows his secret. Will he come out, and if he does, will his friends and family be on his side?
Love, Simon tackles a rather edgy subject on a scale that no major Hollywood production had to this day, despite it being something that is becoming a bigger part of youth culture than ever before. Needless to say, I had my doubts as to how something like this could be pulled off in a feature film. Fortunately, Love, Simon succeeds in almost every way, thanks to a fantastic cast, great writing that is simultaneously dramatic and hilarious, and the way it captures modern teenage/high school life. Aside from a few pacing issues in its final act, the film is something Hollywood and mainstream moviegoers have been long overdue for.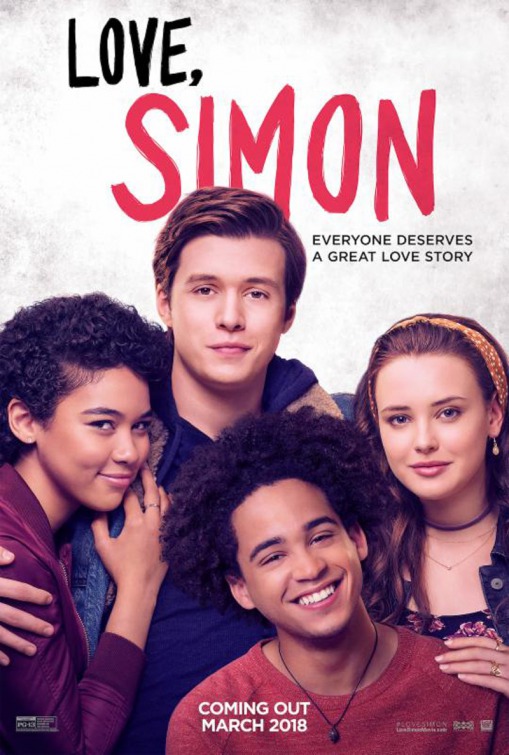 The true standout star in Love, Simon is Nick Robinson, who stars as the titular character. The film does an excellent job painting a picture of his life; he is clearly a young man that loves his friends and family, yet struggles with his secret. Robinson's acting and the superb writing help to make Simon a three-dimensional, relatable character that audiences will be rooting for and sympathizing with from start to finish, whether he's unwinding with friends, contemplating the future, or struggling with his own decisions and thoughts. Even everyone around Simon feels relatable to audiences, and even the closest thing the film has to an antagonist manages to feel sympathetic on at least one occasion. A true standout in the cast who the film criminally underuses is Tony Hale as the Vice Principal of Simon's school, who gets a handful of entertaining scenes.
The overall tone of the film is perfect, beautifully blending teen drama and struggles with laugh-out-loud humor. Many comparisons have been made between Love, Simon and John Hughes' classic 80s teen/high school films. This is certainly a tall claim given the level of the classics Hughes made in his prime, but in all honesty, this isn't too far from the truth. Teen movies these days often feature characters that are one-dimensional stereotypes, and feel manufactured and contrived. Love, Simon is the exception to the rule, thanks to its cast, writing, and direction alike, not to mention the strong source material. I don't remember the last time I've seen a movie that nearly had me in tears both from genuinely dramatic and touching moments, and from laughing so hard in the more comedic ones. The movie juggles the comical and dramatic content with ease; something few other movies can, with some of the funniest moments coming from Family Guy-esque cutaway gags that, surprisingly, don't detract from the film or feel like a cry for cheap laughs.
The movie also doesn't shy away from the harsh reality faced by its leading man. He has a father that frequently makes jokes about him being a ladies man, or teasing of gay people. He struggles to tell anyone his secret, including his lifelong best friend. The aftermath of the film's second act leaves him feeling alienated and distraught, even by those closest to him. Love, Simon isn't set in a fantasy world where gay people are instantly accepted and loved no matter what. It's set in the real world, and all the stronger a film because of it, making the conclusion and outcome all the more rewarding. Furthermore, it's not a film you have to be gay to enjoy; I think any viewer will find characters and a narrative they can sympathize with.
The only major complaint I have of this otherwise superb film is its pacing, particularly in its third act, which goes on longer than necessary. Don't get me wrong; I absolutely loved spending 110 minutes with this cast, and would be first in line for a sequel. But the aftermath of the second act seems to drag on longer than necessary, and there are a few places where it runs out of steam. Roughly 10-15 minutes of edits would have benefited the film, though the final product is certainly not weak as is.
Love, Simon is the first major film of its kind, and it isn't likely to be the last (we probably won't have to wait long before all kinds of imitators hit theaters). It succeeds with a powerful message, superb writing, a great cast and crew, and is one of the best teenage/high school experience films since the glory days of John Hughes. Regardless of who you are, you'll find something to like about this film.
Rating: Three stars out of four.
DISCLAIMER: Images in this review are the copyright of their respective owners, including 20th Century Fox, Fox 2000 Pictures, and Temple Hill Productions. For promotional purposes only. All rights reserved.