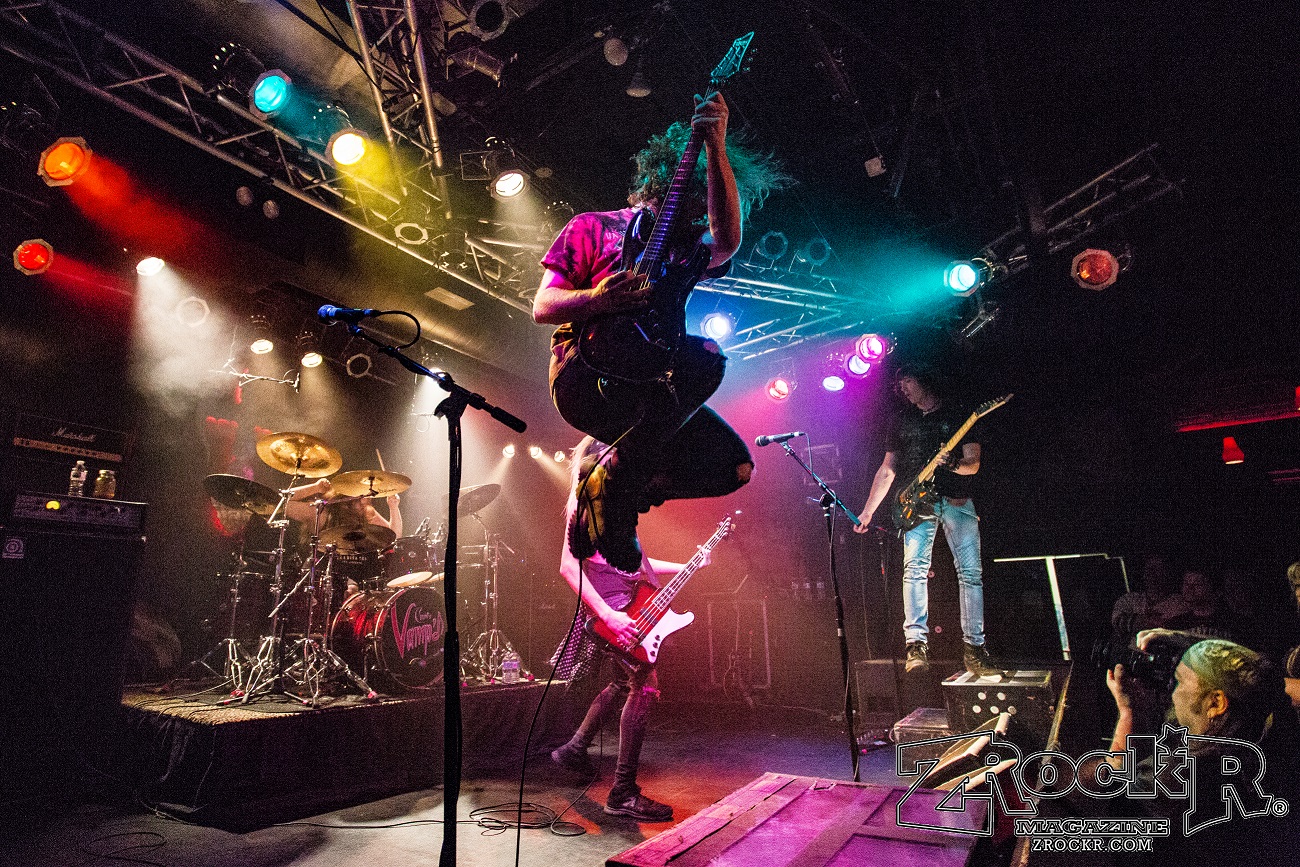 Sin Circus – Count's Vamp'd – March 23, 2018 – Las Vegas, Nevada
Sin Circus … I wasn't sure what I'd be walking into as I approached the doors at Count's Vamp'd. As soon as they hit the stage, I got all wide eyed… these guys are fucking cool. All dressed to a grungy, metal, hard rock attire, along with more energy in a less than one hour set than I've seen in a long time. Made up of Derek Unger (lead vocals/bass), Devon Unger, (guitar/vocals), Alex Black (guitar/vocals) and Chase Hite (drums/vocals), Sin Circus hails from Puyallup, Washington outside of Seattle. (The Unger kids are the spawn of Metal Church's Steve Unger. How much cooler can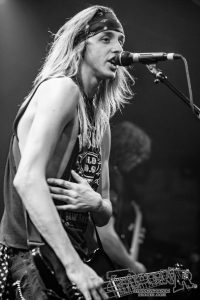 you get?)
Young, hot, and put together!
These guys have this very well put together hard rock sound full of catchy riffs, and more technical sounding solos. Along with a little bit of a mixture of clean vocals, and some harsher ones, (I won't call it screaming, it's not. It's just harsher. Like, yelling? No. Not that either really. I digress.) anyway, it was very pleasing to listen to as a hard rock/metal enthusiast.
Going back to the energy these guys have… they all look to be in their early 20's, and it shows on stage. Jumping around, fantastic interaction with the crowd, and even at one point Derek had jumped off the stage into the crowd, and did his thing right where the fans were. I always love when I see bands/musicians do this. It's a connection to the audience that you don't forget about after you've seen it.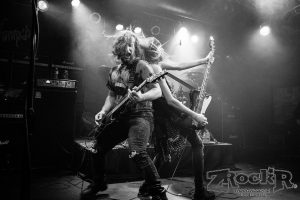 Favs
My personal favorite part was their rendition of more than a handful of rock/metal classics all meshed into about a 6 and a half minute masterpiece. From "Bark at the Moon", to "Cat Scratch Fever," to "Metal Health," running down further into "Breaking the Law," and "Looks to Kill" in the center… then leading into "Hangar 18," (Megadeth is one of my favorites… so, fuck yeah guys.) finishing with Iron Maiden's "Hallowed Be Thy Name." (I probably missed a few songs, however, there are videos of this performance and others of them playing this specific set of greats, it's worth checking out.)
ENDGAME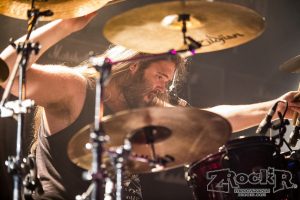 The show finished up with a very hyped crowd, and a group photo taken of them and their viewers. Another thing I love to see bands do. They're very much worth going to see, even if you're not into the style, they're entertaining to watch. It doesn't hurt that they're good looking young guys as well. (Ladies, and some gents… eye candy is always nice!) These guys are headed in the right direction to big, big things. If you have the chance to see them, TAKE IT! And rock on!
You can find these guys on Facebook, at https://www.facebook.com/SinCircusBandOfficial
PHOTO CREDIT: Courtney Ware for ZRockR Magazine  ©2018 ZRockR Magazine – All Rights Reserved