Blockers is the directorial debut of Kay Cannon, and stars Leslie Mann, Ike Barinholtz, John Cena, Kathryn Newton, Geraldine Viswanathan, and Gideon Adlon.
Julie, Kayla, and Sam have been best friends since elementary school, and at last, the night of their prom has come. The threesome makes a pact to lose their virginity to their prom dates, but when their parents catch wind of their plans, they set out to stop it from happening, thinking it could have life-ruining repercussions on their daughters. Unexpected escapades for the youths and their parents alike ensue.
Blockers is Kay Cannon's directorial debut; prior to this she was best known as the writer of the Pitch Perfect films, which despite mixed receptions have been box office successes. The trailer for Blockers made it out to be something of a raunchy comedy that went for cheap laughs, but I'm pleased to report that the final film, despite its relentless R-rated content, actually manages to have a heart, and some depth and character development. It has its share of over-the-top gags and gross-out moments, but the laughs are at least balanced out with some good writing and characters we give a damn about.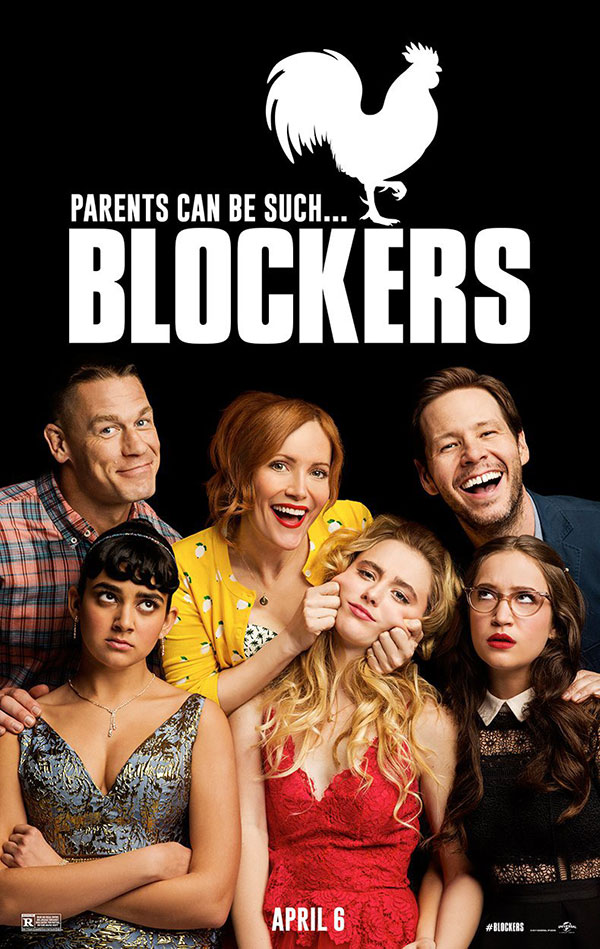 The trio of parents and the trio of daughters alike, despite not being the biggest A-list names, are fantastic at what they do here. Although John Cena is best known to the world as a professional wrestler, he's been popping up in more and more films lately, and his role as an overemotional parent here is one of his best (and funniest!) to date. The daughters aren't just one-dimensional "let's get laid" types, which makes their performances more believable and relatable. What's truly surprising is the revelations and development at the end of the movie, which provides some interesting commentary on parenting and being a teen in today's world, which is surprisingly deep for an R-rated comedy.
However, despite the film's heart, I should warn viewers that the movie doesn't veer away from raunchy, R-rated, politically incorrect content. It's not a movie for the easily offended or grossed out! I won't go into details, but I will say that the film's trailers just scratch the surface. If you're squeamish, take your business elsewhere.
At times the movie does get a bit too bogged down with its characters; there are too many families to keep track of, and assorted side stories and the like that don't get explored. You'll likely be mixing up the families/characters/etc. at a few points in the film. Granted, this is a comedy, so an issue like this isn't a total loss, especially considering we get likeable characters and something that isn't just a one-dimensional collection of hit-and-miss gags.
Blockers is raunchy, R-rated comedy with hilarious gags, and actually manages to give its audience some depth and likable characters. In a world dominated by weak, generic comedies that go for the cheap laughs, Blockers is a breath of fresh air. Steer clear if you're easily offended, but if you want to laugh and enjoy yourself, look no further than this one.
Rating: Three stars out of four.
DISCLAIMER: Images in this review are the property of their copyright holders, including Universal Pictures, Good Universe, DMG Entertainment, Hurwitz & Schlossberg Productions, and Point Grey Pictures. For promotional use only. All rights reserved.