The Darkness – March 30, 2018 – Brooklyn Bowl – Las Vegas
Ah, The Darkness…  When this show was announced, I remember thinking, "Oh, that should be fun…"  Specifically remembering the song, "I Believe in a Thing Called Love", and how fun overall that track was back when I first had heard it. (Which, I couldn't tell you exactly when I first heard it, just that I was young, and I always got a kick out of the music video when I'd see it on television.) But more on that song later…
Diarrhea Planet
Diarrhea Planet opened up the night. By the sound of their name, I really wasn't sure what I was in for. What was delivered was high energy, all over the stage movement.  And 6 guys that really look like they're just having a ton of fun. Yes, I said 6 guys… There were FOUR guitarists for this garage punk band from Nashville. I've never seen a band with 4 guitarists, so that's pretty cool. It's one of those things that stands out and is really interesting. Your typical band out there these days has between 3-5 members. (This is a generalization by the way… I know there are exceptions!) But it was definitely something you see and you remember it partially because of those additions. One of the highlights from their set was when one of guitar players jumped over the stage to someone's lane on the VIP side, and bowled. (I tried so hard to get photos of this, a bit too dark and crowded.)
This wasn't their first time in Vegas, and I certainly hope it's not their last. They put on a great show that any fan of almost any style of rock n' roll can appreciate.
www.http://diarrheaplanet.com/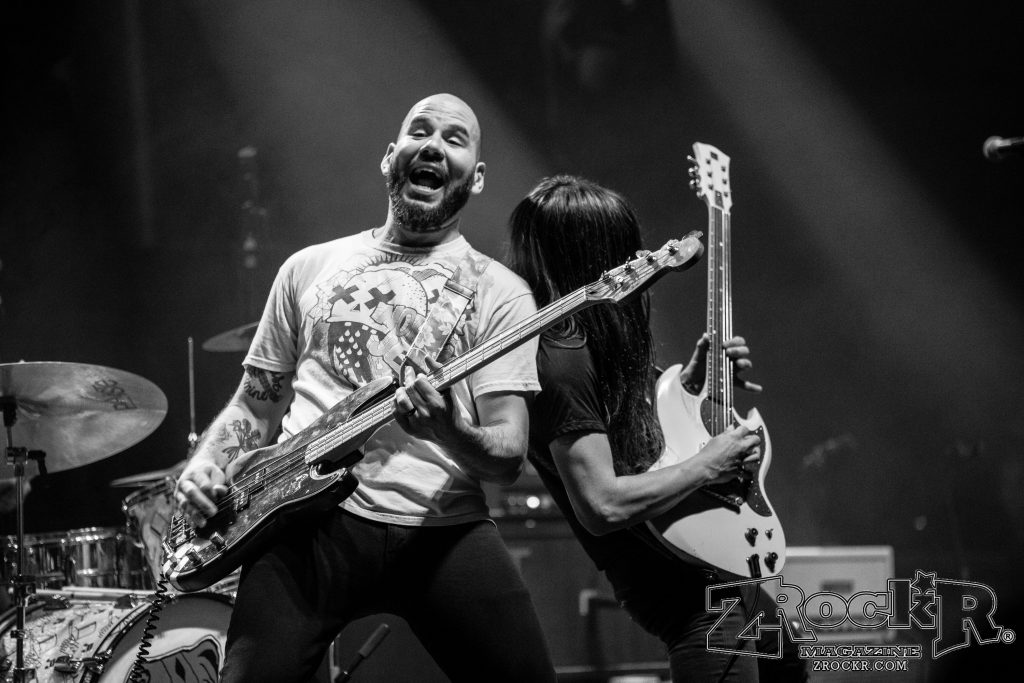 The Darkness
Now we have The Darkness… The lights dimmed, and out onto the stage came Justin Hawkins in a cheetah print getup. They kicked off their set with "Open Fire", a track off of their 2015 release, Last of Our Kind. It really set the tone for a very energetic, fun performance. Not long after this opening, Justin starts speaking about one of the band members having some sort of burn, and was in a great deal of pain. The crowd screamed out guesses as to who it was, (it was Dan Hawkins, guitarist and younger brother of Justin.) this provoked an interesting conversation between the band and the crowd throughout the next few songs.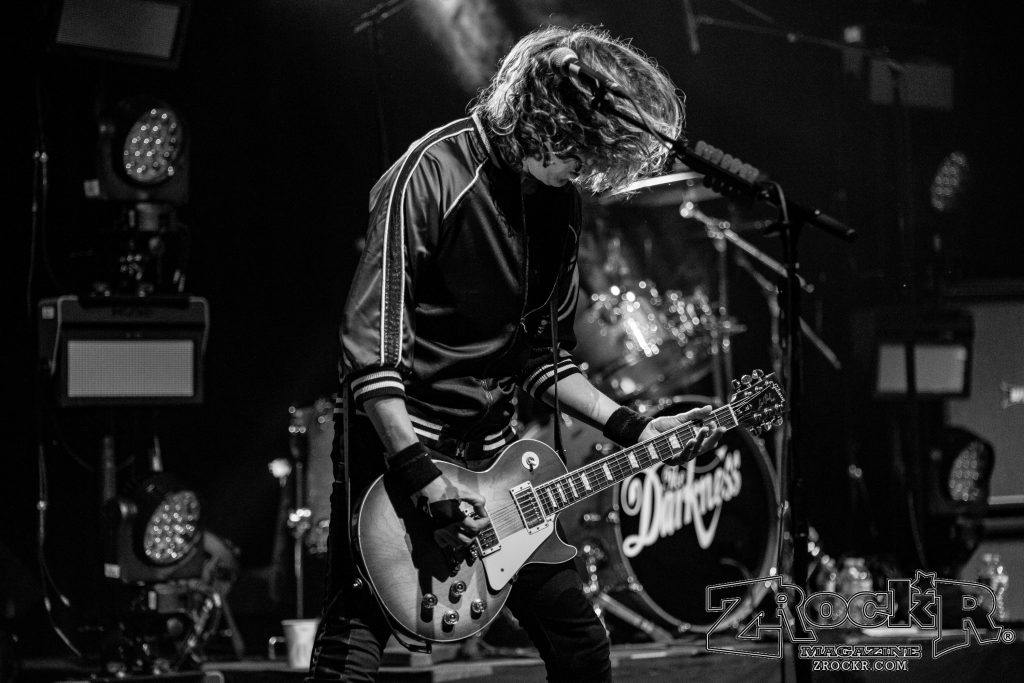 Comedic
It was made aware to people who haven't seen them before that there's a special kind of challenge that Justin partakes in during these shows. These are unique to the place of the event. In this case, it was to throw a pick at the glowing disco-like ball hanging above the crowd. Took him about 3 tries but he did it! Between this, and Justin halfway undressing himself, the crowd's excitement just continued to grow. In between songs, in continued interaction with the crowd, (this literally goes on the entire show, it's hilarious and entertaining!) a picked out member of the audience is having back and forth banter/conversation, which almost turns Justin into a full on comedian.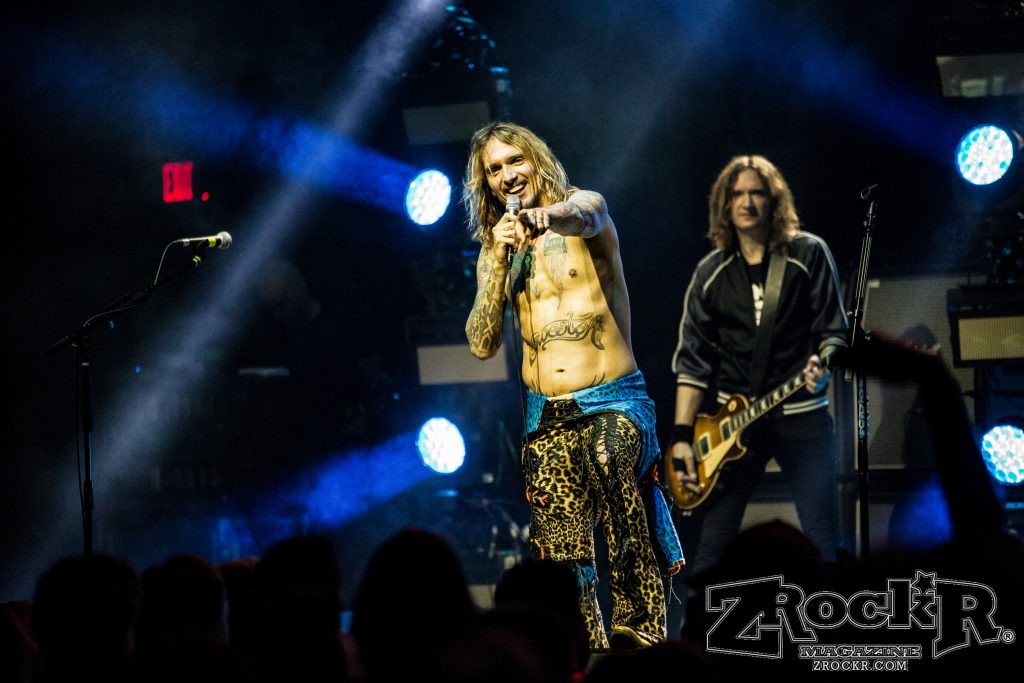 Back to "I Believe in a Thing Called Love"…. I'll admit that this is the only song I was familiar with. This song was the final song for the night. Right after the teaser last song, the band comes back out for their encore… vocalist Justin Hawkins in just his boxers now, along with a hat that he had taken from an audience member just a little bit earlier. I had made my way to the center floor, not completely near the back, but far enough to get really cool looking crowd photos. It was here where I had interaction with the happy, friendly crowd, in the last few minutes of the night. Everyone was dancing and singing, and even though there was a "No Cell Phone Usage" notice about this show, for this last song it didn't seem to matter. You could clearly see some phones in the air to capture these last moments.
Conclusion
In conclusion, this was overall a fantastic show. As I previously mentioned, I hadn't heard anything from them in years, and I had never seen The Darkness play live  until this night. I definitely wouldn't pass up an opportunity to see or photograph them again in the future!
This tour continues through April, so if they come to your city, make sure you don't miss them!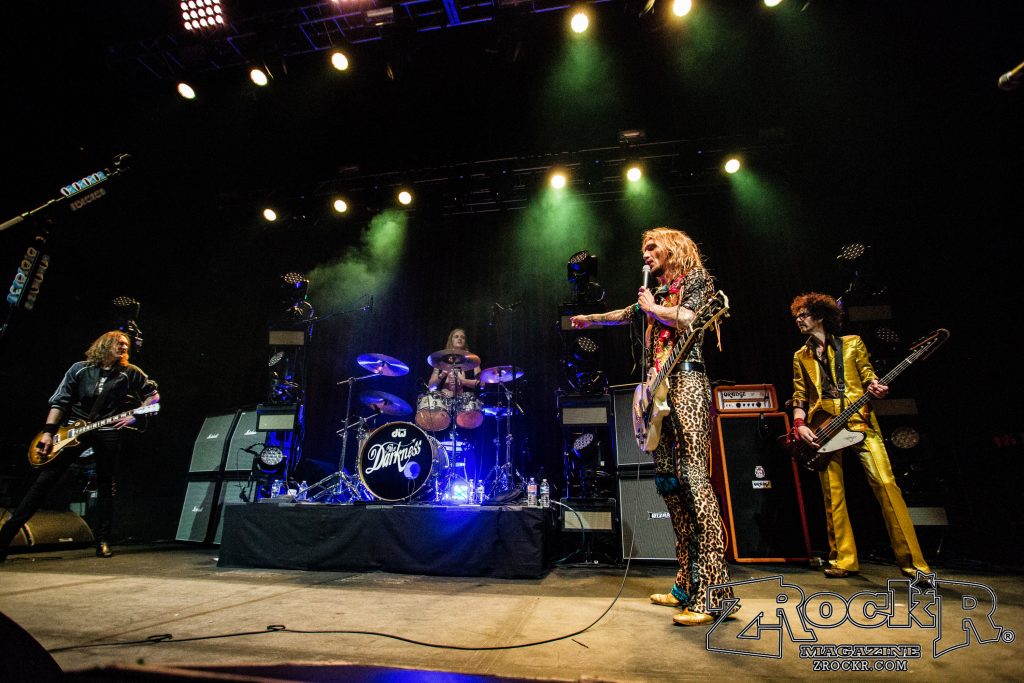 PHOTO CREDIT: All photos by Courtney Ware for ZRockR Magazine – ©ZRockR Entertainment, LLC – ALL RIGHTS RESERVED