As "Derek Smalls" in Spinal Tap, Harry Shearer left an impact on audiences back in the classic 1984 film. And now, in his 70s, Shearer has given audiences an unexpected surprise – a solo album in character as Smalls! Smalls Change is Shearer's latest exploit in character as Derek Smalls, a concept/rock opera album of sorts dealing with the aging process.
I wasn't expecting anything new Spinal Tap-related given the ages of the actors/band members (though we did get a new release of sorts back in 2009) though Shearer/Smalls has surprised audiences with this new release. It's the first time we've gotten a "solo album" from a Spinal Tap member/actor. And Shearer's brought some friends along for the ride, including (but not limited to) David Crosby, Donald Fagen, Peter Frampton, Jeff "Skunk" Baxter, Taylor Hawkins, Chad Smith, Rick Wakeman, Dweezil Zappa, Joe Satriani, Steve Lukather, Phil X, Paul Shaffer, Jane Lynch, and Steve Vai!
I knew a Derek Smalls solo LP would be simultaneously epic and comical, and needless to say, I wasn't wrong there. The album even employs orchestral backing for something that approaches the lunacy of what we saw him doing in This is Spinal Tap. What's true of Spinal Tap is true here – the music is surprisingly solid, and on par with what you expect from a "professional" band (in the original film, the actors/musicians played all their own music, believe it or not). An ensemble cast of guest stars turns this into something special. It's epic, but you'll be laughing pretty hard too.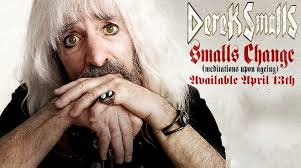 The tracks cover Smalls' take on the aging process, with subjects like organ transplants, erectile dysfunction, medical procedures, hair loss, and everything in between. The sound on the album rocks hard and has its epic moments, but with song titles like "Openture," "Butt Call," "Gimme Some (More) Money," and "She Puts the Bitch in Obituary," you know that your favorite lead bassist isn't taking things too seriously. And bless him for that.
The album doesn't quite reach the levels of greatness of the classic 1984 This is Spinal Tap soundtrack or its early 90s successor, Break Like the Wind, but honestly, I'll take this one over the most recent Spinal Tap release.
Smalls Change features Harry Shearer coming back to the role of Derek Smalls, and giving audiences an epic-yet-silly rock extravaganza the fans are sure to love. I don't know that this one deserves "instant classic" status (it's a little too long), but there are plenty of memorable moments sure to leave an impression. Experience the next chapter in the Spinal Tap story with the return of Derek Smalls!
Needless to say, a highly recommended release.