I've covered releases from Shaylon on this site before, including their debut EP and an earlier single. For the unfamiliar, this is the group now featuring Charly Urso, who Vegas rock and roll fans will remember for his role in the Aces High Iron Maiden tribute band a few years back. Having relocated to California, he's been rocking audiences with Shaylon for the past several years. Following a handful of lineup changes, the group features Urso alongside bassist Alex Tamas, drummer Kurt Becker, and new vocalist Susie Uher Jimenez.
One thing I've loved about covering Shaylon releases over the past few years is that it's a band where listeners must truly expect the unexpected. The group's melodic/symphonic rock sound has thrown no shortage of surprises at their audience. "The Goddess of Avalon" is the latest song from the band, but after lineup changes, have they still got what it takes to impress an audience?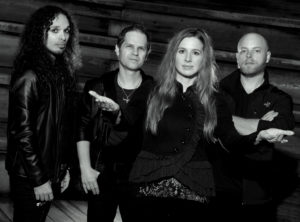 Not surprisingly, "The Goddess of Avalon" caught me off guard because it's completely the opposite of what I was expecting (though I can't say I was expecting anything in particular sound-wise since this band is all over the place!)
The track takes traditional Irish-style sounds and combines them with heavy riffs, yet retains a light and melodic song despite this. It's rare I refer to any hard rock/metal song (including symphonic ones) as "uplifting," but this one definitely falls under that umbrella. Vocalist Jimenez steals the show and makes this her song from start to finish, showing she's right at home in the Shaylon camp. The usual suspects are in fine form as well, including the usual fine riff work from Urso, and superb work from the rhythm section of Tamas and Becker. It's only one song, but it's definitely got me optimistic for the band's next release!
Shaylon gives audiences something totally unexpected and surprisingly refreshing with the melodic, uplifting rock of "The Goddess of Avalon!" Do I even need to say it? Go listen to this one.