Avengers: Infinity War (hereafter simply referred to as "Infinity War") is directed by Anthony and Joe Russo, and is film 19 in the Marvel Cinematic Universe. The film features an ensemble cast of actors from previous MCU movies, and a musical score by Alan Silvestri.
Heroes from across Marvel's universe must unite to do battle with a new threat, Thanos the Mad Titan, who has been watching from the shadows for years. He sets his sights on the Infinity Stones, which many of our heroes have come into contact with over the years, and in some cases, possess. Thanos has the goal of balancing the universe by eradicating half of its beings, something he requires the stones and the Infinity Gauntlet to accomplish. On Earth and distant worlds alike, heroes are united and bound together by their ultimate goal of stopping Thanos, knowing the disastrous outcome of him uniting all the stones.
Infinity War is the biggest Marvel Cinematic Universe movie yet, and the beginning of a story that's been building up for the past 10 years across nearly 20 films. I definitely had my doubts about this; no other Marvel movie has had the task of juggling this many characters and plots, with so many from previous movies, on Earth and across the galaxy. But Anthony and Joe Russo, who've proven themselves to be amongst the best directors in the MCU to date, tackle the challenge almost flawlessly. Infinity War brings a gigantic story to the big screen and somehow manages to unite the characters and their individual plot threads perfectly. And despite the darker, more brooding tone and bigger stakes, the franchise's signature sense of humor remains intact.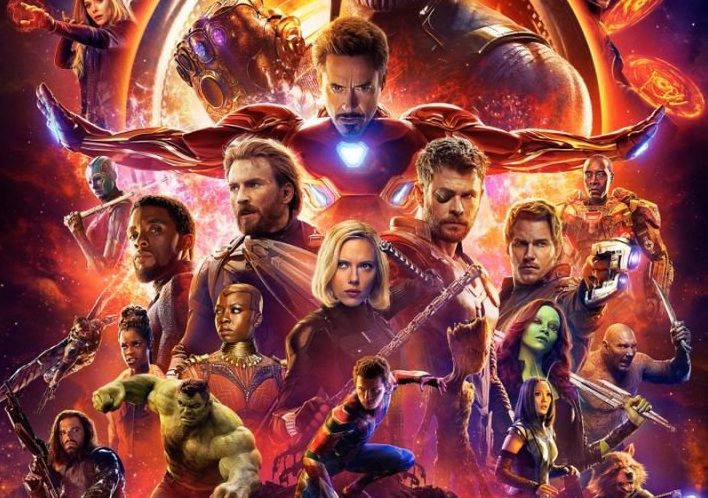 When I say Infinity War has an ensemble cast, I'm not kidding. Nearly every major "good guy" player from the MCU is united here, with characters who'd not previously met sharing screen time. There are, of course, a few surprises, which I won't spoil here. Throughout it all, everyone has fantastic chemistry, whether it's a battle between heroes and villains, or a comedic dialogue between allies with wisecracks and one-liners. You may notice a few heroes missing, but I myself was too caught up in the high-stakes, action-packed story to care.
I won't go too into individual characters' arcs and plot threads so as to avoid spoilers, but of course the persona here everyone is sure to be interested in is Thanos, who has been teased as the "big bad" of this universe for years now, but hasn't gotten the chance to do a whole out outside of post-credits scenes cameos. I will say this much: Josh Brolin's performance as the Mad Titan doesn't disappoint. While he certainly isn't the most original villain in this series we've seen, he actually manages to have depth, something many enemies in this hero-centric franchise have lacked. The character even comes off as somewhat sympathetic at times, but overall, remains the vicious, anticipated villain fans have been waiting for.
While this film is definitely best enjoyed after having seen all of the other MCU films as it basically references and builds off of plot elements from them all, someone coming in blind without having seen a single MCU film will still get a grasp of who each of these characters are, as well as what they represent and stand for, as the Russos spend plenty of time with each character/group. The scene transitions, even with many groups of heroes and allies, never feel too jarring, fast, or overdone. It is a bit much to follow at times, but in all honestly, it just gives an idea of the scope of how big this universe has truly become in its 10 years on the big screen. Even at over two-and-a-half hours, the movie never lets up or bores the audience.
It's action packed. It's dark and brooding. It's funny. Everyone's got chemistry on screen. And there's actually a plot! Infinity War is the first of two Avengers movies directed by the Russos to close out Phase Three of the Marvel Cinematic Universe, and once you're done watching it, you'll want to go back and watch it again. Perhaps the biggest problem here isn't a flaw with the film, but that you'll have to wait a year to see the resolution of this story! But this long-time MCU follower wasn't disappointed or frustrated with the end result, despite how much weight the film carries on its shoulders, juggling numerous characters, plot threads, character arcs, etc. from previous films. Infinity War is a must-see, and demonstrates beautifully why the Marvel Cinematic Universe has remained relevant for a decade. Longtime fans and newcomers alike will be satisfied.
Rating: Four stars out of four.
DISCLAIMER: Images in this review are the property of their respective copyright holders, including Marvel Studios and Walt Disney Studios Motion Pictures. For promotional use only. All rights reserved.