Stone Sour, 10.19.2017, House of Blues, Las Vegas
I had not been to the Mandalay Bay for anything since the recent events that occurred earlier this month… During their sets, Beartooth and Stone Sour made respectful, heartwarming comments about the power of this music, and about not letting fear stop us from coming together.
Cherry Bombs
Opening the night was a rock & roll burlesque group call Cherry Bombs. They refer to themselves as 'The Darlings of Rock & Roll,' and I'd definitely say they were right. Their time on the stage consisted of a very sexy dance routine, a stripper pole, rope climbing, and fire dancing. The other photographers and I in the photo pit looked at each other in confusion. Clearly none of us did our research beforehand, we were all expecting an actual band. So this was a pleasant surprise. Definity an act that's worth getting to a show early for if they're opening!
Check out their Facebook for more information, and keep a look out for future tour dates!
https://www.facebook.com/cherrybombsofficial/
Beartooth
Beartooth was up next. I was particularly excited for their set. Beartooth is made up of Caleb Shomo (vocals), Taylor Lumley (guitar), Kam Bradbury (guitar), Oshie Bichar (bass), and Connor Denis (drums). Caleb Shomo is likely most recognized as a past member of metalcore act, Attack Attack! (I was a huge fan of Attack Attack when I first heard them, around 2008-2009, so this was a surprise to me after reading about the formation of Beartooth!)  They all were very high energy, and carried fast paced movement throughout their entire performance.
They played a very mixed set of songs off of their albums, Disgusting (2014), and Aggressive (2016). Caleb talked about the future of rock & roll music, and how he's sick of people talking about the scene dying out. To me that added a special touch, since I feel the same way as he expressed.
"Rock & roll isn't going anywhere!"
Beartooth closed out with the song, "Hated", which happens to be my personal favorite song of theirs.
They don't seem to have very many tour dates for the rest of the year, but they will be playing Shiprocked, early next year.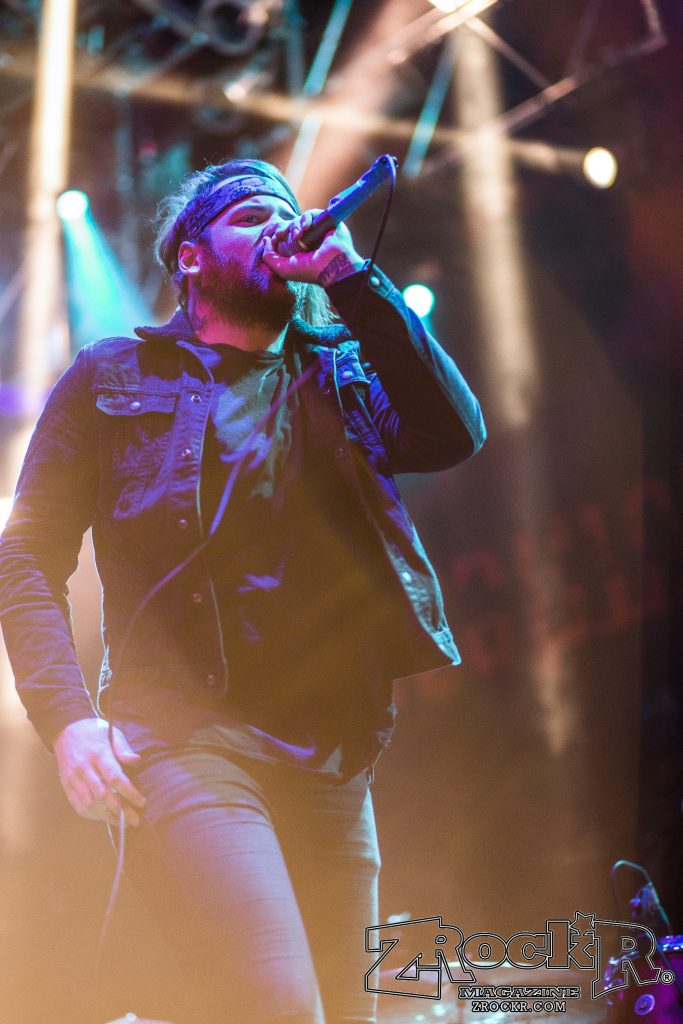 https://www.facebook.com/BEARTOOTHband/
http://www.beartoothband.com/deluxe/
Check Out "Sick of Me", Beartooth's most recent music video release!
https://www.youtube.com/watch?v=GCCEhNYOJbk
Stone Sour
Stone Sour is an american metal band from Des Moine, Iowa formed in 1992. They disbanded in 1997, and reunited in 2006. They are most recognizable because of founding member, Corey Taylor, and his work with Slipknot. Stone Sour consists of Corey Taylor (vocals), Josh Rand (guitar), Christian Martucci (guitar), Johny Chow (bass), and Roy Mayorga (drums).  This tour is in support of their newest album, "Hydrograd," which was released this past summer in June.
I had seen Corey Taylor perform one other time. It was at the Hard Rock poolside a number of years ago, and all I can really remember is how energetic and interactive he is with his crowds. As he walked into the light at the House of Blues, there was almost a never ending cheer. The fans in the crowd were clearly long time Stone Sour/Slipknot fans. From the grin on his face, you could definitely tell that he loved this. He kept his energy and interaction with the crowd very high, just as I remembered and expected that he would. All of the band maintained an enjoyable amount of energy, though. Even Mr. Chow, on bass. Who wasn't able to come full to the front of the stage due to
being in pain, maintained his energy and kept up throughout the set.
In remembrance…
"Song #3" was played in dedication towards the events that had taken place on October 1st, followed by, "Through the Glass" , which was the band's teaser final song. However, not long after thanking the crowd and leaving the stage, they all walked back out onto the stage, some stage props appeared, and Corey shoots confetti into the crowd via some kind of party favor release gun, for the second time, and they played three post encore songs, which the crowd loved, the energy in the crowd stayed very high and intense throughout the performance.
Every single band member of Stone Sour wore shirts that said, "#VegasStrong" on them, Corey is a resident here, and spoke about how Vegas is his home, it was clearly very important to him to stand in solidarity with the people in this city at this show, in that venue, located in that hotel.
Stone Sour Setlist
Intro/Taipei Person/Allah Tea
Knieval Has Landed
Made of Scars
Reborn
Say You'll Haunt Me
30/30-150
Hesitate
Tired
Rose Red Violent Blue (This Song is Dumb & So Am I)
Do Me A Favor
Cold Reader
Get Inside
Song #3
Through Glass
ENCORE:
Gone Sovereign
Absolute Zero
Fabuless
Fore More Information about Stone Sour, tour information, etc:
VIDEO: "Song #3"  https://www.youtube.com/watch?v=K73-hmaHPHY
VIDEO: "Rose Red Violent Blue (This Song is Dumb & So Am I)" https://www.youtube.com/watch?v=lv5uC6cfO5c
PHOTO CREDIT: All photos by Courtney Ware for ZRockR Magazine – ©ZRockR Entertainment, LLC – ALL RIGHTS RESERVED