102 Not Out is directed by Umesh Shukla. The film stars Amitabh Bachchan, Rishi Kapoor, Jimit Trivedi, and Dharmendra Gohil, and and is based on a play by Saumya Joshi.
Dattatraya is a 102-year-old man who decides he's going to break the record for the world's oldest man. He loves going out and living life to its fullest. His 75-year-old son, Babu, is the complete opposite, a pessimistic hypochondriac. Dattatraya says he'll throw his son out of the house to live in an old folks home (thus getting in the record books again as being the first person in history to put their child in one!) unless he accomplishes certain ridiculous but well-intended tasks. Over time, Babu begrudgingly begins doing the tasks, mainly out of not wanting to go to a retirement home, but finds himself bettering as a human being. But Babu finds himself at odds with the relationship he has with his own son who lives in America, who Dattatraya believes to be materialistic and unloving. What will Babu do when one of the tasks is to permanently tell off his own son?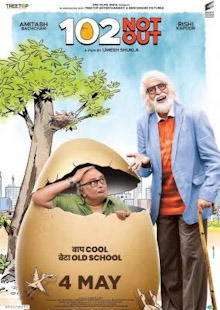 I was previously unaware of 102 Not Out, and only discovered it because a local theater happened to be showing it, and it was starting just as I got off work for my day job. I essentially want to see/review this one on a whim, and while the movie does suffer from a few issues, this cinephile was impressed by the chemistry between the two leads, and the heartfelt yet funny story.
There aren't enough positive things to be said about the two leads in the film. Babu and Dattatraya are father and son, yet polar opposites and constantly at each other's throats due to their disagreements. The film ranges from over-the-top moments of hilarious lunacy, to actual heartfelt and dramatic ones. The cast of the film is fairly small, but those in central roles get their share of surprisingly good moments. Even if the plot is a little on the ridiculous and silly side, it works amazingly well.
If there's one issue with 102 Not Out, it's tonal inconsistencies. The first half of the film revolves around Babu's development and accomplishing the tasks given to him by his father. It's meaningful and quite funny alike, making for some entertaining viewing. The second half gets bogged down by the melodrama, namely about the history between Babu and his son, and feels stretched, not as entertaining as the film's first half. If the film were about 10 minutes shorter and expanded its first half while condensing the melodrama of the second half, it would be a stronger movie. The lack of a female lead as slightly disappointing, though it doesn't change the fact that seeing these two actors play off of each other is a lot of fun.
102 Not Out isn't perfect, but is recommended on the strength of its two leads and its ridiculous but entertaining premise. If it's playing at a theater near you, you shouldn't pass it by.
Rating: Three out of four stars.
102 Not Out is not rated by the MPAA, but my recommended rating is PG for melodramatic elements and some crude humor.
DISCLAIMER: All images in this review are the property of their respective copyright holders, including SPE Films India, Treetop Entertainment, and Sony/Columbia Pictures. For promotional purposes only. All rights reserved.