In the late 70s, Riot came on the rock and metal scene on the East Coast of the United States. While the group never got quite the respect they deserved, their music retains a cult following throughout the world. The group eventually moved away from their early hard rock sound to more of a power metal one, though over the years, the group has been no stranger to tragedy, with the death of former vocalist Rhett Forrester in a carjacking, Guy Speranza from cancer, and most recently, guitarist Mark Reale.
The group reformed with a new lineup under the name Riot V (pronounced "Riot Five") and released their first album under the new moniker, 2014's Unleash the Fire. While I initially wasn't a fan of this record (mainly due to the group sticking with their later "power metal" sound rather than going back to the early old school hard rock of albums like Fire Down Under), it has since grown on me. Armor of Light is the second album from the Riot V incarnation of the group.
Riot V is comprised of Don Van Stavern, Mike Flyntz, Todd Michael Hall, Nick Lee, and Frank Gilchriest. With new and old faces alike, this group keeps the classic spirit of Riot alive, playing a mixture of old and new songs alike in their live shows. So, how does the quintet fare with the release of Armor of Light?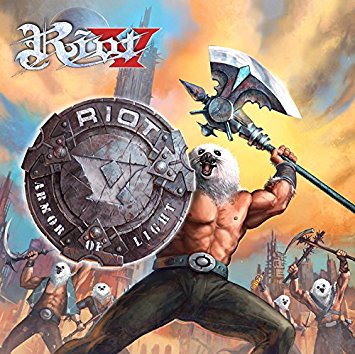 Not surprisingly, Armor of Light is a progression from the first album, still sticking with the group's later power metal-style sound (will the group ever return to their earlier hard rock sound? Only time will tell.) But regardless of that, there's no reason to be upset. And why is that?
Because this album kicks ass.
Unleash the Fire was a solid and respectable effort from the group, which spawned a few tunes I hope stay in the band's setlist for years to come. But if that album was the prelude, Armor of Light is the payoff. The guitars and drums on this album are absolutely relentless. It's a record that holds nothing back.
Any skepticism or doubts to keep this group alive following Mark Reale's passing are immediately laid to rest from the opening moments of this record; I truly believe the late Mr. Reale would be more than pleased with what his bandmates and successors have unleashed on the world with this record. If you like your metal hard and heavy, you'll be pleased to discover Riot V never lets up throughout this album's duration. Hell, it's quite possibly the best Riot album since Thundersteel way back in 1988, and that's no small task.
Armor of Light must be heard to be appreciated. The successors to Mark Reale keep heavy metal alive and well on their newest release. Relentless throughout its duration, this is the Riot album you've been waiting for.
Absolute highest recommendations.