Anthrax – Testament – Nukem
Brooklyn Bowl – Las Vegas, NV – Saturday May 12th, 2018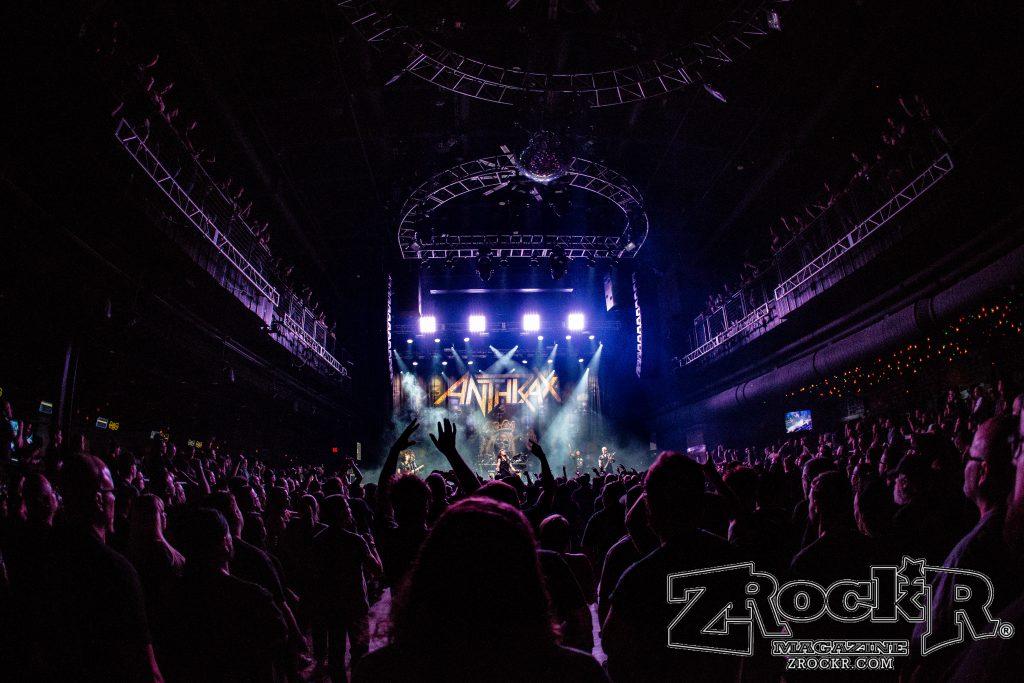 So, to address the elephant in the room, am I disappointed that this wasn't a Slayer show? Somewhat, yes. It would be nice to say I saw them on their farewell tour, but I've seen Slayer at least five times now. I've honestly lost count. In addition to that, the line-up comprises mostly of bands that they toured with their last two treks through Vegas; replacing Carcass with Anthrax. Also, I'm not paying some bastard scalper the sort of money one would as a down payment on a brand new car.
Now onto the show itself…
I don't need to tell you the history of Anthrax or Testament, and even if you do need to be told, there are plenty of other avenues for you to explore. As for my own history with the bands, Thrash was my intro to metal as a whole. From Metallica, to Megadeth, to Slayer, so on and so forth – It was all downhill from there. *Wink wink*
For the longest time these were among the last of the premier eighties thrash bands I'd hadn't seen. A move across the country kept me from seeing Anthrax, but attending the inaugural Las Rageous meant that I got the see the last of the Big Four for the first time last year. As for Testament, I saw them in support of Slayer (we're getting there don't worry) before I moved back to Las Vegas. Both bands had criminally short sets, so I was thrilled to hear they were co-headlining this outing.
The night's opener Nukem – fucking killer. How haven't I heard of these guys? Probably because of the plethora of great modern thrash bands. The revival of thrash I'd say really started in or around 2005-2006, when you had classic bands in the likes of Slayer, Exodus, and Kreator, as well as new blood such as Evile, Havok, and Municipal Waste hitting a stride and putting out great albums with a modern and uncompromising sound. Even Vegas had a bit of that mojo in Postmortem and Avenger Of Blood.
Nukem's twin guitar attack has a classic feel that's remonicent to the harmonization of James Hetfield and Kirk Hammett on songs such as "One", a vocal delivery by Steve Brogden that makes me think of Mille Petrozza of Kreator, and a lead guitarist in Laura Christine, who oddly reminds me of Jeff Waters. It's either her playing or the red V. Their set was so impressive I immediately picked up their debut album The Unholy Trinity from the merch table. A record I see occupying our CD player for a long time coming.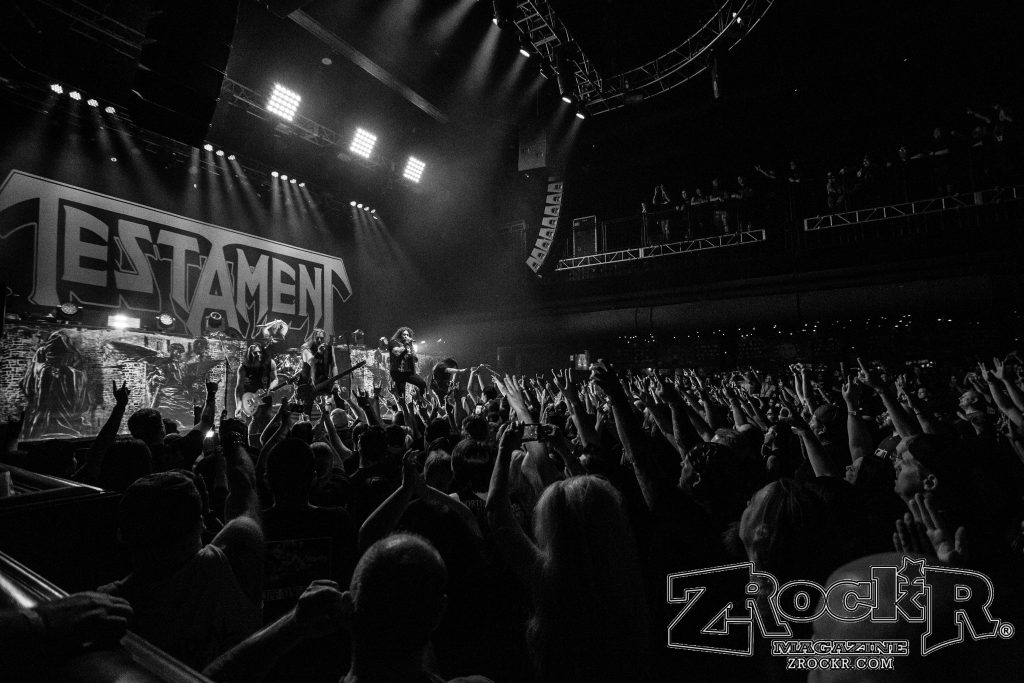 Testament; it goes without saying is an incredible live band. For the sort of fan I am I could have told you that just by looking at the band's line up. First, you have the rhythm section Gene Hoglan and Steve Di Giorgio (both of too many other bands to count). Hey Testament! Chuck Schuldiner called from beyond the grave and wants his band back. Then, you have the legacy members starting with the guitarists Alex Skolnick and Eric Peterson. Both having had side projects, they being the Alex Skolnick Trio and Eric's symphonic black metal band Dragonlord, for which Steve is (surprise, surprise) the former bassist of. The band's vocalist Chuck Billy has provided not just a some needed stability to the band's lineup but a distinctive voice that's as easily recognizable on his numerous guest appearances as it is on Testament albums. Having recorded some damn fine thrash records over the course of their career and notably some of the best in the past ten plus years, Testament is a must-see band.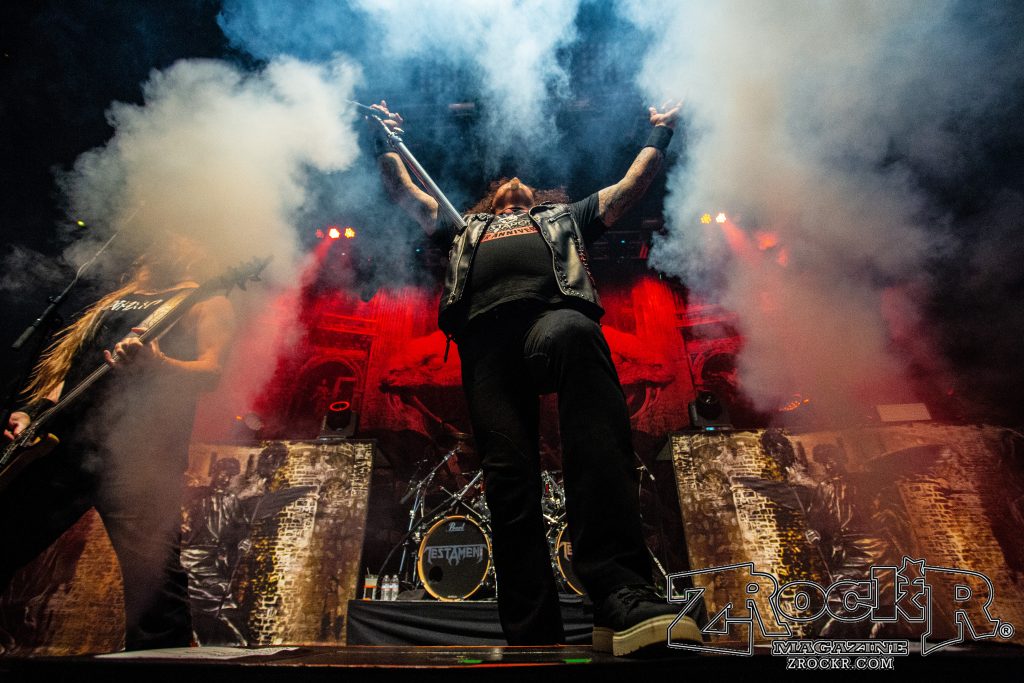 If the Big Four are the metaphorical badass kids of the eighties, Anthrax is the one that calls his Mom to make sure she doesn't worry. Rather than write songs exclusively about death, war, and Hell, the band had a sound and songs that are just fun. Sure, they had their share of dark lyrics, but they sang them with a smile and in such a way that we could all sing along. While they don't write as many thrash songs as they used to, they sure can fucking play them just fine.
I honestly don't have many clever things to say about Anthrax this time around. There wasn't even a grown man crying for the "Indians" as there was at Las Rageous. Same lineup and still a great fucking show. While the older band members of Anthrax played with tremendous energy, moving from one part of the stage to the next in bursts of speed, the younger lead guitarist Jonathan Donais (Shadows Fall) was much more reserved. You might think that's a reviewers problem and you'd be right – it fucking is – as I wouldn't have even mentioned it if it were Opeth on stage. Either way, Anthrax still aims to please, and next time they come, we will be there.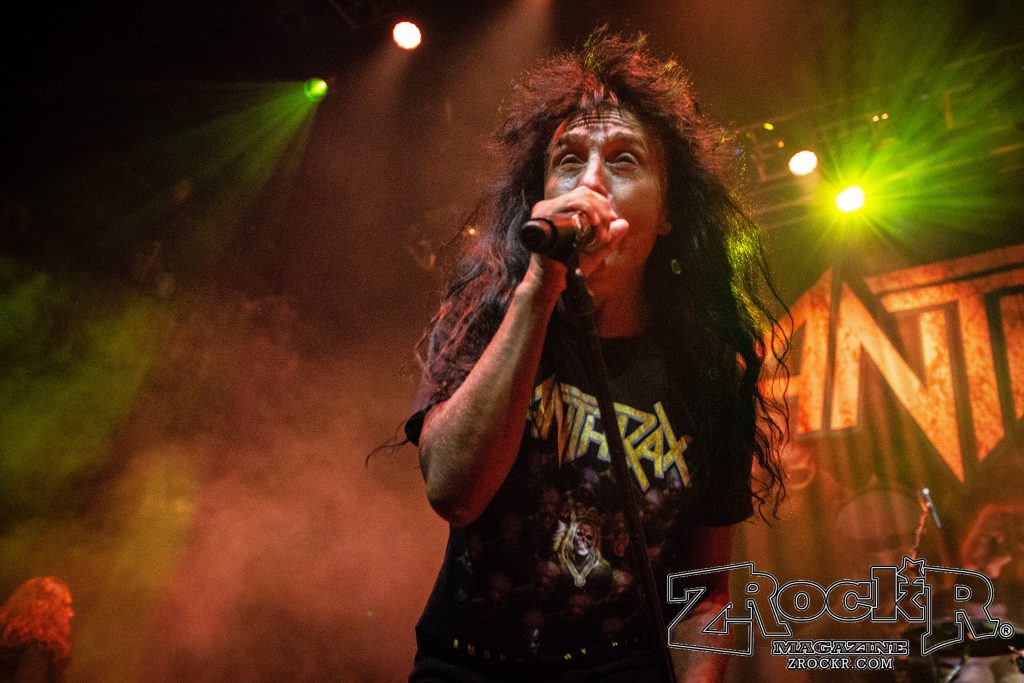 PHOTO CREDIT: All photos by Courtney Ware for ZRockR Magazine – ©ZRockR Entertainment, LLC- ALL RIGHTS RESERVED