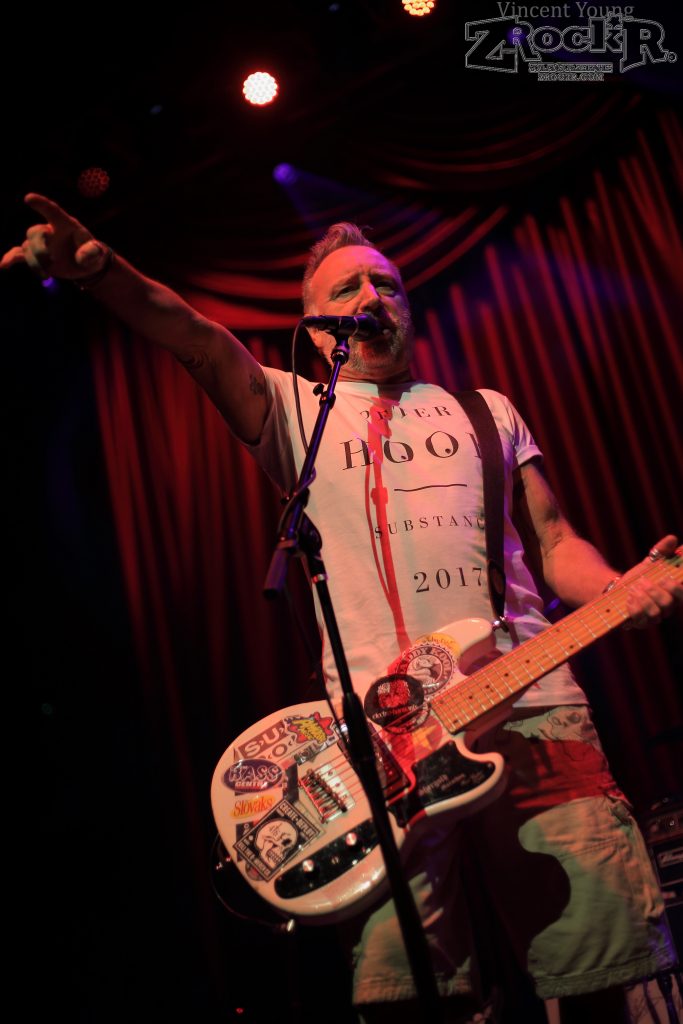 Four days before the 38th anniversary of the death of Ian Curtis, Las Vegas gathered together to honor his memory in the most amazing way. Peter Hook, bassist for Joy Division and creator of New Order, performed live for us at Brooklyn bowl.
This is a show that I never thought I would see, playing songs that I never thought I would hear live. Entering the stage in a white T-shirt and cargo shorts, his bass slung low, and I knew that we were in for one hell of a show when he kicked off with a smile, a cheerful smiling greeting, and New Order's "Leave Me Alone". What followed was a barrage of nostalgia, all given new life by the performers and the audience. Singing every word, memories of dance floors past washed over me, and I wasn't alone. Punctuated with enthusiastic whoops of triumph, carrying the weight of the band and vocalist that he lost, Peter's voice rang as true as it always has.

New Order, formed in 1980 by the remaining members of Joy Division after the suicide of lead singer Ian Curtis, was one of the most influential Post Punk New Wave movement. Despite the dark shadow that birthed them, they overcame the tragedy by becoming legendary in their own right as the band's 1983 hit "Blue Monday" became the best-selling 12-inch single of all time.
Leading the electronic synth pop from the start, they are still the pinnacle to match today. 90 minutes of New Order played to the crowd, who never stopped moving, swaying like an ocean, savoring every lyric like sips from the fountain of youth. They closed the set with "Bizarre Love Triangle" and "True Faith", and I was in a state of euphoria. Peter thanked us, and exited the stage. Already on cloud nine, I was preparing to exit the venue, when I was told that the show wasn't over. The second half of the show was to be a Joy Division set.
I couldn't believe my ears! Having never seen Peter Hook live before, and with the impression that he no longer performed Joy Division songs, I was in utter disbelief when he re-entered the stage and sunk deep into "The Eternal". I don't think it was until the third song that I actually picked my jaw up off the floor and realized that this was actually happening. A little less bouncy, and more squared off in the shoulders, you could see that Peter's emotions were pouring from him. Not wanting to be crowded or jostled, I can always be found standing in the back of the venue at most general admission shows, but I found myself weaving through the crowd to get closer.

Peter's eyes, often closed, and his chin dipped down to his chest, his voice dropped into the stoic and melancholy register of Ian. Much more a channeling than a mere cover, I felt that if Ian had been present, he would've been honored by the homage. "Transmission" and "She's Lost Control" were too good to be true, and the girl next to me, lost in the moment, embraced me. By the time the finale of "Love Will Tear Us Apart" started with the iconic bass line, there wasn't a dry eye in the house. Shaping a generation of love songs, our hearts collectively broke all over again for the "what could have been" upon the loss of such a legendary songwriter. Thank you Peter Hook for bringing it all back to life.
PHOTO CREDIT: All photos by Vincent Young for ZRockR Magazine – ©ZRockR Entertainment, LLC – ALL RIGHTS RESERVED