May 24, 2018 – Sum 41's "Does This Look Infected?" 15 Year Anniversary Tour
Special Guests: Seaway and Super Whatevr
Brooklyn Bowl, Las Vegas
Sum 41… Oh nostalgia…
   I was probably 13 years old when I first heard Sum 41. It was their 2001 release of All Killer, No Filler, and one of my very best friends had this album playing quite often. Have you seen the artwork for this album? If not, go look it up. As kids, we thought it was hilarious. Add in the song, "Fat Lip"; SOLD. We were hooked! A year later in 2002, Does This Look Infected? was released. A few years had passed before I had actually heard this album. I was a freshman or sophomore in high school, and I had a burned copy of the album. Can't seem to even really remember how exactly it fell into my hands, but it did. It was played ALL THE TIME after  hearing it.
When this show was announced, I went and listened to the album in full after years of not hearing it. As an adult, the lyrics still hit close to home, and if we were to talk about albums from my youth that really matter in my journey of music discovery, this one is definitely on that list. As a bit of an outsider, Sum 41 and this album spoke to me at 15, and even at almost 29, it still speaks to me now.
Openers
  Super Whatevr (CA) and Seaway (Ontario) opened up this show, and I really have nothing but positive things to say about both of them. They were nicely picked for this show, and I hope to see them come through on more tours with other pop-punk like acts! I will say though, during Seaway's set, the energy of the crowd had escalated to a crazy extent. There were MANY crowd surfers! By the end of the night, I don't think I have ever seen so many crowd surfers, actually! (I mean, I did catch A Day to Remember last year, and their crowd surfers are constant through their set, but I lost count after the first couple people flew forward!) This made for awesome photos, and you couldn't really put the excitement for Sum 41 into words at this point.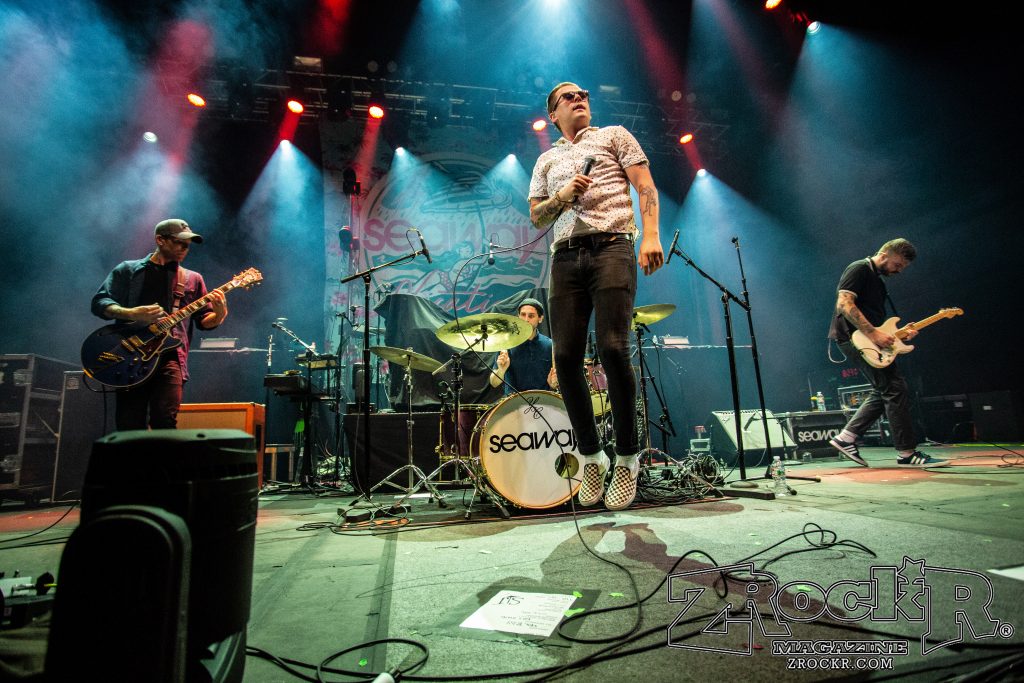 Sum 41…
I'm not going to go too into band background, (hopefully if you're reading this, you already know who they are…). Sum 41 is Deryck Whibley – singer/songwriter/guitarist, Jason (Cone) McCaslin – bassist, Tom Thacker – guitarist, Dave Brownsound – guitarist and Frank Zummo – drummer. Deryck is the main founder of the band, and for as long as I can remember, Brownsound and McCaslin are also members who were around in the super early days. Thacker and Zummo are relatively new-ish members.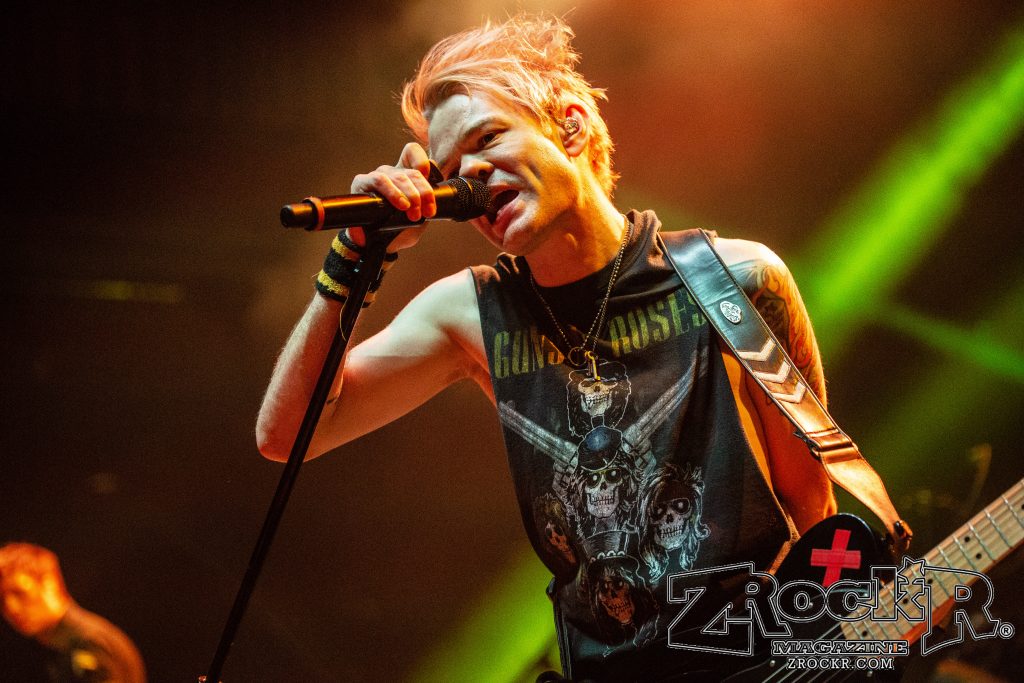 So, as you all know by the title, this show is a 15 year anniversary celebration of Does This Look Infected?. They obviously had to play the whole album. That's what this whole tour is about in the first place. But along with this entire album being played, there were goodies!
Medleys!!
These goodies were things such as medley covers of popular metal and rock songs, such as Metallica's "Enter Sandman" and "Master of Puppets". (Honestly, I can't remember all of the medley's they did. My inner 15 year old could not even contain herself!) Mr. Frank Zummo also did a killer drum solo with a Linkin Park medley incorporated in. That was pretty cool to see and hear. The voices from the crowd filling the room with lyrics. From what I've looked into, this solo was incorporated as a tribute to Chester Bennington, who we lost last year.
It's always wonderful to see musicians pay respect this way. I surely appreciated it. (A piece of my childhood was lost when Chester passed, so any tributes I see always warm my heart a bit.)
For the fans….
Deryck stopped a few times and had fun, quirky antics to entertain the crowd with. After all, this album was, as he said, a party for us… A BIRTHDAY PARTY! For us, the fans. It was something special to hear that after they create the music, it belongs to us. I think a lot of the crowd really connected with that statement. I could go on and on and on about the details of this performance.
Between all the confetti, huge beach balls bouncing around the crowd, and the crazy usage of their own lighting on top of the smoke machines sporadically going off and the INTENSE energy of the crowd on the Brooklyn Bowl floor… It was definitely one of those shows you didn't want to miss if you're a fan. I haven't even listened to too much of their newer stuff, which, I probably should. It's fucking good stuff. The progression and hop around from pop punk to hard rock has been executed exceptionally well.
The Conclusion:
If you missed this set of shows, shame on you! Just joking, next year is the Chuck anniversary, and I also believe they said they were making new music. So keep a lookout! And if you see a tour date in your town, go. Just go. Sum 41 is much more than that initially pop punk band from the late 90's-early 2000's. They put on a very good show. I'll let you guys go before I start rambling into those details again…. But seriously. Just go see them. You'll be glad you did!

http://www.superwhatevr.com/

https://www.hopelessrecords.com/
PHOTO CREDIT: All photos by Courtney Ware for ZRockR Magazine – ©ZRockR Entertainment, LLC – ALL RIGHTS RESERVED