Tag is directed by Jeff Tomsic. The film stars Ed Helms, Jake Johnson, Annabelle Wallis, Hannibal Buress, Isla Fisher, Rashida Jones, Jon Hamm, Leslie Bibb, Jeremy Renner, Lil Rel Howery, and Sebastian Maniscalco. It is based on a true story.
For over 30 years, every month of May, a group of friends plays a game of Tag. Feeling it has kept them close over the years, they travel the country to tag one another and do everything necessary to win, much to the surprise of the people around them. The group of long friends decides it's finally time to tag Jerry, the best player in their party who has never been "it" due to his skill at the game, and a reporter intrigued by the group's story tags along. With Jerry's wedding fast approaching, the group of friends plots to tag Jerry by (literally!) any means necessary. But being the cautious player he is, Jerry has a few tricks up his sleeve. With the group finally tag Jerry, or will his undefeated streak continue?
I don't know what's more remarkable. The fact that Tag is a film so ridiculous and over-the-top with its premise, or the fact that it's based on a true story! With a great mix of witty verbal humor and laugh-out-loud slapstick sequences, you'll definitely laugh when you go to see Tag.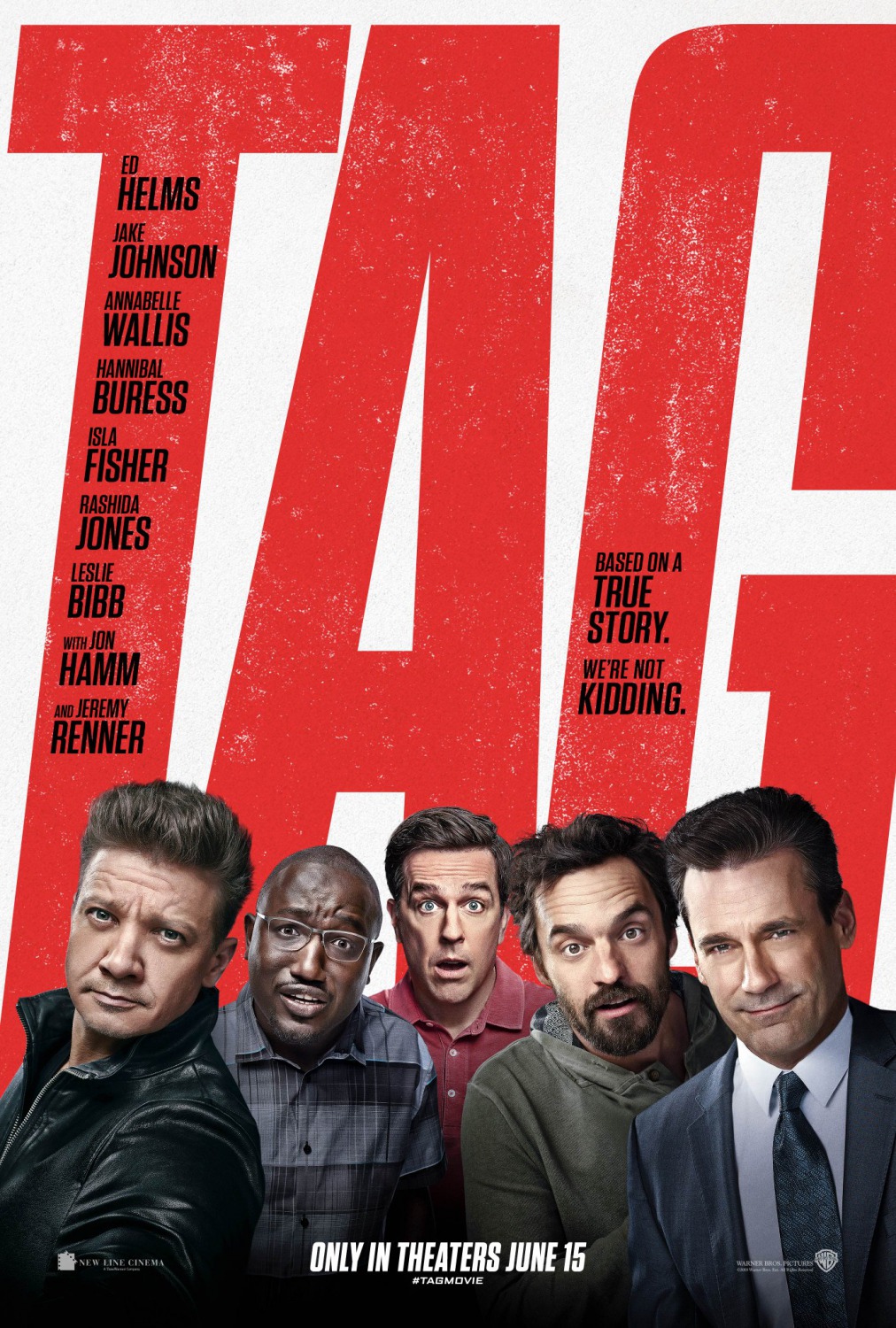 The over-the-top nature of Tag is easily its strongest defining quality. A man with a successful law practice gets a job as a janitor… just so he can tag his friend who is the CEO of the company. Another man creates false backdrops for his Facetime conversations to send them to the wrong location in their efforts to tag him. There are literally no prizes or rewards to be won here other than bragging rights… which makes the movie one of the most ridiculous comedies of recent years. It's also one of the funniest. Oscar material this ain't, but when you've got Jeremy Renner in slo-mo evading being tagged by his friends with voiceover commentary and laugh-out-loud actions, it's hard not to laugh. Just don't take it too seriously; this is a movie which expects you to "go with the flow" and enjoy the laughs. And while the film is a bit heavy on slapstick , it doesn't resort to cheap gags and toilet humor, which is a welcome change from other modern comedies.
The cast of Tag all prove to be ideal for their respective roles. While the individual characters aren't exactly anything worth writing home about, you truly believe this is a group of friends who've known each other for three decades. The premise of over-the-top competitions amongst friends is nothing new in Hollywood, but in this story you'll be rooting for our heroes because of how well they're portrayed, not to mention how likable and laugh-out-loud funny they are.
If there's anissue to be had in an otherwise hilarious film, it's the lack of emphasis on the female characters, who don't really serve any substantial purpose in the story. Unfortunately, this means the female reporter character is a wasted opportunity; framing the story from her perspective would've benefited the final product. The other female characters have the occasional funny moment, most of which coming from one character's overly-competitive wife, but they just never get the chance to shine they should. The movie also never bothers to show the consequences of the heroes neglecting their day-to-day lives for their Tag games, making a rather somber turn in the third act all the more out of place. But, given the comedic nature of the final product, moviegoers aren't likely to get too hung up on the shortcomings.
The film is concluded with some real-life home video footage of the actual Tag players who inspired the film. This footage, brief as it may be, is arguably funnier than the film itself. I'd gladly pay the full price of a movie ticket to watch 100+ minutes of this footage, if it exists.
Tag is an over-the-top farce that never lets up in its 100-minute duration. The laughs don't stop, and while the slapstick and verbal humor is at times juvenile, no one will deny just how funny it is. If you want a moviegoing experience with laughs, a ridiculous premise, and low stakes despite it all, Tag gets the job done.
Rating: Three out of four stars.
DISCLAIMER: Images in this review are the property of their respective copyright holders, including New Line Cinema, Broken Road Productions, and Warner Bros. Pictures. For promotional use only. All rights reserved.