The Rider is directed by Chloe Zhao. The film stars Brady Jandreau, Lilly Jandreau, Tim Jandreau, Lane Scott, and Cat Clifford.
Brady Blackburn was once an accomplished rodeo rider until an injury forced him out of it. He yearns to one day get back in the saddle, but is warned not to do so by his doctors, as it means risking further permanent injuries. With his family struggling financially, Brady finds himself at odds with his father, while trying to be a good role model to his younger sister. As he takes a menial job to help make ends meet and juggle friendships with people who remind him further of better times, he finds himself struggling to accept his place in life, wondering if he'll ever ride again.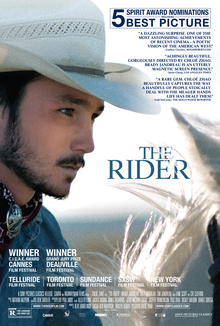 The Rider is heartbreaking, gritty, and real. The movie isn't a thrill a minute which will grab the attention of viewers. Rather, it's a slow-burn character study looking into one man's struggles with his own mortality and accepting his place in the world. It's a struggle to follow the movie at times in that it isn't a movie that gives its viewers much to keep their attention, but those who give it a chance will be impressed with its gritty realism and look at a culture too often neglected in films.
The casting and performances in the film are fantastic, particularly the Blackburn Family actors, portrayed by the real-life Jandreau family. The family drama and interactions are fantastic; it's made all the more believable by the fact that this is a real-life family, so the chemistry between the actors is real. Brady's interactions with all the characters in the film or in any situation he finds himself in, whether it's his prize horse being sold, or being relegated to menial work in a grocery store, feels authentic. The supporting cast feels equally impressive, and the fact that the movie doesn't include any big-name Hollywood stars to distract from the tale is one of its greatest attributes.
The look of the film is equally impressive, capturing the beauty of the American Midwest, and the insides of seedy bars and gambling halls. The cinematography is every bit as much a star as any of the performers.
In recent years we've been seeing an increasing number of "modern Westerns," and The Rider is a nice addition to the lineup with its unique look and true-to-life performances. The story isn't afraid to become heartbreaking and melodramatic at times, even if it is a bit much and overbearing at times. It's not a perfect film, and does feature a few pacing issues and too many subplots, but Brady's performance makes it a believable and at times powerful story. It's not a film I'd rush back to see, but there is no denying what The Rider gets right.
Rating: Three out of four stars.
DISCLAIMER: All images in this review are the property of their respective owners, including Caviar, Highwayman Films, and Sony Pictures Classics. For promotional purposes only. All rights reserved.