Other Americans Debut
  There's not too much out there right now about these guys.... Other Americans are a electro-pop/electro-alternative group from Kansas City, MO. They are brand new to the music world. The band's current line up consists of Julie Berndsen, Brandon Phillips, Ehren Starks, Zachary Phillips, and Adam Phillips, as noted at the end of their debut music video which will be linked below.
Their debut 6 song EP reminded me a bit of 2008's A Kiss Could Be Deadly. Catchy electronic sounds via keyboard (and other special effects I'm assuming) with traditional guitars (sounds like some solo-ing in there!) and drums. Vocalist Julie Berndsen has a wider, as well as a bit darker vocal range than some of the electro pop ish acts I've heard in recent years. Upon reading the commentary regarding Garbage meets Yeah Yeah Yeah's meets Passion Pit, I'd have to say this is a pretty accurate description of their general sound.
The EP takes you up and down a bit, which isn't necessarily a bad thing. It's one of those albums that's catchy enough to tap your foot to if you're just casually listening.  You could also totally dance around to it as well if you wanted to.
    You can check out the single for their song, "Murdering Crows" here! It's got all sorts of punchy colors, with visible silhouettes of the band playing. The music video was produced and Directed by Adrian Halpern. (www.adrianhalpern.com) The band is currently only playing shows in the MO areas, but we'll see where their music journey takes them! (maybe out West a bit more?) They've definitely got some potential, in my opinion!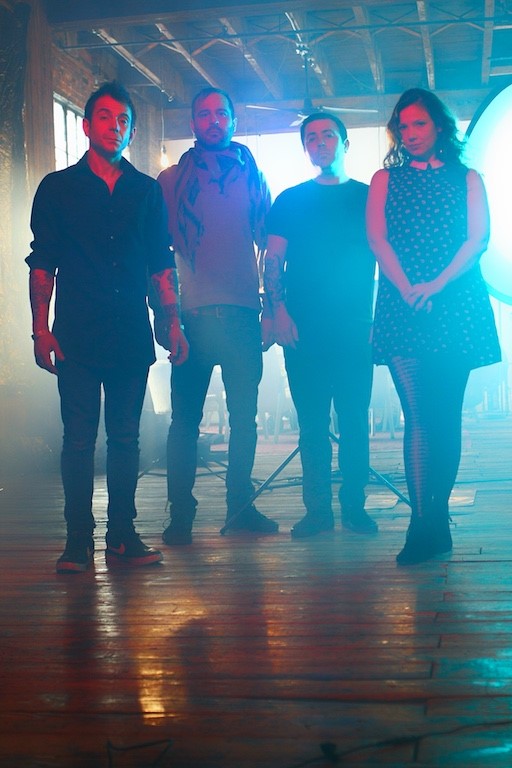 Full EP will be available in it's entirety on 6/29/2018.
For more updates: https://www.facebook.com/OtherAmericansBand/
Photo Credits to Mike Alexander and Other Americans