The Wizard is directed by Todd Holland. The film stars Fred Savage, Luke Edwards, Jenny Lewis, Christian Slater, Frank McRae, Beau Bridges, and Will Seltzer, and features a brief uncredited cameo from a then-unknown Tobey Maguire.
Jimmy Woods is an autistic boy living in Utah with his mother and stepfather, who struggle to find their son the care he needs for his condition. The young boy harbors an obsession with "California" for some unknown reason, and continues to attempts to run away, only to be returned to his parents by the police every time. Jimmy's brother Corey, frustrated at the prospect of seeing Jimmy put in a home, stows away with Jimmy in a truck and begins a trip across multiple states to reach California where they'll start over. In their travels they meet Haley, a girl on the road from Reno with a trucker father, with whom they learn about a video game championship taking place at Universal Studios Hollywood, which they hope to have Jimmy win to prove he doesn't belong in a home. The trio sets out for the game tournament with their family members searching high and low for their missing sons, and a greedy bounty hunter hoping to return the boys for profit. Will they reach the tournament or be stopped in their tracks? And even if they make it, will Jimmy be able to beat the best Nintendo players in the country?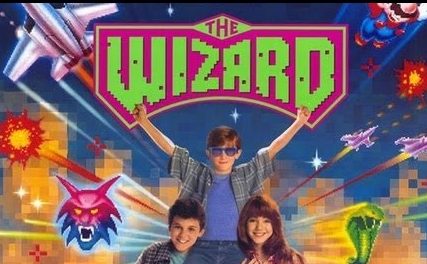 The Wizard isn't a great film. I was eager to revisit it for the first time in years upon purchasing Universal's new Blu-ray Disc release, though. Some would argue the movie is downright terrible. Others would claim it's basically a really long commercial for Nintendo games. And some would call it a blatant rip-off of The Who's Tommy which swaps out pinball for Nintendo. In actuality, most of these statements are true to some extent. There are some decent moments of drama in the film and a surprisingly talented cast, but it can't escape basic, straightforward plot conventions, and the frustrating accuracy of the "it's a really long Nintendo commercial" claims. It doesn't help that the movie simply gets too many things wrong about the video games it's promoting, which results in some laughably bad moments, particularly in the climax.
The best thing about the movie is its cast and the more genuine dramatic scenes. The Woods/Bateman family is clearly dysfunctional and they don't exactly have the best relationships with one another, but seeing most of them bond over the course of the movie, often comically over video games, is genuinely entertaining. The revelations about Jimmy's estrangement and troubles on his mind are interesting and surprisingly strong for a film such as this. Despite its fairly short run time and overemphasis on promoting Nintendo products, there's a surprisingly strong amount of plot and character development, which is handled well. We even get entertaining antagonists in the form of Putnam the bounty hunter, and Lucas Barton, a cocky, full-of-himself gamer you just want to reach through your TV screen and strangle. These elements combined with the laugh-out-loud humor in many portions of the movie does make for an entertaining viewing experience, even if there is a little too much going on (it's been revealed in interviews with director Todd Holland that the original cut of the movie was a good 50 minutes longer and had more development for the characters, and it's a shame we'll likely never see this additional content).
Video game fans will get a kick out of the various classic NES games featured prominently in the movie. Much of the gimmick revolves around Jimmy making bets with other gamers to win money so our heroes can finance their trip to the gaming tournament, and fans of video gaming will see many of their favorites over the course of the experience. Unfortunately, the movie does get many pieces of information with the games just plain wrong, and these goofs will stick out like a sore thumb to the gamers who will likely make up the movie's core retro audience (would someone care to explain to me how audience members at a tournament know what to do in a game that's never been released to the American public?) That said, many moments in the film, including the over-the-top tournament, will definitely win over viewers, even if the outcome is a little on the predictable side.
Now for the bad news. Universal's Blu-ray of the film is BAD. The image quality throughout has been overly processed with noise reduction and artificially sharpened to the point that even the brightest daytime scenes look atrocious. Details are lost to this process with very few scenes looking good. The purpose of Blu-ray Disc is to restore the image quality of a film to a more detailed, filmic look true of what the cinematographer wanted, and with their overzealous "treatment" of the image Universal has given us a transfer that is anything but. The disc contains no bonus features whatsoever, not even a trailer, or even a top menu for that matter (the only pop-up menu is the one to toggle subtitles on or off.) Given how much additional material exists and the fact that many cast and crew members are still around, how difficult would it be to scrape together ANY extra material? For a disc that carries a retail price tag of just over $20 all of this is unacceptable. If it were a $5 budget title the situation would be different, but that's not the case. Hopefully a company like Shout! Factory or Kino Video will eventually get their hands on the right to the movie and give it the home video treatment it deserves.
The Wizard is a fun dose of nostalgia even if it's laughably dated and inaccurate in many regards. It's worth owning for that reason, but Universal's Blu-ray Disc release is terrible as it's an overpriced release with horrible picture quality and no extras to speak of. If you want the film, just get the digital release of the similarly bare-bones (but far cheaper) DVD.
DISCLAIMER: Images in this review are the property of their respective copyright holders, including The Finnegan/Pinchuk Company, Pipeline Productions, Universal Pictures, and Carolco Pictures. For promotional use only. All rights reserved.