Sicario: Day of the Soldado* (hereafter simply referred to as "Soldado") is directed by Stefano Sollima. The film stars Benicio del Toro, Josh Brolin, Isabela Moner, Jeffrey Donovan, Manuel Garcia-Rulfo, and Catherine Keener.
The conflict with illegal immigrants and criminals from Mexico crossing the border into the United States continues. Drug cartels have been added to the national list of terrorists, prompting Matt Graver to concoct a scheme with his former ally, hitman Alejandro Gillick, to wage war and annihilate the leading cartels. The two kidnap the daughter of a leading kingpin, but quickly find themselves in over their heads when the scheme is discovered by the Mexican police, many of whom are on the cartel payrolls. Alejandro finds himself stranded south of the border, and when Graver is given orders to "wipe the slate clean" on the operation, must make difficult decisions.
The first Sicario was a fine thriller which beautifully illustrated the futility of wars against drug empires and the questionable tactics they had to take to win. It gave us brilliant performances from del Toro and Brolin, both of whom have returned for the sequel. And while the original film's co-star Emily Blunt isn't along for the ride this time, that's not necessarily a bad thing considering we get to spend more time with the first movie's most interesting pair. The film doesn't shy away from extreme levels of violence, yet never sacrifices compelling characters and development for this. Despite a few too many plot elements/subplots/characters, the movie is a fantastic thriller overall, albeit not one for the squeamish.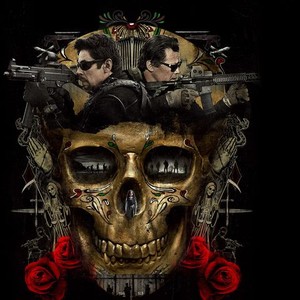 The performances from the leads are the best thing about Soldado. Benicio del Toro reprises his role as Alejandro, the former attorney left distraught and out for revenge when drug lords murdered his family, a quest he continues on with here. Josh Brolin reprises his role as Matt Gravel, bringing both a sense of determination and a fantastic deadpan sense of humor to the film. Whether these two are together on screen or apart, they own this movie. Fortunately, neither wears out their welcome. Their chemistry with one another and the rest of the cast is fantastic, with a major highlight being Alejandro's relationship with the sharp-tongued daughter of the drug lord responsible for his own family's death, whom he is ironically tasked with protecting. Moments like this coupled with sharp writing and a gripping narrative with plot twists and realistic developments prevent the movie from devolving into a mindless bloodbath.
One must applaud Soldado for not being afraid to show extreme levels of violence to get its point across. Our heroes will go to any tactics to accomplish their goals, and sometimes this results in R-rated levels of carnage which paint a bleak, gritty, and realistic picture. The war against drug cartels and kingpins is certainly not a pretty story, and Soldado beautifully illustrates this in more ways than one. If you're offended by violence, though, stay home.
If the film has one weakness it's the presence of unnecessary tertiary characters and subplots. A subplot regarding a boy seeking something better in life who signs on to help criminals with border crossing feels like overkill on top of what's already a very full film. Moments like this tend to bloat the experience and take away from the primary narrative. Tighter editing of these characters/scenes/etc. would have improved the final product.
Soldado is a fantastic sequel to the original Sicario, and may even surpass its predecessor. The great performances from the leads, sharp script, gritty violence, and realistic tone make it a fantastic thriller throughout its two-hour duration. A strongly recommended film, but don't go if you're squeamish.
Rating: Three out of four stars.
*The first trailer for the film used the title "Sicario 2: Soldado." This is still being used as the title of the film in some other countries, though.
DISCLAIMER: All images in this review are the property of their respective copyright holders, including Black Label Media, Thunder Road Pictures, Rai Cinema, Columbia Pictures, Lionsgate, and Sony. For promotional use only. All rights reserved.