The Man Who Fell to Earth, originally released in 1976, is directed by Nicolas Roeg. The film stars David Bowie, Rip Torn, Bernie Casey, Buck Henry, and Candy Clark. It is based on Walter Tevis' 1963 novel.
At first glance, Thomas Jerome Newton looks like an average human being. But he's actually only disguised as one. The destitute and desperate Newton came to Earth to find water to help his homeworld, only to end up stranded. Patenting inventions to make money and establish a company, Newton plans to use his profits to create a vehicle to return home with water for his people, but fate has other plans, including his falling for a hotel employee, and rivals wanting to take control of his company and technology. Will Newton finally make it home to help his family, or will he remain stranded on Earth forever?
I always love revisiting classic films and "pet projects" from classic rock stars. As The Man Who Fell to Earth, starring David Bowie, fits into both of these categories, it was a movie I was very eager to watch. While many scenes feature strong production values and Bowie is his usual charismatic self, fun to watch even when he isn't doing anything of substance, it doesn't change the fact that this is a terrible movie. The Man Who Fell to Earth suffers from a horrible, almost-impossible-to-follow narrative structure, one-dimensional characters, random sex scenes which serve no major purpose to the plot, and a drawn-out 140-minute run time. It doesn't help that the movie is frequently boring and uninteresting despite sometimes stimulating visuals.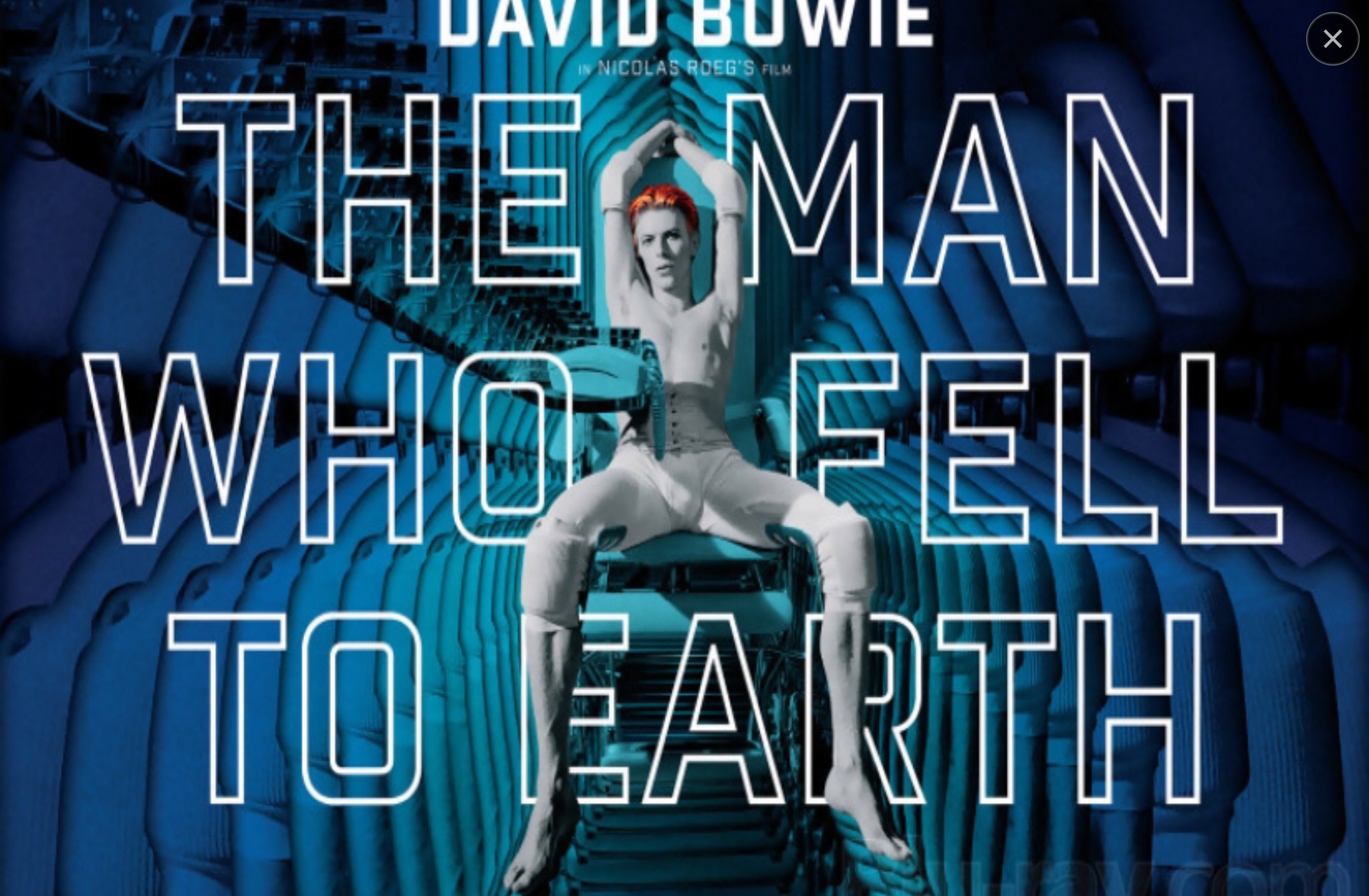 When you have David Bowie in your movie, he'll almost always be the most interesting part of the film. That's certainly true here. As Newton, his performance certainly isn't over-the-top or wild. He's strangely subdued and calm compared to many of his better-known film performances (anyone who's seen his performance in Labyrinth knows exactly what I'm talking about). His "low-key" portrayal here works for what the part requires, and seeing him in his "true" state stands as one of the highlights of the film, as well as the surreal flashbacks of his homeworld with his family. If nothing else, no one can say this isn't David Bowie's movie. Not surprisingly, scenes without him feel lacking and uninteresting by comparison. As an interesting bit of trivia, Bowie's suits for the film were design by Ola Hudson, the mother of legendary rock guitarist Slash.
Production values on the film fare well, too. The sets, from abandoned buildings and desolate towns to the flashbacks of Newton's former life and homeworld all leave a lasting impression on the viewer, even if nothing else does. The musical score from John Phillips (formerly of The Mamas and the Papas) along with other incidental recordings and previously-released rock/pop songs tends to suit the movie well, even if the film itself is suspiciously devoid of David Bowie music. (Bowie had planned to contribute music to the film but this didn't happen due to contractual issues. Music he planned to use in the film showed up on subsequent albums of his.)
Unfortunately, solid production and a good performance from David Bowie can't save the movie from everything else. The movie's narrative structure is absolutely terrible and almost impossible to make sense out of. In the opening scenes, we see a distraught and disoriented Newton stumble into a small town, confused and desperate, who sells a golden ring to an antique shop for a small amount of money to keep himself going a little longer. And a scene later, he suddenly has hundreds of dollars? And a passport and his own private driver? The movie jumps around to scenes of uninteresting secondary and tertiary characters, including a professor of sorts who has sex with his students, in some cringe-worthy scenes with laughably bad dialogue. A love scene late in the film involving Bowie, strobe lights, and a blank-filled gun feels more like a really bad outtake from Beyond the Valley of the Dolls. At one point we're introduced to a character played by Bernie Casey, who the film just expects us to know, and one of his few appearances is basically just him swimming naked in a pool. There are too many subplots, characters, and long stretches of nothingness. It doesn't help that the movie expects the view to "fill in the blanks." You practically need a plot description just to know what's going on. With a more straightforward narrative, about 45 minutes of edits, and the removal of unnecessary subplots and characters, it could have been a far better experience. As is, it's a trashy art film whose only redeeming qualities are its production values and the performance from Bowie.
This Blu-ray disc is sourced from a new 4K restoration, although many have been attacking the picture quality in their own reviews, claiming it's inferior to the earlier Criterion Collection disc and other foreign releases. Personally, I thought this disc looked fine, although I don't have any other version on Blu-ray to compare it to. A few shots look soft and there's a heavy grain on the scenes on Newton's homeworld, but these are most likely limitations/results of the original source material.
The special edition Blu-ray release features some physical extras, including a mini-poster, art cards, a booklet, and a reproduction theatrical program. Extras on the disc include nearly three hours of cast and crew interviews, and additional featurettes. Fans of the movie and/or Bowie will be impressed with what the package offers.
The Man Who Fell to Earth is a horrible film, though the surreal aspects, production values, and the performance from Bowie make it worth watching, even if it's basically an incoherent art film more concerned with visuals and shock value than giving its audiences an easy-to-follow story. It's no masterpiece or even a good movie. But it's worth seeing once for the few things it gets right.
DISCLAIMER: Images in this film are the property of their respective copyright holders. For promotional use only. All rights reserved.