Teen Titans Go! To the Movies (hereafter simply referred to as "Teen Titans") is directed by Peter Rida Michail and Aaron Horvath. It features the voices of Greg Cipes, Scott Menville, Khary Payton, Tara Strong, Hynden Walch, Will Arnett, Jimmy Kimmel, Nicolas Cage, Halsey, Patton Oswalt, Lil Yachty, and Kristen Bell.
When the Teen Titans learn every other superhero is getting a movie, the team, led by Robin, sets out to right this injustice, and get their own feature film. Along the way, the team must deal with obstacles thrown their way not only through the villainous Slade and Balloon Man, but also the hurdles of the film industry and a lack of interest. Will the team find a way to get their own film, or will they be left in the shadows of their fellow heroes?
I'd be lying if I said I came into this film with overly high expectations; the presence of a fart joke in a trailer for a family movie usually isn't a very good sign of things to come. But any doubts I had were quickly shattered when I attended this screening. Teen Titans is packed with action and over-the-top humor which spoofs not only superhero films but the entertainment industry in general. This self-aware spoof has already been referred to as "Deadpool for kids" in a number of reviews, but this is a hilarious and entertaining film for the whole family. One true surprise was how many references the movie packs in for adult fans of superheroes/films/etc. which are sure to go over the heads of their little ones (don't worry, it's noting inappropriate or above the film's PG rating). Even the musical numbers don't detract from the experience. It's a great film overall, with its predictability and occasional emphasis on toilet humor being the only real flaws.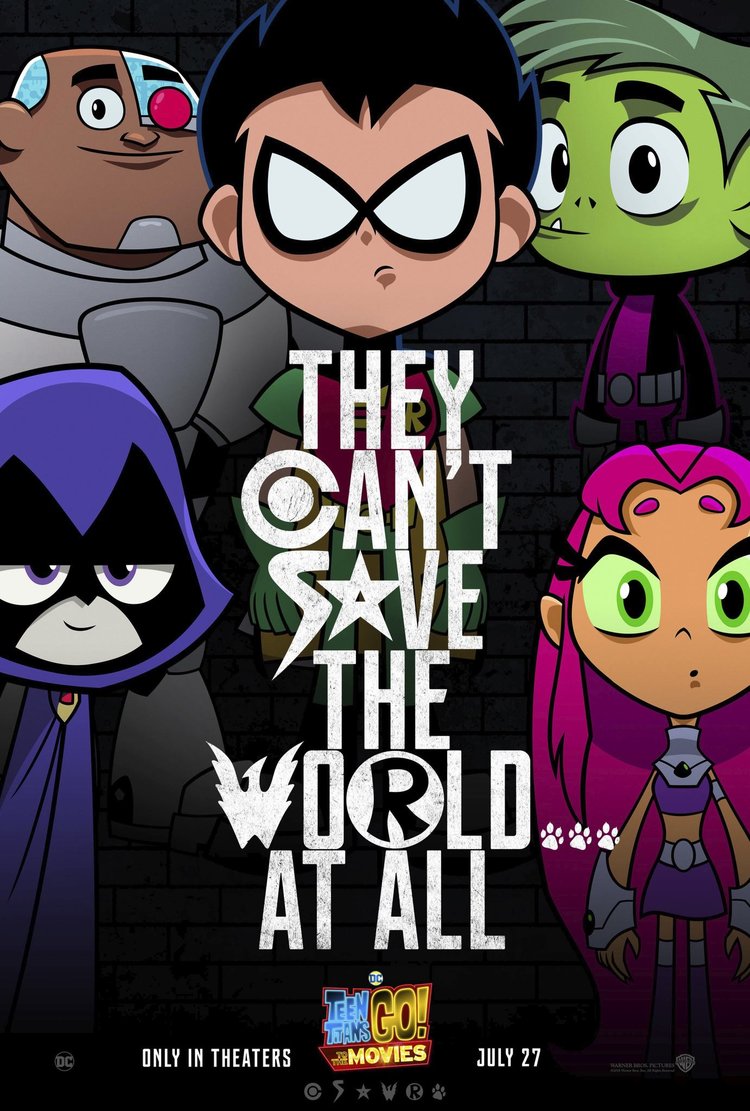 The overall approach the film takes is its greatest strength. There's enough action on screen, beautifully animated in 2D, to keep the attention of the young ones, but it's the witty script and hilarious gags which will keep older viewers hooked. It's truly fantastic that DC Comics/Warner Bros. aren't afraid to provide laughs at their own expense here; a reference to the ill-fated Green Lantern film a few years ago early on had the audiences in stitches. There's a great chemistry between the characters/voice actors, and it's a lightning-fast experience which never lets up. From a brilliant Back to the Future-inspired montage of undoing superhero origins and the resulting consequences, to an unexpected cameo and seeing what kinds of DC characters (some of which aren't even alive!) are getting movies before the Teen Titans, it's the perfect mix of action and comedy. Perhaps most importantly, it's truly a FAMILY movie, and not just a watered-down product for kids.
The only real weaknesses in an otherwise excellent film are the predictability of the plot, and an emphasis on toilet humor in a few scenes. If you've seen any hero film before, you've seen much of the plot elements which comprise the film. The biggest disappointment about the scenes of toilet humor is that the film already had a sharp, witty, and outright hilarious script without it, and it just feels like padding and some unnecessary cheap laughs thrown into a movie which was doing fine.
The flaws are minor here. Teen Titans is a hilarious send-up of the superhero genre, and far more entertaining than many of the live action entries of recent memory. It's tough to go into detail without spoiling some of the more hilarious moments, but it's safe to say any fan of these characters or action/comedy films in general will be satisfied with what they find here.
Rating: Three stars out of four.
DISCLAIMER: All images in this review are the property of their respective holders, including Warner Bros. Animation and Warner Bros. Pictures. For promotional purposes only. All rights reserved.