Crazy Rich Asians is directed by Jon M. Chu, and stars Constance Wu, Henry Golding, Gemma Chan, Awkwafina, Kris Aquino, Lisa Lu, Nico Santos, Ken Jeong, and Michelle Yeoh. This film is based on a novel by Kevin Kwan.
Rachel Chu is an economics professor living in New York City, dating her boyfriend Nick Young. When a member of Young's family announces their wedding, he takes Rachel back to his former home of Singapore for the wedding, and to meet his family. What Rachel doesn't know is Nick comes from an extremely wealthy family which includes business elite, film directors, socialites, and traditions and customs going back centuries. Rachel quickly finds herself overwhelmed by the Young Family, while Nick finds himself pressured by his family and conflicted into choosing between staying home and taking over the family business, or marrying Rachel, even if it means walking away from his family's wealth.
Crazy Rich Asians is already making headlines for being the first major Hollywood studio film released in a quarter century to feature a predominantly Asian cast. I'll admit it's not a film where I came in knowing what to expect, but this romantic comedy-drama has its share of highlights and then some. Elaborate production values, a fantastic cast, and cinematography in some beautiful Asian locations coupled with comedic and dramatic moments alike make it a fantastic cinematic experience, even if it's a little too long and has too many characters and subplots.
The two leads are Crazy Rich Asians' true selling point, and they're one of the best things about this film. Regardless of who you are, the plight of Rachel Chu, played by Constance Wu, having to meet the family of her boyfriend is one audiences will relate to, even if the movie takes it to a much higher and more ridiculous scale than you'd expect. From "mean girl" types who meet her with disdain to Nick's domineering mother who essentially tells her she'll never be good enough, it's a real struggle and one nearly everyone has experienced to some extent in the real world. Just as impressive is Henry Golding as Nick, who comes from an insanely wealthy family, but wants Rachel to see him for who he is, not as a "rich person." For Rachel, it's a classic "meet the parents" moment fused with a "fish out of water" story. For Nick, it's an ongoing personal conflict between the woman he loves, and pressure on him to inherit his family's empire of millions.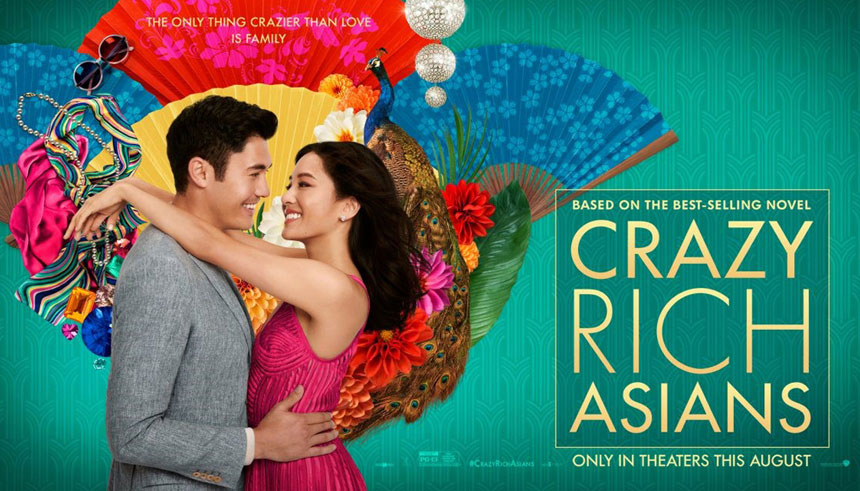 Fortunately, the film doesn't skimp on a supporting cast either. Michelle Yeoh is absolutely brilliant as the vengeful and judgmental mother of Nick's, who refuses to see in Rachel what her son does, leading to some genuine tension throughout the course of the film. Much of the comic relief in the film comes from a former college friend of Rachel portrayed by Awkwafina, who quickly becomes the highlight of the movie every time she's on screen, with a witty one-liner for every occasion. Even if the movie itself doesn't get a sequel, this character needs a spin-off.
The movie's approach beautifully straddles the balance between comedy and drama. Rachel's situation and overwhelming feelings with meeting her boyfriend's family results in some heartbreaking and shocking moments, but there are some laugh-out-loud funny steps along the way as well. The film, its cast, and its writers deserve major credit for a witty script which is as hilarious as it is dramatic, without having to resort to cheap laughs or low-brow humor along the way. It's tough to put a new spin on the romantic comedy-drama genre, but Crazy Rich Asians find the necessary balance with the two extremes, giving audiences the best of both worlds. It feels familiar, but fresh at the same time.
It's also worth mentioning how well the movie covers the issues of discrimination, not only of Asian culture in general (beautifully demonstrated by a hilarious opening scene that turns the tables on the offenders in a delightful way), to discrimination within the culture itself regarding social status and how one is perceived by families and the public. It's an aspect which is tough to explore in a review without posting spoilers, but the film is sure to impress in this regard.
Crazy Rich Asians certainly goes "all in," but there are certainly a few aspects which would have benefited from a "less is more" approach. The movie is perfectly cast, but the cast is simply too big. There are far too many characters and subplots to keep track of, and I quickly found myself confusing and mixing up these elements, though this could be considered a strength of the movie at the same time since it's not unlike how Rachel feels meeting so many of Nick's family members all at once. At roughly two hours, the movie is too long, and would have benefited from roughly 20 minutes worth of cuts. It's a fine film, but there's too much going on with too many people, and as good as the movie is, it simply doesn't know when to stop at times.
Fortunately, when it comes to Crazy Rich Asians, the good outweighs the bad by far. The casting is great, the Asian cinematography of some beautiful exotic locations puts the looks of the film in a class of its own, and it's a brilliant mixture of comedy and drama. Anyone seeking one of the better romantic comedy-dramas of recent years can't go wrong here.
Rating: Three out of four stars.
DISCLAIMER: Images in this review are the property of their respective owners, including Color Force, Warner Bros. Pictures, SK Global Entertainment, Starlight Culture Entertainment, Ivanhoe Pictures, and Electric Somewhere. For promotional use only. All rights reserved.