Over three decades, Enuff Z'Nuff has created some of the best power pop-infused rock and roll the world has known, though they're often unfairly lumped under the "hair band" umbrella and never given a fair shake. That said, the group is still alive and well, and despite many lineup changes over the years, they're back with their latest record.
Diamond Boy is the new record from Enuff Z'Nuff. For the latest release, the lineup features longtime bassist/backing vocalist Chip Z'Nuff, who gets a promotion to full-time lead vocalist here following the departure of former singer Johnny Monaco. Chip, the band's lone remaining classic member, is joined by guitarists Tory Stoffregen and Tony Fennell, and Daniel Benjamin Hill on drums.
The sheer musical diversity of Enuff Z'Nuff and the originality of their sound is what makes them a standout band in this longtime fan's eyes. I'll admit I haven't listened to every single thing the band's ever recorded, but they've got a consistent reputation for making quality music. Diamond Boy is another strong addition to the band's impressive discography, clearly paying homage to the group's rock and roll heroes and influences, while continuing to put their own spin on things.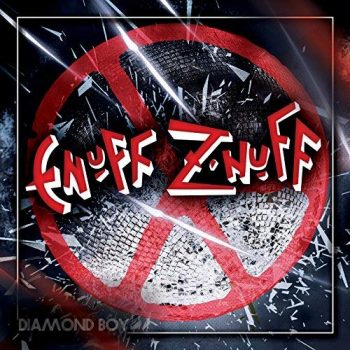 Let me be the first to say, if you've got doubts about Chip taking over the lead vocal spot, he doesn't disappoint. It's a group which has had no shortage of member changes in their lengthy duration together. Former contributors like Donnie Vie and the late, great Derek Frigo are sorely missed, but this could very well be the strongest incarnation of the band since their classic 1988 debut record. The band is one which remains no stranger to reinvention, yet manages to retain the core element of their sound which makes them who they are.
Influences are all over the place, and the group still brings their own thing to the experience as well. From Sweet and The Beatles to Stone Temple Pilots and Cheap Trick, it's an amalgamation of musical elements. The guitars, the vocal harmonies (my favorite thing about the band), the rhythm section; everyone's at the top of their game here. Anyone who wrote these guys off as a one-hit wonder of a hair band back in the 80s needs to rethink their view of this band. Enuff Z'Nuff is still alive and well, and as good as they've ever been.
Chip Z'Nuff takes the mantle of lead vocalist, and along with a superb band lineup, gives audiences something spectacular for the ages! Diamond Boy should be a diamond record, though this likely won't happen due to the piss-poor nature of the music business these days. If you've been away from Enuff Z'Nuff since their late 80s/early 90s heyday, it's time to look them up. If you never left, you likely have an idea of how good of a musical experience you're in for. Highly recommended!