Adelitas Way
Brooklyn Bowl, Las Vegas
August 5, 2018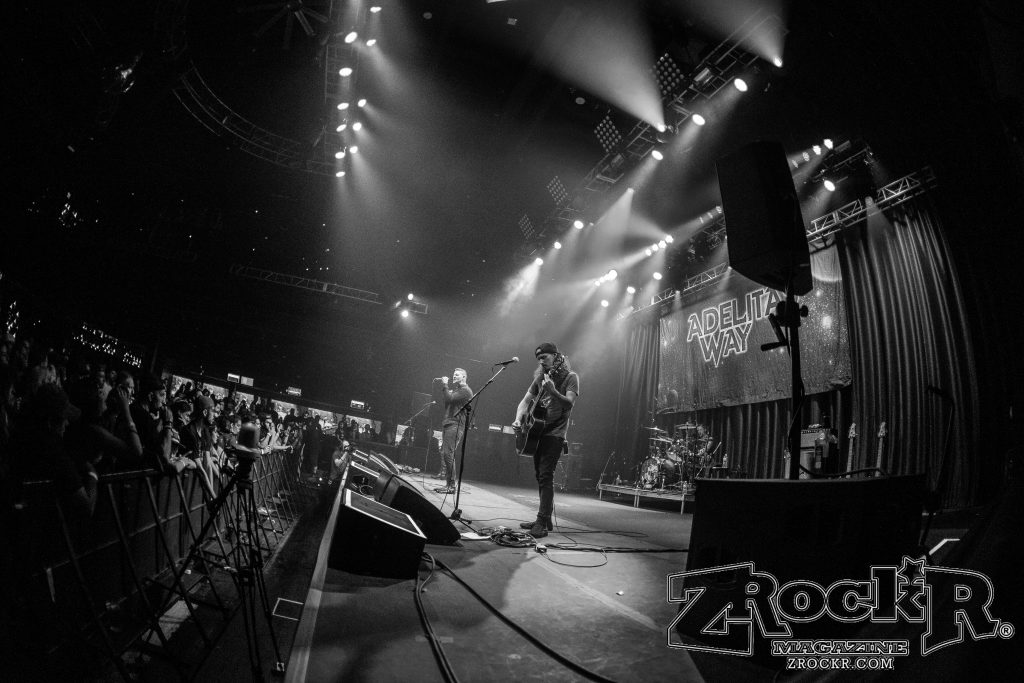 Adelitas Way returned to Brooklyn Bowl Sunday, August 5, 2018. This Vegas based, local favorite returned with Tyrants By Night, and STOKED! It was a night of locals at the Bowl, and honestly, these nights are some of my favorites.
    Tyrants By Night and STOKED! are so different musically, but this is one of those things that is so great about the music scene… there are so many bands from genre to genre, and it's always awesome to see them come together on one bill. Tyrants being more thrashy/heavy metal, and STOKED! being more poppy/punk influenced with a healthy dose of Beatles influence… and they have a VIOLA. Yes, you read that right.
    Tonight however, is about Adelitas Way. This is one of those Vegas bands who've gained quite a bit of attention on a national level the last few years. The band consists of Rick DeJesus and Trevor Stafford as original members dating back to 2006, and Andrew Cushing, (ex Taking Dawn). I didn't see a name for the guitarist who played with them this night, but I'll tell you right now I totally dug that B.C. Rich Bich model he rocked on stage.
    This entire performance was filled with intensity, as could be seen by the Vegas crowd of dedicated fans. Rick is very clearly deeply connected with every lyric that leaves his lips.  The fans love that about him. Andrew and their guitarist could be seen from different places on the stage drinking their drinks and just enjoying themselves on stage. It's always great to see our local guys come back to play, and we are awaiting the next local gig they snag!
Success!
    Adelitas way has been celebrating their success with their high listener counts via Spotify, and have recently released the song "Drifting" to the public in July of this year. Their music can be found on all digital platforms, as well as their official website: http://www.adelitaswaymusic.com/
Keep up with the band at these links!
https://www.instagram.com/adelitasway/
https://www.facebook.com/adelitasway/
https://www.youtube.com/user/adelitasway
https://open.spotify.com/artist/1ZjAT2nTrzDIXFfsQ2hWJk
PHOTO CREDIT: All photos by Courtney Ware for ZRockR Magazine - ©ZRockR Entertainment, LLC - ALL RIGHTS RESERVED