This movie is not to be confused with the 2017 film Goodbye Christopher Robin.
Christopher Robin is directed by Marc Forster, and stars Ewan McGregor, Hayley Atwell, Bronte Carmichael, Mark Gatiss, Oliver Ford Davies, Jim Cummings, Toby Jones, and Brad Garrett. The film is based on characters created by author AA Milne.
Christopher Robin leaves the Hundred Acre Wood as a child, leaving behind Winnie the Pooh and his friends. Years later, he and his wife have a daughter, yet he's constantly torn from his family due to a job he takes after the war to make ends meet. He's assigned to work overtime on a weekend when his family plans to visit the countryside, away from the hustle and bustle of London. Conflicted by his responsibilities to his family and his job, he get an unlikely visitor in the form of his old friend Pooh, who he decides to take back home to the woods, only to be reunited with his other former friends, but at the expense of time he's supposed to spend helping out around the office. Will he get his family life back on track, and manage to continue supporting his family, or will he be overtaken by it all?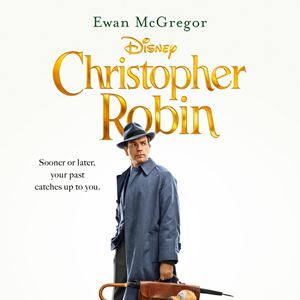 It seems like in recent years, Disney has developed a knack for turning their old animated properties into live-action films, or creating new live-action takes on those characters/franchises. While not every attempt at this has been a success, Christopher Robin is a superb film which combines drama, humor, adventure, and plenty to keep your attention. It's not a perfect movie, but it's simple and effective alike, with plenty of memorable moments for audiences of all ages.
There's not enough praise to be given to Ewan McGregor in the title role. Everyone will be able to relate to his predicament of juggling work and his family life, which is not exactly a new theme in the movies, but one explored so well here that it makes for one of McGregor's best cinematic performances in years. When former childhood friends re-enter his life, his skepticism and frustration are understandable, and are certainly how any rational person would act. Yet we see him exploring himself, who he was, and who has become. Christopher Robin isn't the most complex movie ever when it comes to exploring one man's personal crisis, but it doesn't need to be. Sometimes simplicity is the best way to handle these themes, and it's true throughout the movie's run time. The supporting cast is nearly as impressive, including Hayley Atwell (Peggy Carter from the Marvel Cinematic Universe) as his wife, and voice actors including Jim Cummings as Pooh and Tigger, and a standout performance from Brad Garrett as the constantly morbid and downtrodden Eeyore.
The scenery and cinematography help bring the simple yet effective story to life. From the sprawling plains and woods of the Hundred Acre Wood to cluttered and congested London city streets, every moment feels suitable to the material at hand. The cast and crew alike make the best of what they're given, and it's safe to say the budget didn't go to waste. The appearance of the animal characters in the Hundred Acre Wood also deserves major credit; they feel like believable, living characters, but still maintain something of a "stuffed animal" appearance so they don't look TOO realistic or out of place.
If there's one issue with the otherwise splendid story, it's that the narrative can get a bit unfocused at times. There isn't one central plot, but rather several smaller stories and character arcs which sometimes do get a bit muffled and tend to drag in places; the title character's relationship with his family could have used some more screen time, for instance. At times we focus too much on one story element and not enough on others, and it's easy to be thrown all over the place. Still, it's a minor flaw in the long run.
Despite some mild narrative hiccups in its duration, Christoper Robin stands as a strong film and a great new story featuring these characters. It's definitely worth seeing.
Rating: Three stars out of four.
DISCLAIMER: All images in this review are the property of their respective copyright holders, including Walt Disney Studios Motion Pictures. For promotional use only. All rights reserved.