Smashing Pumpkins are a band I never thought I would get to see live.
I remember sitting in the back of my mom's car hearing "Bullet with Butterfly Wings" over the radio and her blasting Adore when it came out. As I got older, my love for the band grew as I discovered Gish and Siamese Dream, but I knew the chance to see them live (other than just Billy Corgan) was slim to none.
In 2016 when rumors started circulating around in regards to the band getting back together, I told literally everyone that if they toured, I didn't care how much it cost; I was going. Luckily, the stars aligned at the right time when tickets went on sale, and I was able to make that a reality. I said I wanted to go and just enjoy a show and not write about it, but within the first 10 minutes of the show, I was making mental notes to bring you this article. Fair warning, it may get mushy.
Kicking off the packed T-Mobile Arena show was the title track off of Mellon Collie and the Infinite Sadness, accompanied by animations on the screen that took us through Pumpkins history; everything from Mellon Collie herself to the ice cream truck from the video for "Today", and ending with the same little girls featured on the cover of Siamese Dream now all grown up and setting the Smashing Pumpkins SP+heart logo a flame. With each piece of history, the crowd grew louder and louder before the screen parted, revealing Billy Corgan at its center, at which point the screams of adoration were explosive.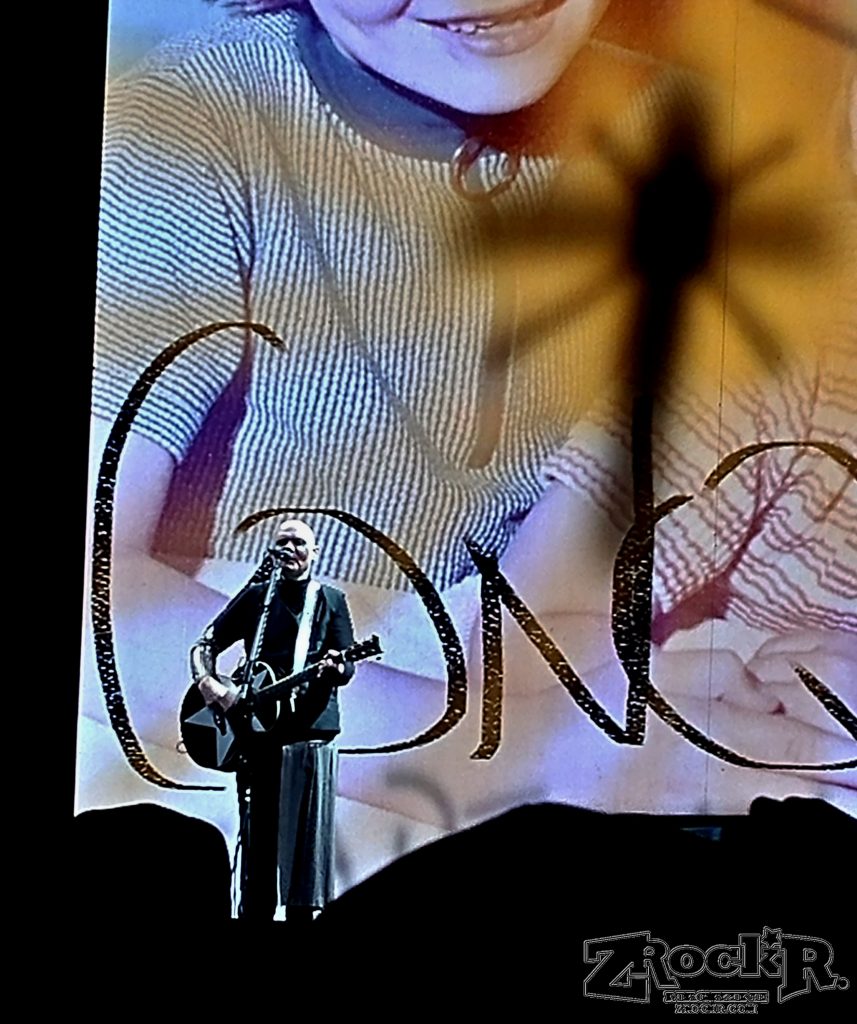 Corgan coyly walked across the stage to his microphone, looking as if this was his first show ever. I was shocked by how tall he appeared, mainly because my 5'2″ self was actually able to see him over the heads in front of me. With an acoustic guitar in hand, he began the chords to "Disarm". Behind him, the screen lit with photos of his life, like a timeline from infancy to adolescence to the band's early days. Upon each picture were random words he drew almost to poke fun at himself.
Starting with an acoustic song is a risk, but would we expect anything less of him? No.
Screams filled the arena yet again as guitarist James Iha and drummer Jimmy Chamberlin took to the stage, and the band broke into "Rocket", also off of Siamese Dream. Two guys behind us went absolutely nuts for Iha screaming, "We love you James! JAAAAAMES!" at the top of their lungs. They would continue to do this between every single song, and honestly? I thought it was hilarious and adorable.
One of the biggest highlights of the show was a cover of David Bowie's "Space Oddity". After an orchestral intro accompanied by scenes of a rocket launch on the screens, Corgan ascended a staircase in the middle of the stage, clad in a shiny gunmetal hooded cape, cooing the opening lyrics. With his back facing the crowd, he sang to scenes of clouds as Ground Control, finally turning as he sang from the point of view of Major Tom. As a huge Bowie fan myself, I felt that this cover was done beautifully and uniquely. As the song approached the fate of Major Tom and the apex of the song closed in, Corgan descended the stairs, pausing for a moment to embrace the crowds cheers of approval. Guitarist Jeff Schroeder took the lead solo on this one, letting his guitar ring in the feedback as the crowd cheered towards its end.
Following up the beloved Bowie song was my personal all time favorite Smashing Pumpkins tune, "Drown" off of the Singles soundtrack. I got so insanely excited as the opening guitar line began that I jumped up and down screaming, knocking the people next to me. I apologized of course, since I'm not an asshole, but I couldn't control myself. I thought for sure between my excited screams and singing along at the top of my lungs,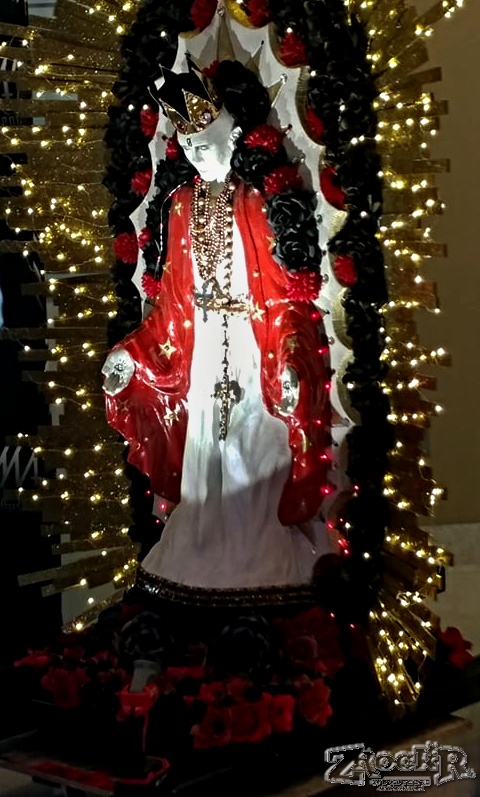 that I would blow my voice out, but I didn't. What made the song even better was that they played the full version (or as close as they could get) and not the simple 4 minute radio version, allowing a few minutes of feedback from the guitars to ring out.
After a short poetic video of Corgan upon the screens, the band broke into a string of hits, beginning with "Zero", bringing the entire arena to their feet. After a few more tunes, one of my favorite moments from the show took place as they began another one of my favorites off of Mellon Collie and the Infinite Sadness, "Thirty-Three", which is featured on Disc 2, Twilight to Starlight. I closed my eyes as the lyrics popped up on the screen, inviting the crowd to sing along. It was extremely emotional for me to hear this one live. I'm not sure why this song has such a profound meaning to me, but the song seemed to go on forever, and when Corgan extended his arms out to the crowd during the line "I've journeyed here and there and back again, but in the same old haunts I still find my friends", I just about burst into tears. When a musician can connect with a crowd that way, to where you feel like your hearts beat in the same time signature and feel the same emotions, it's a reminder of why music is so important. To hear the arena singing as one made that moment all the more amazing, and "Thirty-Three" was a great segway into a string of slower songs by the band.
After "Soma", which, like the drug itself, is a gentle lull off to Slumberland, Mark McGrath (yes, from Sugar Ray) appeared on the screen painted like a marionette from the 1930s, fitting with the Vaudeville aesthetic portrayed throughout the Pumpkins' career , which I will get into more a bit later. After waking the crowd back up, we were treated to Iha hopping on the vocals for "Blew Away" off of 1994's Pisces Iscariot, accompanied by keyboardist Katie Cole on acoustic guitar and backing vocals, which was a definite treat (and of course made the massive James Iha fans behind us lose their shit).
This segment of the show took a slightly odd turn after "Landslide" (which is really the only SP cover I am not a fan of) and "Tonight, Tonight" as a piano arrangement of Led Zeppelin's infamous "Stairway to Heaven" began. There has been a lot of mixed opinions about this version. Personally, I loved it. It is always a risk to touch Zeppelin and do it justice, but the thing that made it amazing was that they made it their own. With the exception of Schroeder absolutely nailing the guitar solo, it was no longer a Zeppelin song and took on a whole new tone and feel. Now, the reason why it is so odd (and I don't know how people aren't talking about it) had nothing to do with the song, but with the giant St. Billy Corgan statue done in Roman Catholic style, being dragged by monks through the crowd. Why is everyone arguing over the song and not talking about how awkward and yet amazing this was?!
The last couple of highlights were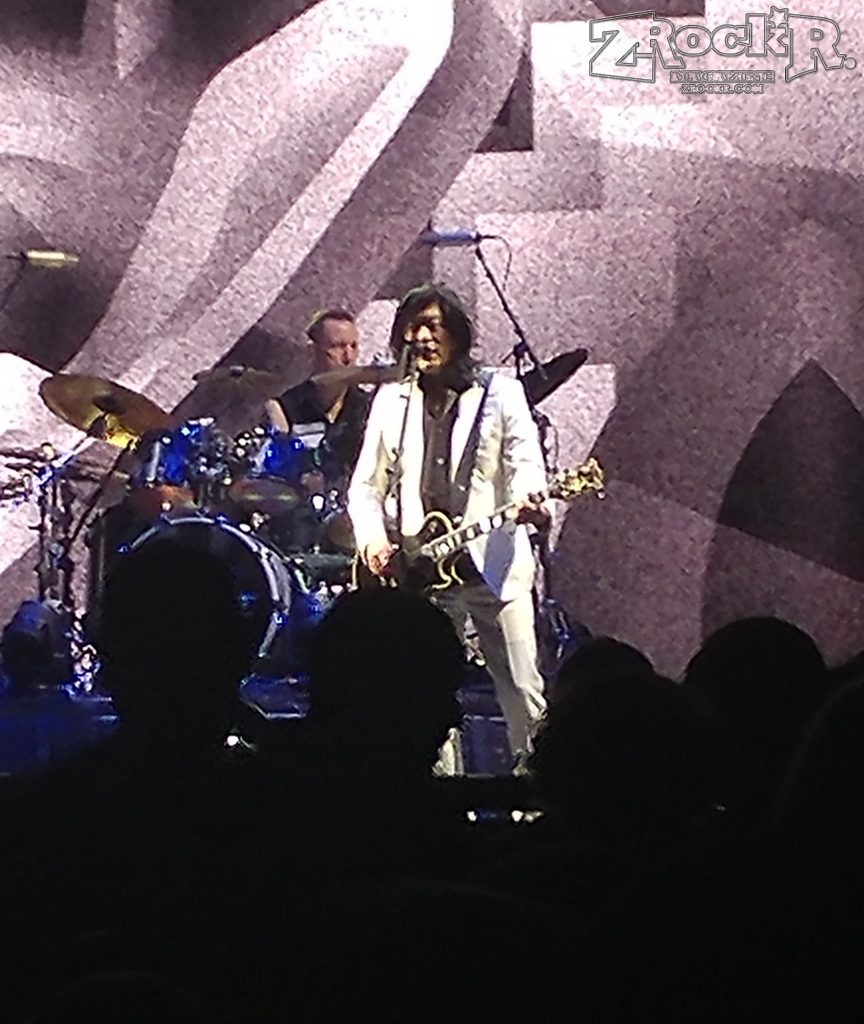 "Bullet with Butterfly Wings" (for me), which sent the entire arena into an absolute frenzy. This is arguably one of the biggest hits that Smashing Pumpkins has, and obviously it still stands the test of time. The other highlight was their new song "Solara". I'm not even going to go into how awesome it is for new Smashing Pumpkins music. Just go listen to it.
Bringing the show to a close was the final encore of "Baby Mine", which everyone knows from Disney's Dumbo. It was definitely an odd choice to end with, but seriously who expects this band to be normal at all?
Overall, this was a solid set. The only thing missing for me was "Perfect", but it was not one of the more popular singles, so I get why it was left out of the list of hits that were played in order to leave room for some deeper cuts.
The theatrics of the show were like a Vaudeville style version of Roger Waters' The Wall. Not in the sense of hammers and weird acid trip like visuals, but in the sense that there was a story going on throughout the show. I've read some people stating the story is a nod to the absent D'Arcy Wretzky, and I can see the comparison at times, but after discussing the story line with my fiance, who attended the show with me, it seems to be more music industry related. There's a love/hate and fearful theme that plays throughout the story and it was rather intriguing to watch. However, at times it did take away from the musicians themselves. I often found myself watching the screen more than the stage, which I hate doing, so I had to make a conscious effort not to. 
In conclusion, I'd see this tour again. I'd see this band again. Getting to hear these songs live was, as I mentioned before, kind of a dream come true, and I'd gladly do it all over again. If you didn't see them on this tour, pray for another. You won't want to miss it.
Setlist:
Mellon Collie and the Infinite Sadness
Disarm
Rocket
Siva
Rhinoceros
Space Oddity (David Bowie cover)
Drown
Zero
The Everlasting Gaze
Stand Inside Your Love
Thirty-Three
Eye
Soma
Blew Away
For Martha
To Sheila
Mayonaise
Porcelina of the Vast Oceans
Landslide (Fleetwood Mac cover)
Tonight, Tonight
Stairway to Heaven (Led Zeppelin cover)
Cherub Rock
1979
Ava Adore
Try, Try, Try
The Beginning Is the End Is the Beginning
Hummer
Today
Bullet with Butterfly Wings
Muzzle
Encore:
Solara
Baby Mine (Betty Noyes cover)
PHOTO CREDIT: All photos by Stephy Hayward for ZRockR Magazine – ©ZRockR Entertainment, LLC – ALL RIGHTS RESERVED