Escape the Fate & Slaves
September 6, 2018
Vinyl Las Vegas
Intro
Prior to this show, I was always pretty much that person that if you mentioned Escape the Fate in conversation, I'd immediately revert back to 2005-06. This was a time of coming up for them in the Las Vegas scene. I don't expect everyone to know or care about those details, and they're probably best left where they are – in the past. However, I have not kept up with the band since hearing their 2010 release, "This War is Ours." This was a time where they were gaining some serious traction with vocalist Craig Mabbitt. I guess I either lost interest or just outgrew the brand of post-hardcore sound/direction they took themselves in. Having also been a pretty big fan of Craig's Blessthefall work, it was just hard for me at the time to jump on to his work with ETF.
The Vegas date hosted at Vinyl in the Hard Rock Hotel was the kick off to a U.S. headlining "Beautiful Human Tour" This name is fitting when you factor in their co-headliner, Slaves. Escape the Fate promoting their latest release, "I Am Human" and I believe this is an added leg for Slave's Beautiful Death release. [I have a separate article that you can find HERE from Slaves' show at The Chxrch back in March.]
Locals: Silence Speaks and A Perfect Being
Opening up the night were local acts Silence Speaks and A Perfect Being. Both these acts are regulars in the metal scene. You can usually catch them out in Henderson at Eagles Aerie Hall. Both bands put on exceptional sets, and A Perfect Being also featured A Friend, A Foe vocalist, Juan Gutierrez. It's always pretty awesome to see a couple locals kill it with a huge headlining band. They definitely set the energy and tones off right to take us all into the rest of the evening.
Check them out at the links below!
https://www.facebook.com/silencespeakslv/
https://www.facebook.com/aperfectbeinglv/
Set To Stun, Picturesque, Famous Last Words
Set to Stun was up next and LET ME TELL YOU. Frontman/guitarist Damien Wong is one of those special kinds of intense when it comes to their live performance. Throughout the set you could see him jumping over the barricade into the crowd, laying on the stage, and even at one point ending up underneath part of the stage. You don't really see much of this kind of interaction or energy from post hardcore shows anymore!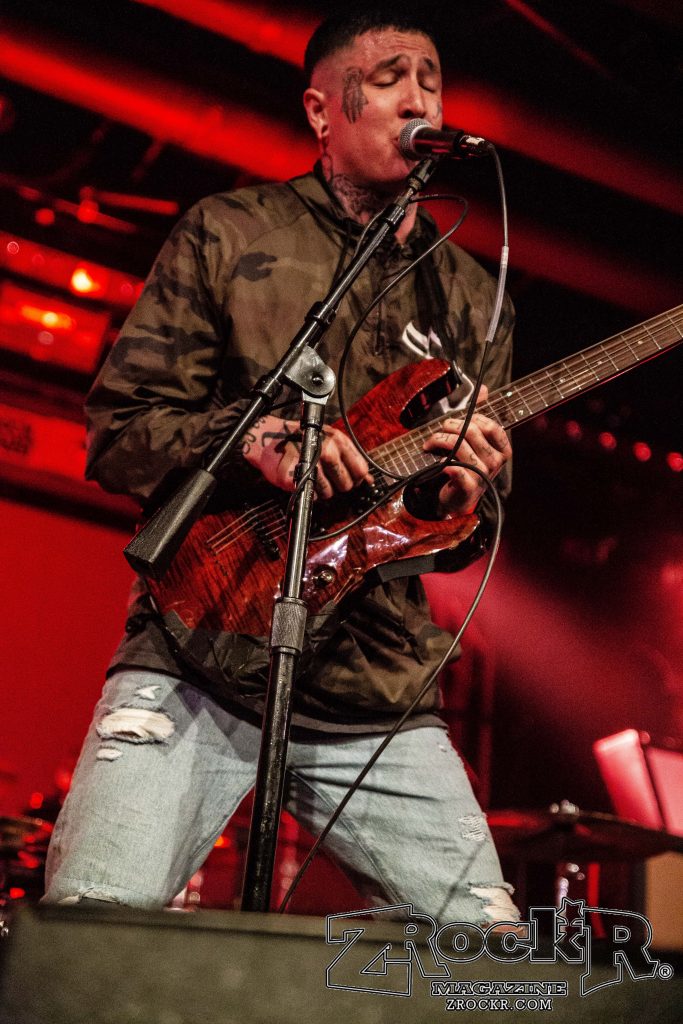 Picturesque and Famous Last Words seemed to be the most known as far as the openers go for this show. The fans in the front row could be seen screaming the lyrics and connecting with the bands respectively. Picturesque is a self labeled rock act from KY signed to Equal Vision Records. They fit in pretty well on this bill. I'd say between both vocal style and dress appearance, they'd have been perfect on a 2008 Emarosa tour… you know… when Jonny Craig dominated with that band. Famous Last Words essentially reminded me of a more traditional post hardcore sound. Maybe something along the lines of Bring Me The Horizon circa 2008 mixed with Saves the Day dipped in the energy of Thursday's "War All the Time." It's an interesting sound, but super easy to get into and bang your head to!
You can check out both bands at the links below for more information!
https://www.facebook.com/picturesque/
https://www.facebook.com/famouslastwordsmusic/
Slaves and Jonny Craig
If you've read my first piece on Slaves, you'll notice that I'm a huge fan, so maybe I'm a little biased when it comes to my opinion of their performances. That aside, I really have nothing to say other than I am absolutely amazed by Jonny Craig's interaction with the crowd, and the fact that you can see the music just flowing through him so naturally. He got a second chance, and yeah yeah, there will always be haters, who the fuck cares though. In his journey of recovery he has won over the Las Vegas scene. He makes it well known that he is thankful for the fans, and the bands he's been able to share these stages with. This is respectable in it's own right.
I'm looking forward to the next time they perform out here. (I was pretty bummed that I missed Las Rageous and their last second addition to that bill… I'd love to photograph them on a big stage one day!)
Escape the Fate
Back to the main headliner, Escape the Fate. The current line up consists of Robert Ortiz, Craig Mabbitt, Kevin "Thrasher" Gruft, and TJ Bell, along with touring bass player, Erik Jensen. I basically went into this set review blind. I had bits and pieces of "Dying is Your Latest Fashion" imprinted in my mind… This image was shattered almost immediately once the entire band took the stage and started ripping it up. Kevin showed off his crazy guitar skills throughout the set while Craig displayed a quality that I was unaware that he still possessed. A mixture of clean vocals and screams. (I did say I didn't keep up with their journey so I had no idea… haha.) Respectively, this band is no longer the band that I saw coming up in the scene all those years ago… they're better than they were.
Drummer Robert Ortiz is the only original founding member. I have to say that I'm extremely blown away by his dedication specifically to this band that otherwise may have fallen apart completely if it weren't for Craig joining him a decade ago. I'm still not exactly a fan of their specific brand of slowed down songs, but that's just me. Given the opportunity, I'd come back out to see these guys again if the chance presented itself.
Escape the Fate, Slaves, Famous Last Words, Picturesque, and Set To Stun will be on tour through September to the middle of October.
PHOTO CREDITS: All photos by Courtney Ware for ZRockR Magazine – ©ZRockR Magazine – ALL RIGHTS RESERVED