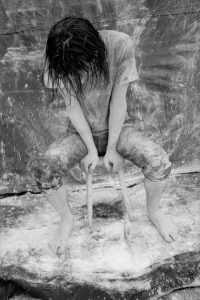 Back in late 1989/early 1990- which seems like a lifetime ago now, I first heard this very interesting band out of Cleveland called Nine Inch Nails.  Well, come to find out it was actually this one guy named Trent and a Macintosh and some synths, but it really wasn't that simple- it was more complex than that- it was hard edged and angsty and definitely grabbed you by the throat, but it was danceable too and the lyrics at times were things you thought but dare not say out loud in small town America, it was delectable at the le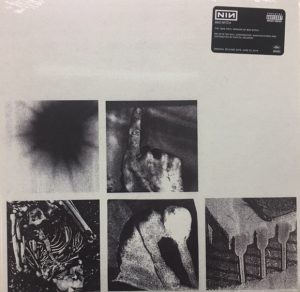 ast and offensive at the most.  Most people I knew either loved it or absolutely hated it.  As for me?  When I saw the Head Like A Hole video on MTV- that clenched it!  I like this band on all levels, why haven't they played here yet- now here Chart Records, take my money- I want that record- yes Pretty Hate Machine– take home and proceed to play to death.  End of subject.
28 years and many NIN albums, EPs, and singles later- we were gifted over the summer with Bad Witch.  The last of a trilogy (preceded by Not The Actual Events and Add Violence) and quite honestly- well worth the wait.  The album is technically impressive, like a glass of fine Beaujolais, it swirls thru the ears and hits right where it needs to…   While in some areas it is somewhat Bowie-esque with Saxophone (did you forget Trent does play Sax?) and a perfect aural soundscape and a crooning vocal from Trent Reznor,  'Play the God Damned Part' and 'God Break Down the Door' were reminiscent perhaps of Bowie's Blackstar on some levels and in others such as the lead off track 'Shit Mirror' very much
abrasive to a degree, and in your face yet somehow also the fun and melodic NIN we all know and love as well (though to be honest I wished the song was longer so hoping for a remix single at some point as it is one of the best tracks on the disc) to what I can only describe as a look back at the trilogy and the drive to move forward unabashed on 'Over and Out'.   I honestly played the thing for 2 weeks straight at different volumes in the car, at home, on my phone just to hear all the nuances and really get a feel for the album.  I am sure it drove my neighbors quite mad.
"What are you trying to say, woman!?"  I hear you shout… ok, ok it's really quite simple.
If you are a fan of Trent Reznor and Nine Inch Nails- buy the god damned album if you haven't yet.  I don't know what you're waiting for-  it's worth every thin dime you will spend.  If you are unsure and new to Nine Inch Nails- buy it anyways and work your way backwards-  This is Halo 32.   I can make recommendations but you should explore it yourself.  What was to be an EP to wrap the trilogy became an LP, and quite frankly, as a long time fan, I am very happy that it did.
You can pick up a copy of Bad Witch at your local record store or order a copy on vinyl from Nine Inch Nails official store at nin.com
NIN will be hitting the road this fall in the States for their Cold, Black, and Infinite Tour.
The Tour kicks off the tour in Phoenix, AZ on September 13 and 14  – Check nin.com for tour dates and tickets.
Tickets are limited in some areas, don't wait til last minute or ya may miss out. 
PHOTO CREDITS:  Trent Reznor/ Nine Inch Nails Pretty Hate Machine Promotional Photo ©1989 TVT Records –  For Promotional Use 
Trent Reznor and Atticus Ross- Nine Inch Nails Bad Witch Promotional Photo ©2018 The Null Corporation- For Promotional Use
Bad Witch album Cover from the author's personal collection