Halloween is directed by David Gordon Green. The film stars Jamie Lee Curtis, Judy Greer, Andi Matichak, Will Patton, Virginia Gardner, Nick Castle, Haluk Bilginer, and Toby Huss. It's the eleventh film in the franchise.
To clear a few things up before beginning the review: This film serves as a direct sequel to the original 1978 Halloween film, disregarding all other sequels/continuities. It is not a remake and/or a reboot.
It's been 40 years since Michael Myers went in a killing spree in Haddonfield, murdering multiple friends of Laurie Strode, who was forever traumatized by the ordeal of that night. Four decades later, Strode is a grandmother twice divorced, estranged from her family. When Myers is being transported to a new facility, he breaks free from the asylum bus, and begins the trek back to Haddonfield to finish what he began. But Laurie has been preparing for the inevitable, wanting her revenge against the mysterious killer who threw her life into disarray. Will she avenge the friends she lost so long ago, or will Myers kill without mercy in the unsuspecting small town once again?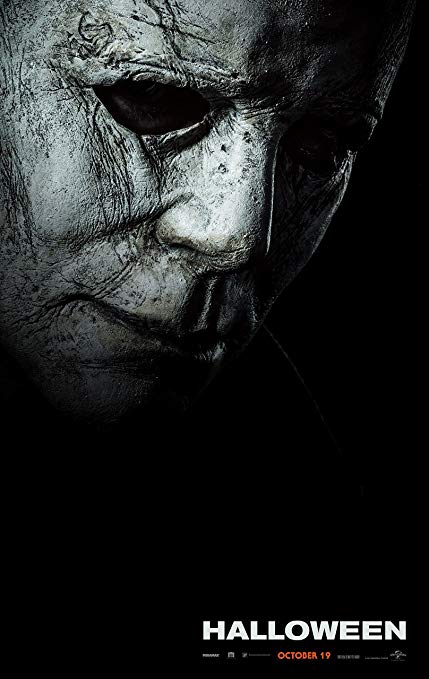 The Halloween franchise has continued on over the years, from simple beginnings to increasingly outlandish and ridiculous plot elements, retcons, alternative continuities, and even a two-film remake series directed by Rob Zombie (I'll be the first to admit I haven't seen every single sequel). The new entry is very much a "back to basics" film for the series which smartly eschews the elements of later movies, bringing us back to what made the original movie what it was. There are a few missteps and some elements of the film which don't work, but overall, it's a major step in the right direction for the aging horror franchise.
There are not enough good things one can say about Jamie Lee Curtis, returning to the role which made her famous in the first place. This is a woman broken by a horrible experience years ago which shattered her life, and her over-the-top secured home and cache of weaponry for taking down Myers should he return to down are all the more relatable to anyone who's seen the original movie and experienced the horrors firsthand. We see a women stricken with post-traumatic stress disorder, driven from her family, who's never been able to keep her life on track because of what Myers did to her so long ago. Curtis is the best thing in this film, and seeing the chemistry between her and her on-screen family and acquaintances, which isn't always smooth or friendly, is a major plus.
I praise Halloween for returning the elements which made the original so fantastic a movie, without resorting to feeling like a rehash. Make no mistake, this is Haddonfield revisited, but it's most definitely 40 years later. The progression in the town feels authentic, and the residents' reactions to the events at hand are entertaining and believable. It recaptures the creepy atmosphere of the original movie, as well as its intensity and simplicity alike.
The film brings back horror icon Michael Myers, and maintains his ambiguity from the original film. Attempts at origin stories and further developments for the character later on were of questionable quality, but here we've got Mr. Myers as we loved him originally: Mysterious, merciless, and deadly. No one is safe in the film, and the on-screen violence knows no bounds. There are plenty of gory R-rated moments which recapture the vibe of the original, often feeling even more intense, and even a few fun homages to other movies in the series, particularly the original.
Unfortunately, not every element of the film works. A central character in the film is Laurie's granddaughter, but she's mostly used for a romantic subplot which goes absolutely nowhere and serves no purpose in the film's central plot. While Andi Matichak is a talented young actress, her role is ultimately tertiary and you can't help but feel like the crew could have found a better way to utilize the character.
Another wasted element in the film is the man who took over the role of Myers' doctor following the death of Sam Loomis, the character played by Donald Pleasance in earlier films. While he makes some interesting choices later in the film (some of which surprised even me), ultimately it feels too much like he's trying to imitate Pleasance, right down to his speaking style. The character is shafted for much of the film, so when he's brought back later on, this element of the story just feels rushed.
The other problem with the film is the overabundance of humor at times. As much as I love Toby Huss, whether he's doing voice acting (King of the Hill) or live-action acting (The Adventures of Pete and Pete, Vegas Vacation), his character feels out of place here, greatly noticeable in a cringe-inducing intro scene. Other humorous elements, including a back-talking young boy being babysat, feel like they belong in a different movie. The original film had humor which flowed perfectly and stemmed from the small-town relationships and regular goings on around Haddonfield, but here you have several characters and plot elements which would be more at home in a teen sex comedy.
Okay, the latest Halloween film isn't perfect. But for what it is, it's still a nice return to form for the franchise. Jamie Lee Curtis kicks ass, and Michael Myers is as scary as ever. Moderately recommended.
Rating: Two-and-a-half stars out of four.
DISCLAIMER: Images in this review are the property of their respective owners, including Miramax, Blumhouse Productions, Trancas International Films, Rough House Pictures, and Universal Pictures. For promotional use only. All rights reserved.