Bohemian Rhapsody is directed by Bryan Singer, and stars Rami Malek.
In the early 1970s, Farrokh Bulsara is working as a baggage handler at an airport. When he joins the band Smile as lead vocalist, and takes on the moniker of Freddie Mercury, the group evolves into Queen, and from there, the group's wild and experimental musicianship makes them global superstars. But it's not long before Mercury's inner demons and hedonistic lifestyle catch up with him, alienating him from his bandmates and friends. As he finds himself ill with the AIDS virus, he must come to terms with himself and his personal and professional relationships alike, as he reunites with the band to play the legendary Live Aid festival in 1985.
Taking on the story of a larger-than-life rock icon like Freddie Mercury is no easy task. The film's production went through numerous potential stars (at one point, Sacha Baron Cohen of Borat fame was planned to star) before Rami Malek was cast in the role. Furthermore, director Bryan Singer (best known for his work on the X-Men films) was fired during production. Despite the turmoil behind the scenes and the daunting task Bohemian Rhapsody takes on, it ultimate succeeds as a biopic of one of rock and roll's most iconic frontmen, even if there are a few narrative problems and lack of focus on certain elements.
As far as casting goes, Rami Malek absolutely nails this role. Charismatic, flamboyant, hedonistic, witty, and likable despite it all, Malek brings the late vocalist back to life in the film. Make no mistake; this is the Freddie Mercury story, not the Queen band story. Everyone else in the film, despite solid casting, plays second fiddle to Malek's Mercury. It will be absolutely criminal if he doesn't get an Academy Award nomination for his role here. Not surprisingly, the other actors playing Queen band members don't get the same level of emphasis, though I applaud the casting department for finding actors who look and sound like their real-life counterparts. The fact that the real Brian May and Roger Taylor worked on the film speaks volumes about the casting choices and other aspects of the production. Be on the lookout for an almost unrecognizable Mike Myers, who makes a hilarious, subtle joking reference to one of his best-known past roles/scenes (I won't spoil it here).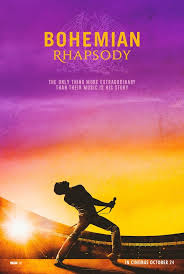 The production values are just as solid. The actors playing the band members come to life on stage and in the studios, capturing these moments in a way a lesser cast and crew would not have. Right from the film's intro, in which the 20th Century Fox fanfare is played by May and Taylor, you can tell it's a true passion project and labor of love for the two still-active members of the group (bassist John Deacon retired circa 1997 and is no longer active in Queen-related activities). Whether we're watching Malek's Mercury clash with bandmates and record label folks or belt out one of the band's classic hits on one of the world's many stages, it's a movie with no shortage of charisma and appeal, both visual and emotional. I attended this movie with someone who actually saw Freddie Mercury perform with Queen and grew up on the band's music, and she was literally in tears throughout the whole movie. If that doesn't speak for how powerful the casting and presentation of Bohemian Rhapsody are, I don't know what will.
Much to my fears, the film is only rated PG-13 rather than R. I truly believed this would be the kiss of death for the film, as anyone who knows anything about Freddie Mercury knows he didn't live a PG-13 lifestyle. While the sexual content of the film is fairly tame, I do admire the production for not glossing over Mercury's homosexuality. Despite the lower rating, the movie still manages to delve deep into Mercury's inner struggles and conflicts, as well as his person and professional relationships. Personally, I would have preferred to see an R-rated movie which was about 15 minutes longer and developed certain instances of the story better, but for what it is, I'm impressed with how much the film manages to capture. Perhaps we can get a director's cut or some deleted scenes on the eventual home release?
As fantastic as this film is, though, there are some issues which need to be addressed. The narrative structure is a bit of a mess in places. In particular, the early days of the band feel rushed. There are also a few big gaps between a few years, and many people integral to the band's story are shafted (Roy Thomas Baker, the producer who helmed the group's first four studio efforts, basically appears in limited scenes where he barely speaks at all). There are a number of chronological elements the film just plain gets wrong, though these changes were most likely imposed for dramatic effect. It also would have been nice to get more of young Bulsara's life before relocating to England. Had the movie been just a little longer, it could have been better developed, but all things considered, the filmmakers did an amazing job with what they had. If you're asking me if this is a good film which does justice to the Freddie Mercury legacy, the answer is YES.
Bohemian Rhapsody is not a perfect film; it's already getting mixed reviews across the board for its narrative flaws. The one place everyone is in agreement, though, is the casting of Rami Malek, who deserves an Oscar for his performance here. Casting and production are top-notch, and the film does a superb job transporting the viewer back to a bygone era in the music world, on stage, in the studios, and behind closed doors. Despite minor flaws, the film comes very highly recommended.
Rating: Three-and-a-half stars out of four.
DISCLAIMER: All images in this review are the property of their respective owners and copyright holders, including 20th Century Fox, Regency, GK Films, Queen Films, Hollywood Records, and Virgin EMI. For promotional use only. All rights reserved.