Rough Riot played Count's Vamp'd on Friday, November 2, 2018, with opening act Leona X.
Rough Riot is a new band combining former members of Quiet Riot and Rough Cutt. The quintet, comprised of vocalist Paul Shortino, guitarists Chris Hager and Carlos Cavazo, bassist Sean McNabb, and drummer Dave Alford, played their first gig, with a set combining tracks from the respective musicians' former bands. This fan knew he'd be there upon hearing Vamp'd would be the first step for the former Quiet Riot and Rough Cutt guys.
Leona X kicked off the show. Despite following the Vegas music scene, this was probably only my second or third time seeing this femme fatale live and in person. After catching her set here, though, I'll for sure be checking her gigs out more often from here on out! With plenty of musical influences and a strong history which includes performances around the globe, Leona kicks ass, and definitely started off the night in fine form. Past bands from Leona include Jaggedy Ann and the Thigh Voltage AC/DC tribute, all of whom have strong reputations on the scene and beyond. We got a strong variety of tunes including a handful from her new EP, some from her older acts, and even a kick-ass cover of AC/DC's "Let There Be Rock." One thing is apparent after this night – I totally need to see this girl and her superb backing musicians more often!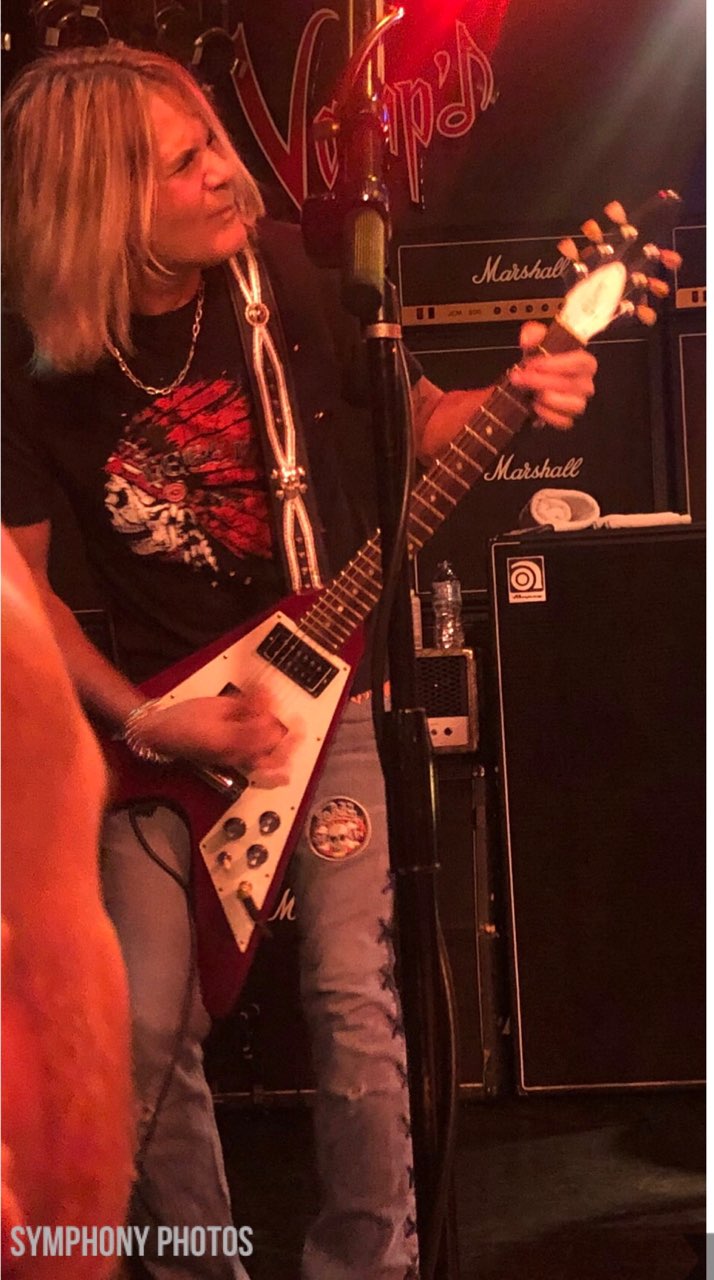 Rough Riot, the evening's headliner, is comprised of five musicians:
-Paul Shortino on vocals. Shortino calls Vegas home these days, and is known to locals and visitors to town as a singer in the Raiding the Rock Vault classic rock tribute show. He previously fronted Rough Cutt and Quiet Riot, replacing the late Kevin DuBrow in the latter for one 1988 album. In more recent years he has also fronted King Kobra, appearing on two albums.
-Chris Hager on guitar. Hager was one of the two classic guitarists in Rough Cutt, having previously been a member of an early version of Ratt. He has also played for former Ratt vocalist Stephen Pearcy's solo band.
-Carlos Cavazo on guitar: Best known as the guitarist for Quiet Riot on their classic 1983-1988 studio albums, he has also played with Ratt and some "all-star" bands in recent years.
-Sean McNabb on bass: Formerly of Quiet Riot, he has also played with artists like Dokken and Joe Lynn Turner. He's also an actor, most notably appearing on the TV series Sons of Anarchy.
-Dave Alford on drums: Former Rough Cutt drummer, he has also performed with the band Jailhouse.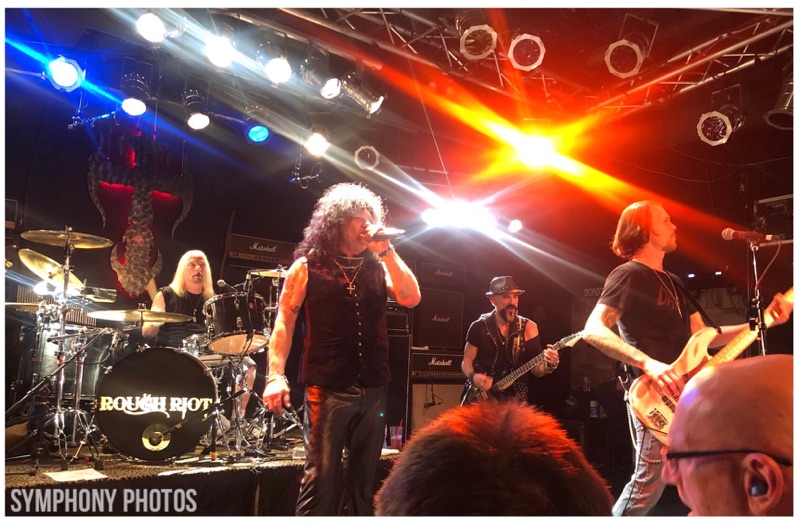 So, the group brings together former Rough Cutt guys, former Quiet Riot guys (including ¾ of the members on the 1988 QR album), and a frontman who played in both bands. With both bands featuring strong discographies, I was curious as to how the setlist would be arranged, or how the band members would get along for their first gig together.
It was immediately apparent all these guys had great chemistry and loved sharing the stage together. The setlist was the biggest surprise in that it wasn't restricted to the big hits. It was roughly half Quiet Riot songs, half Rough Cutt songs, and a surprise finale (but more on that a little later). We had the obligatory Quiet Riot hits "Metal Health" and the cover of Slade's "Cum On Feel the Noize" (both of which have Carlos Cavazo on their original Quiet Riot recordings), and a few minor hits from both bands, including "Stay With Me Tonight" from the 1988 QR Quiet Riot album which featured Shortino on vocals. Rough Cutt, generally regarded as a more obscure but no less excellent band, was represented in the form of cuts like "Take Her" and their heavy metal version of "Piece of My Heart" (the song popularized by Janis Joplin/Big Brother and the Holding Company back in the 60s). Even being a die-hard fan of both bands, there were plenty of obscure cuts I didn't recognize immediately. Though if anything, I consider that a good thing. Nice to see a band not restricted to the hits! There were a few omitted cuts I would liked to have heard, including "Slick Black Cadillac," "Let's Get Crazy," "Twilight Hotel," and "Rock the USA," but these are minor nitpicks.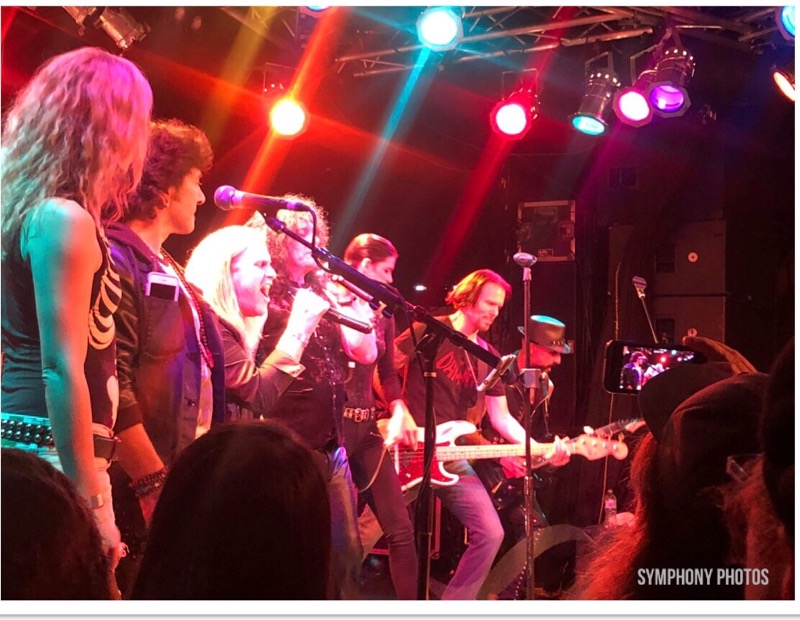 The biggest surprise of the night was the finale, a cover of "Stars," a song done for the Ronnie James Dio Hear N Aid charity fundraiser album back in the mid 1980s, of which Shortino, Hager, Cavazo, and Alford were part (Ronnie James Dio and his widow, Wendy Dio, were instrumental in launching Rough Cutt's career). Many special guests took the stage for the song, including Shortino's Rock Vault bandmate/Last in Line frontman Andrew Freeman, and even XYZ/former Great White vocalist Terry Ilous! It was already a kick-ass night of rock and roll, but this was the absolute perfect finale. I only wish Mandy Lion, who was hanging out in the crowd, had come up to sing with the group on this epic closer as well. Following the epic conclusion, the band members hung out to sign autographs and take pics with the fans.
Rough Riot is off to a fantastic start, so here's hoping for more shows and original music are in the immediate future! Should these guys visit your town and you're a fan of either band they represent, don't hesitate to purchase a ticket. They'll rock you. Enough said.
All photos in this review are the property of Symphony DeLayne. Used with permission.