One year after celebrating twenty-five years since the release of Middle of Nowhere, Hanson is back with their newest album String Theory. I want to preface this by saying that I think Hanson is one of the most under rated bands ever. I, myself, became a fan when they rolled through Las Vegas. I wanted to go and relive some of my childhood memories. I left a massive fan. In fact, I immediately purchased every album I could find.
This latest venture from Hanson is an album comprised of old/new songs backed by an entire orchestra. The idea is that the songs will tell a story. This story is also carried through by their String Theory Tour which is taking them across the world to play with different symphonies. Pretty damn ballsy.
The album itself starts with a slow and sweet new song "Reaching For The Sky (Part 1)". This is a new addition to their collection of songs. The album picks up with more of their upbeat songs ( "Joyful Noise" and "Where's The Love") followed by "Dream It. Do It". Immediately, I am reminded of music from a movie. Taylor croons "You Can Dream It! You Can Do It!" and yes, I feel like I can do it! I don't know what it is I am doing but, I am going to do it.
Of course, "Mmmbop" makes an appearance but, it is a soft and melodic version. It is still catchy as hell.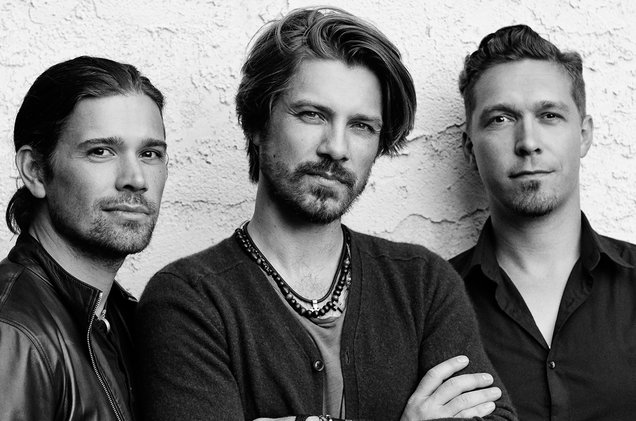 This is where we trail down to the conflict in the story. To my knowledge, Hanson rarely performs "Yearbook". When I first heard that Hanson was going to do an album with an orchestra, my first thought was that "Yearbook" needed the symphonic treatment. The next song, "Siren Call", is my absolute favorite. Zac Hason's vocal performance on this song makes me want more leads. The percussion, the strings, the vocals, are all absolutely stunning. "Siren Call" was released on a member's only EP although, it is not new, this will be the first time it will be released on an album for commercial release.
I could go through and break down each and every song because they are all so incredibly different. Also, the album is two discs and has a tracks listing of twenty-three songs.Listening to the album in it's entirety is an emotional roller coaster. Each song more powerful than the last.
The album ends with "Tonight" which was written for the album Anthem. Anthem was a hard album for the guys to record from what I understand there was some turmoil between the brothers, and they were unsure if they were going to continue as a group. This song was meant to be a possible goodbye to the fans. So even though it is a sweet song it has a hidden meaning. I think bringing this song back for this album was a way saying, "we're good".
Whether you're a fan or not I highly suggest giving this album a listen from start to finish.
String Theory will be released November 9th and they are currently on tour. Check Hanson.net for dates!
You can also check out their docuseries about String Theory on YouTube.
PHOTO CREDIT: All photos used are ©Hanson and their management; photo of the band ©original photographer Jonathan Weiner