Philip H. Anselmo and the Illegals
Child Bite
Papsmear
Backstage Bar & Billiards
Las Vegas, Nevada
When I sit down and think about myself as a person, and what gave me the confidence to be unapologetically myself, I am brought back to my high school years. I was bullied. At that point (at age 15) I had been fucked over more than just a few times and quite frankly, I was sick of it. It was around my breaking point when I found Pantera. That bottom helped me rise above in a way I didn't even know I was capable of doing. Obviously the music as a whole is special and dear to me. But goddamn. Every time I hear Philip H. Anselmo's voice, it awakens an inner warrior. – I am indestructible. (Any street-wise son of a bitch knows, don't fuck with this!)
Now, I know this man has been to Vegas several times since my discovering him. I'm just a regular mother out here working all the time so it wasn't until THIS NIGHT… I finally was able to stand in the crowd while my end all favorite vocalist performed in front of me. I had been watching Mr. Michael Gordon (Las Vegas Death Fest co-founder) talk about these exciting shows he was planning, and the second this one was announced, I made sure my man and I had tickets the moment they were available. I was not missing this for literally ANYTHING. I would have loved to have been able to hit that signing too, but there was no way for me to beat traffic and a line to meet him… (One day though, Phil! I'm going to need you to sign this leg full of Pantera tattoos…. wink!)
Papsmear & Child Bite kick up the energy!
It took a bit for the Backstage Bar & Billiards down on Fremont Street to fill up. In which, shame on you guys. Openers PAPSMEAR and CHILD BITE set the energy of right from the get go. I get it though, that type of heavy and intensity isn't for everyone. Think Suicidal Tendencies' song "Institutionalized". That kind of fast energy with growling vocals. It's one of those niche genres not everyone gets into. But it's fitting for this darker music that Phil Anselmo has been doing these days.
Philip H. Anselmo and the Illegals
Philip H. Anselmo and the Illegals took the stage and it was around this time where I had seen just how much the venue has filled. It was time. Phil and his Illegals are currently supporting a new release entitled Choosing Mental Illness As A Virtue. It was released in January of 2018 and the guys have clearly been WAY busy this year- as this is PART TWO of the tour! The show starts off with 5 songs that are Philip H. Anselmo and the Illegals songs. Bedridden, Little Fucking Heros, Choosing Mental Illness, The Ignorant Point, and Walk Through Exits Only. The energy in the room just continued to build and build. Phil had said he wanted us to know what this group sounds like, and then it would be an ALL out tribute.
Can't ever say this man doesn't know what his fans love and want to hear… I'm no exception. I had been keeping tabs and I knew I'd be losing my damn voice this night.
Pantera Tribute
I'm not so sure I can completely put into words the amount of bliss I felt as we went into the second part of this set. Mouth For War, Becoming, Walk, and Fucking Hostile are the first four. You can see fists and yelling faces throughout the room. We were ALL screaming these lyrics at the top of our lungs, and you could see it in Phil's face how proud he is to be a part of something that is still clearly so special to his fanbase through all the years. I'm Broken comes on, which is my favorite song of all time. It always has and will be.
On a more personal note I loved it years ago because of emotional brokenness, but after learning about Phil's back problems back in the day, and then being hit in a rear end collision which has left my back in pain for likely the rest of my life, the song takes on a new meaning for me. Shawn Knight from Child Bite joined the guys on stage for this song, it really hyped the crowd up even more!
Domination/Hollow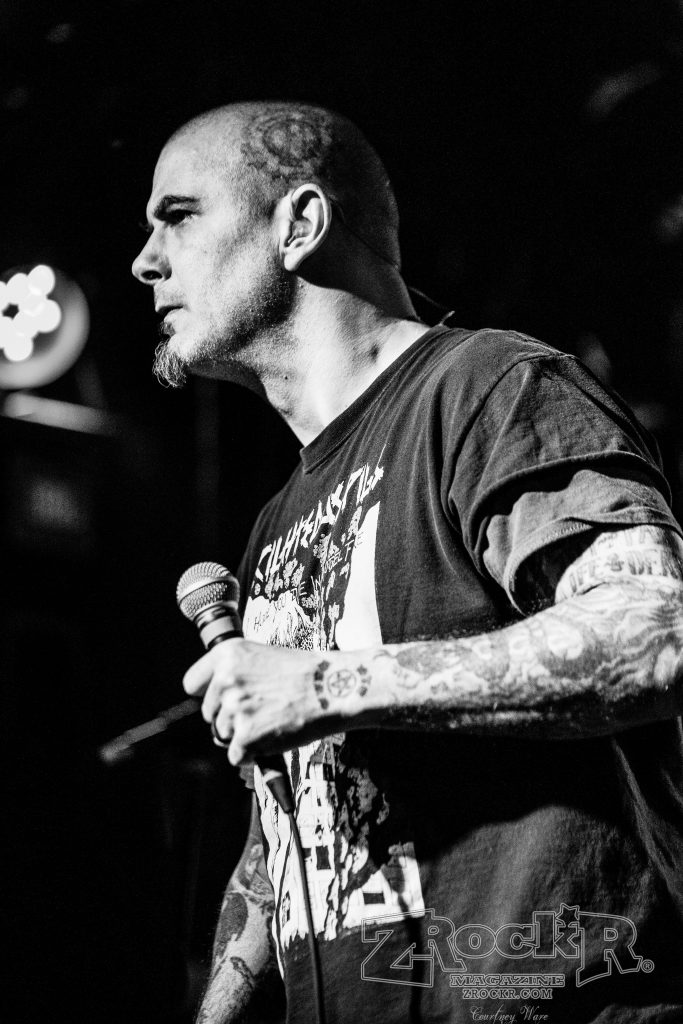 Hellbound follows, and then something I thought I'd never get to see… Domination / Hollow. I had only ever heard this on live recordings. (I don't like live recordings, but Official Live 101 Proof gives me chills every time I hear it.) It was during this song that you could see a spark of very intense emotion within Phil. He paid respects to Dime and Vinnie Paul and I felt the tears well up in my eyes as the song progressed. Those two making up was always something I hoped to see at some point in my lifetime… I'll leave that there, though…. (RIP Vinnie Paul & Dimebag Darrell Abbott)
Endgame
The set wraps up with A New Level, and all I can think about from my perspective was how amazing it was to see all of this after waiting so long, and after being unable to see any of the remaining Pantera members perform at all. I stood in complete bliss as the room cleared out. It was definitely a night to remember. If you're a fan of Pantera, or anything Phil has been up to lately, this would have been right up your alley. I'll be patiently waiting and looking out for the next time any of Phil's acts make their way back to Vegas!
Special thanks to Michael Gordon, and everyone at Backstage Bar & Billiards, Papsmear and Child Bite, along with all of Philip H. Anselmo and the Illegals members and crew. You were all absolutely amazing.
Until Next time!