Jake E. Lee has long been one of the unsung heroes in the world of rock and roll, probably best known for his gigs with Ozzy Osbourne and Badlands. After a long absence from the industry, Lee made a return in 2013 with his new band, Red Dragon Cartel, and an album which featured several guest stars.
Despite the guest stars and a handful of decent cuts, the album was terrible, having more in common with late 90s-early 2000s "nu-metal" bands, though it did put him back in the public light for the first time in several years. Upon hearing Lee would be doing a second RDC album, I was curious but pessimistic. Would it be the album Mr. Lee needed, or a repeat of the misstep of the first effort?
The band lineup on the album features Lee along with Darren James Smith of Harem Scarem fame, who also sang on the first record, along with two new members – bassist Anthony Esposito (Lynch Mob), and drummer Phil Varone (Saigon Kick, Skid Row).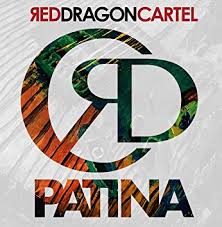 After one big strike against Lee with the first album being a scattershot disaster, the second album needed to be a hit. Fortunately, Lee and company have delivered. Patina is a kick-ass rock and roll record with a bluesy, and at times, grungy rock sound. It's a much more consistent effort, from a group who has plenty of chemistry and musical talent. Not having an album that revolves around guest stars makes for a more consistent effort around a central band, and it's one of the many reasons Patina puts its predecessor to shame.
Jake E. Lee is back and he's kicking ass. Forget that dud of a first record; he's in fine form with his new band, all of whom have chemistry and talent galore. These bluesy hard rock sounds must be heard; long-time followers of Mr. Lee are sure to love what they hear here. It's uniquely his sound, yet feels totally new and original without being a retread of his earlier projects. Highly recommended!