Las Vegas entertainment was hit with a wild year in 2018. Shows turned into a proving ground to take back power from forces that tried to silence the sound of one of the loudest cities in the world.
Sure, that may mean a band from Ocala, FL will take advantage of a "Vegas Strong" chant or two to get a crowd going, but we can brush that off. We know they mean well.
It was no surprise that Mandalay Bay's House of Blues would be skipped over for some bands and unless you can sell almost 4,000 tickets there no use in playing The Joint at Hard Rock.
These freak circumstances put in place the opportunity for Brooklyn Bowl to set up the most impressive concert calendar Las Vegas has seen in years, and we're here to break down the Top 5 sets that graced their stage in 2018.
5. Rodrigo Y Gabriela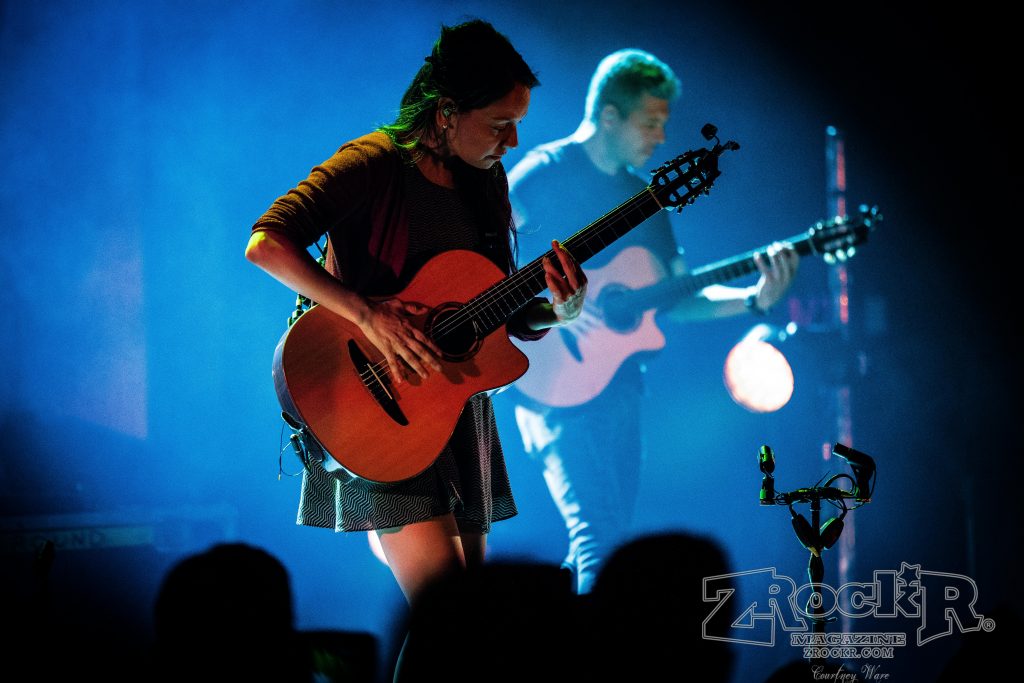 It's hard to establish the lowest of a "Top" list, but it's no questions this duo's energy and presence make you feel the highest you can at a live show.
Two former lovers bound by their Flamenco guitars and a passion for Heavy Metal sounds like the plot of a Robert Rodriguez directed Telenovela, but the adventure they took us on left jaws dropped by the magic they can make with nylon strings.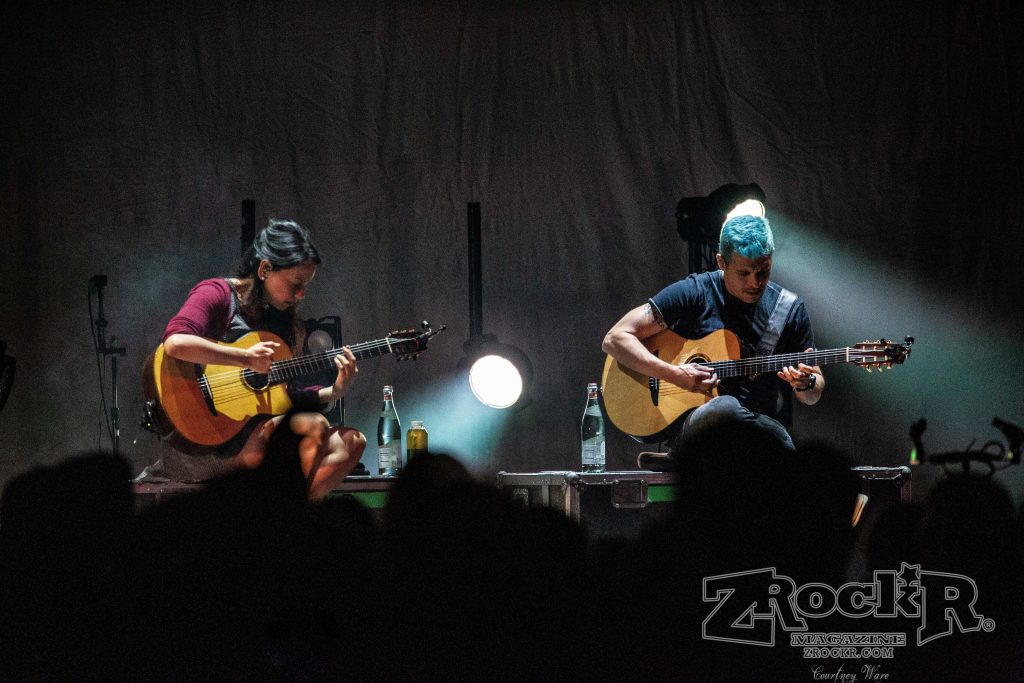 The unique circumstance at Brooklyn Bowl is that Rodrigo Y Gabriela didn't need that venue to set the awe they did. Hardly any people being in the crowd made it an intimate experience, and when you only need a road case to sit on and a projector showing some great visuals behind you, you can go in any room and put their set on.
The fact that we could see this spectacle on a random night in top-notch venue made their truly unique set a once-in-a-lifetime opportunity to witness true sound. Don't miss Rodrigo y Gabriela if you have the chance.
4. Stick to your Guns
The new-age Hardcore heavyweights from Orange County brought chaos to Brooklyn Bowl after their 2018 release of True View, and showed that you don't need to headline a night to run the show.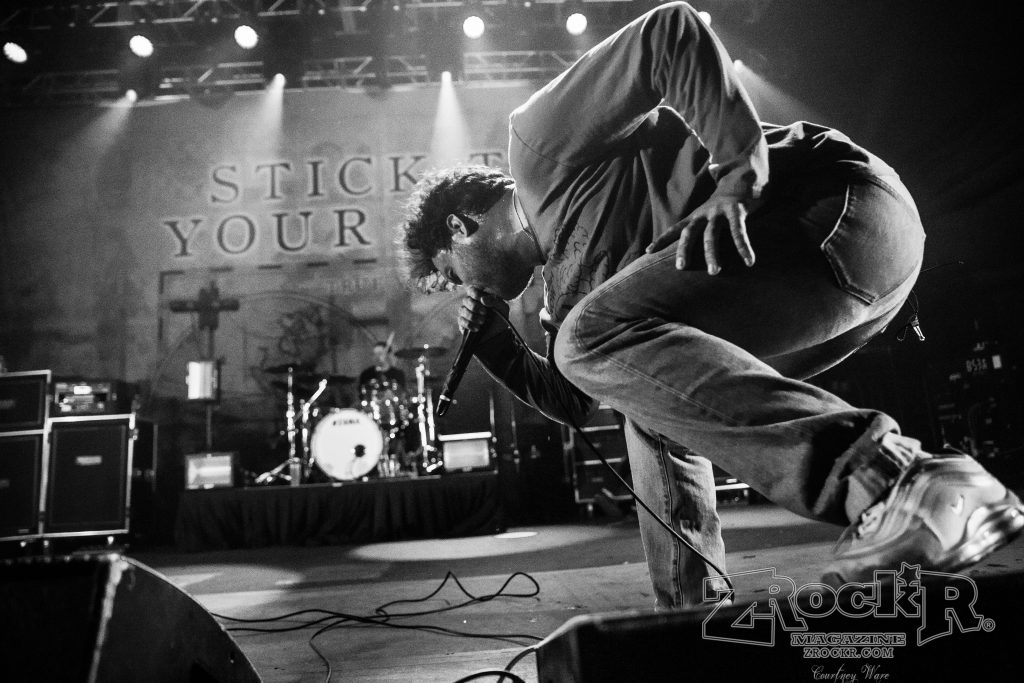 True View showed the progression that STYG can take. After a debut album that shook the scene in For What It's Worth, and a few follow-ups that turned the passion pit away from a fist-in-the-air attitude to a two-step fest, they've been able to solidify their sound in Disobedient and then into True View with an inspirational voice that gives a whole new meaning to Posi-Core.
STYG can crawl through their entire discography during a set, but one thing they always leave out is THE GOD DAMN OLD SHIT! But not this time! After the dance happy "Nobody" from Disobedient sent everyone into a fist throwing frenzy, singer Jesse Barnett let us know that they had a new one for us to close out their set, but with deceit led into an anthem that can call an army to the barricade…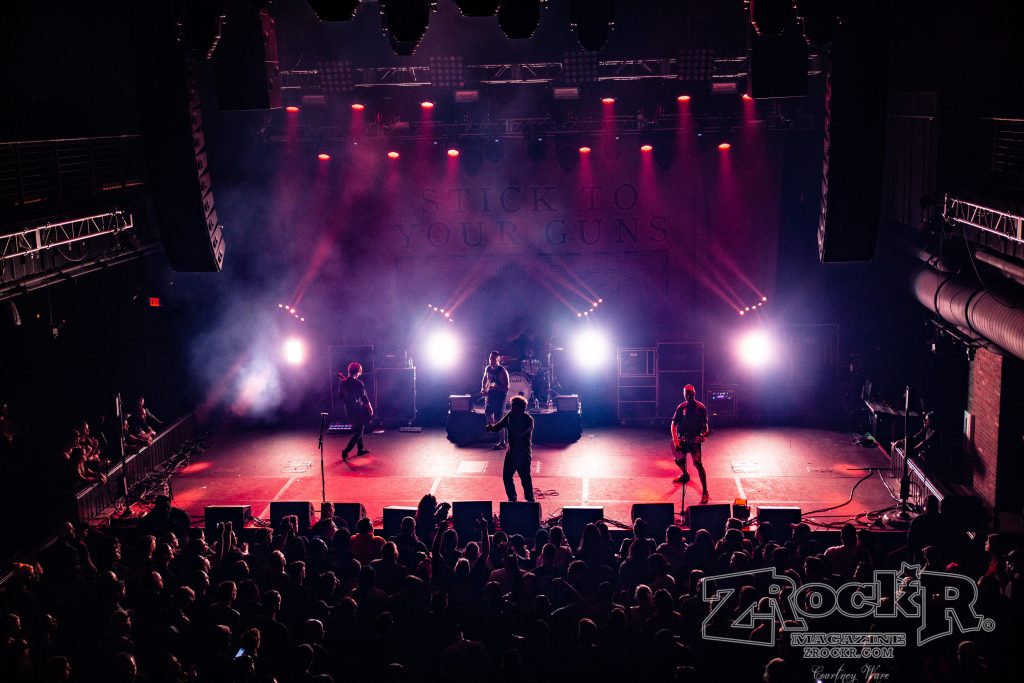 "This is more than a pulse beneath my wrist, or a beat beneath my ribs. This is something…."
Every piece of flesh on the floor forced themselves to the stage to grab the mic and continue…
"… that can't be given away!"
The positivity and praise we felt after this can only be described as therapy. We need shows like these to spread a message that too much of the music in our scene strays away from.
3. Dance Gavin Dance
Expectations? Meet the door. Now throw yourself out of it!
If Dance Gavin Dance hasn't been on the tip of your musical tongue for the past years, then you're probably an over spoken fan of theirs because I can't seem to find an in-between. A Post-Hardcore supergroup that has been disbanded and rebuilt over the decade is never anything to brag about, but this set made me feel like they've been fine-tuning this lineup to its perfection.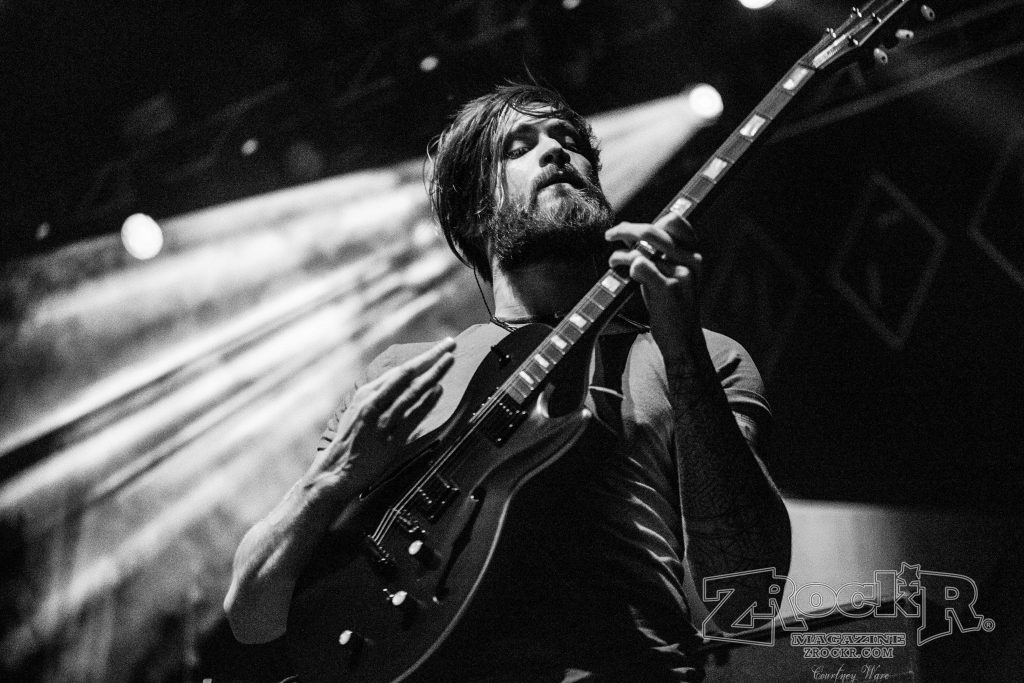 Not knowing a single song on the set list was an interesting feeling to say the least, but wanting to know every song after the crowd screamed them at the top of their lungs is what puts DGD on our list.
Tilian Pearson taking over for one of the most vibrant voices in the scene, Johnny Craig, would usually leave a void of unmatched comparisons, but I'll swear till I die that no one can hit a high note like Tilian. Period. End conversation.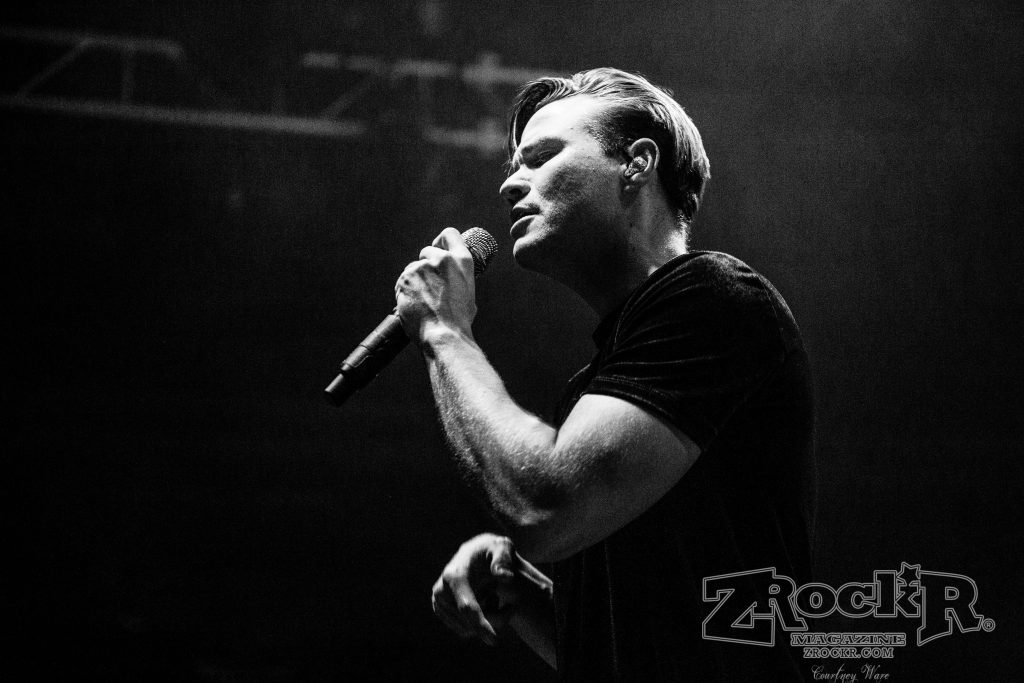 The crowd dictated every second of this set and the boys in DGD played off them just as hard, giving one of the craziest energies in a room that I've ever felt. I've listened to Dance Gavin Dance at least once a day since this show and I'm certain that'll continue until I can find that energy again.
2. The Distillers
Singer Brody Dalle made it known right from the start. We are the revenants!
After 10 years of silence and the lingering distrust that was held in Vegas after a missed show in 2008, it was in true revenant style that The Distillers came back to the City of Sin and make us believe once again in the "City of Angels".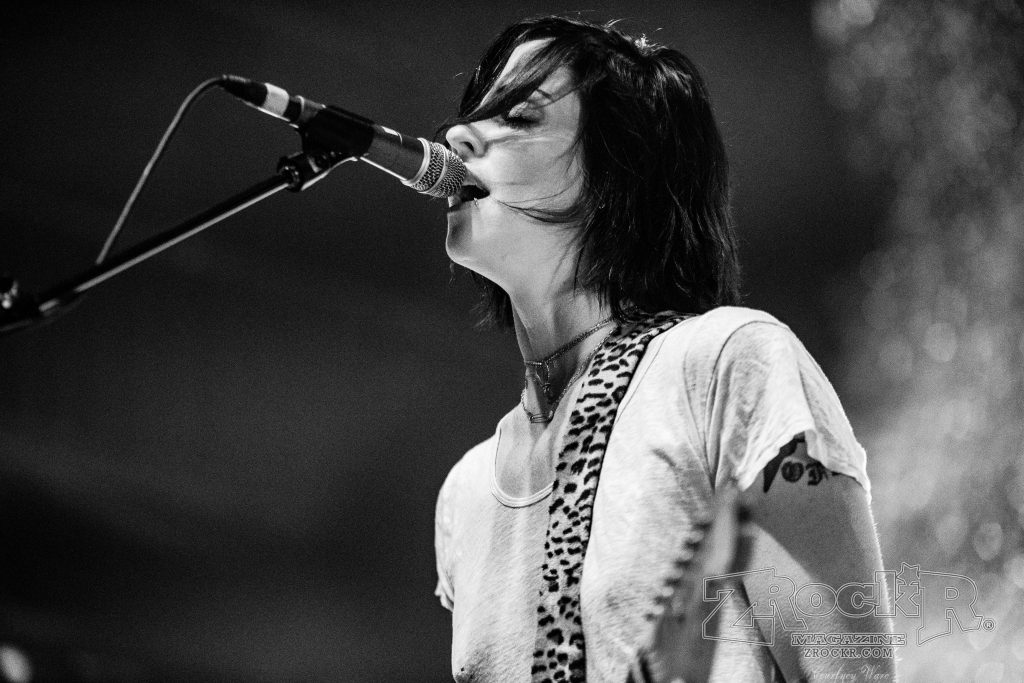 It's a true miracle that we have Brody and the boys around to liberate crowds with some of the most influential Punk anthems of our time, and they drained every bit of blood from the opportunity to make up for the missed time.
With only a handful of albums from the early 2000's it was no surprise that we heard every hit you could think of and the crowd acted accordingly with the best pits Brooklyn Bowl saw this year. For many us it was the first time being able to sing along with Brody, and you could feel the angst with very shove and step you took on the floor.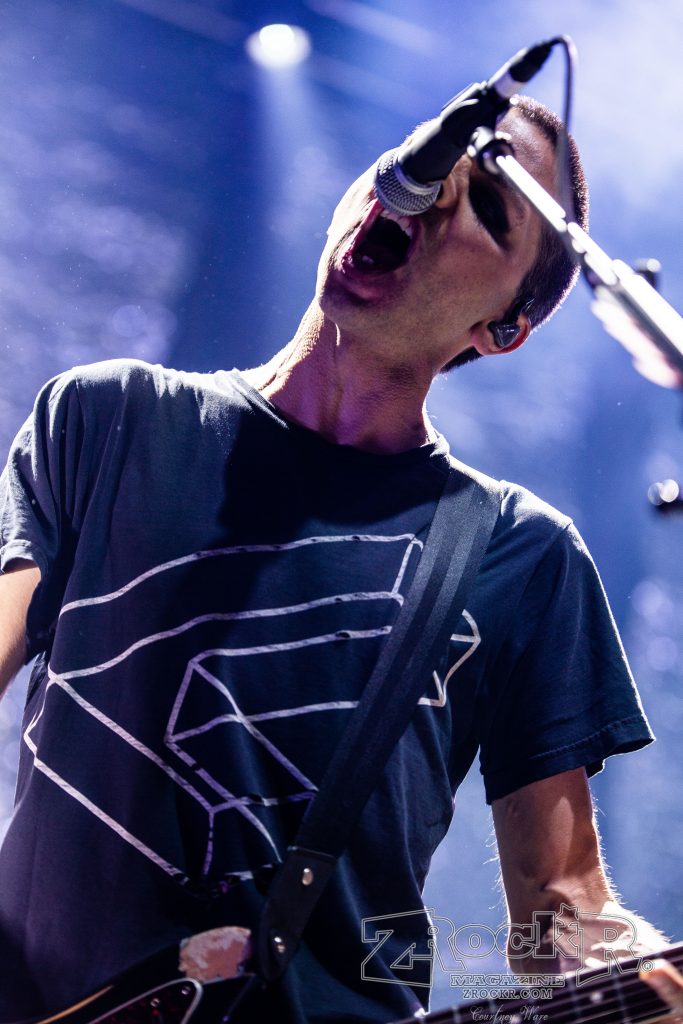 Please Distillers, we need new music and regular touring because this show was a dream come true. Keep it up and stay healthy!
1. Underoath
After one of the most anticipated reunions in Metalcore, it was a mystery as to whether Underoath would continue with new music or call it quits. After their 2016 tour playing the pinnacle albums Their Only Chasing Safety and Define the Great Line no one was certain.
2018 brought those answers with the release of Erase Me and its tour that stopped at Brooklyn Bowl along with our #3 pick Dance Gavin Dance.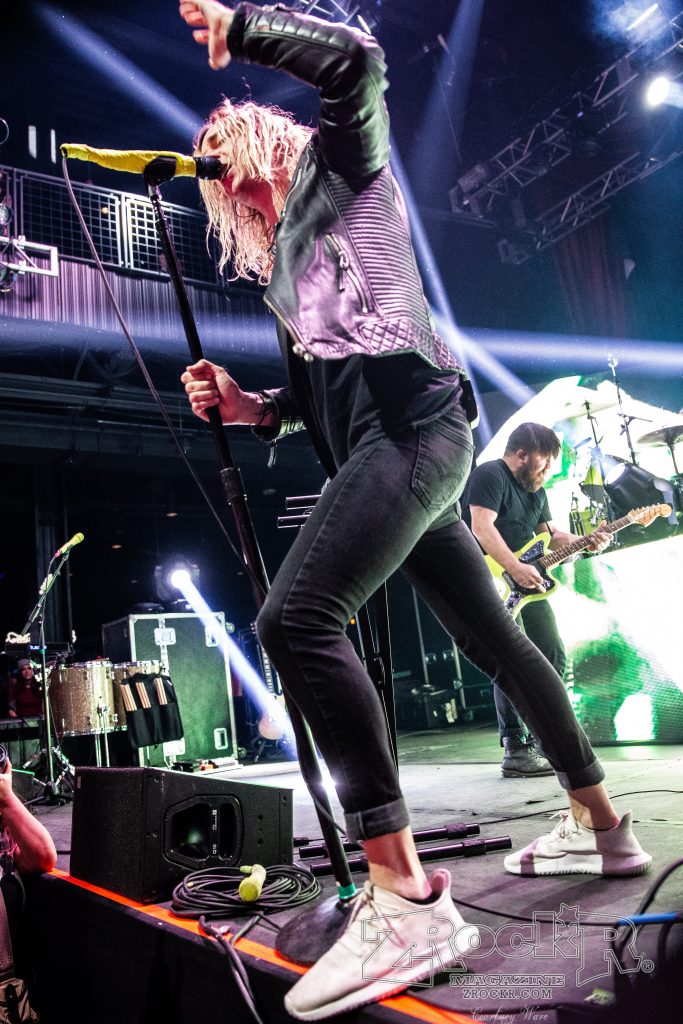 It was no surprise that all the stops would be pulled out for this tour. 2016's reunion brought some of the best light work I've ever seen, and the artsy style that Underoath throws at your face could only mean more exuberance and visual appeal, and that was apparent from the very first second.
LED platforms, lights in every direction, and organized timing that I can't believe is possible to nail down between a human and computer, all directed by the abstract projections that blended perfectly with the stage's light patterns. Getting lost in them was easy but quickly averted by the effort this band puts into their playing.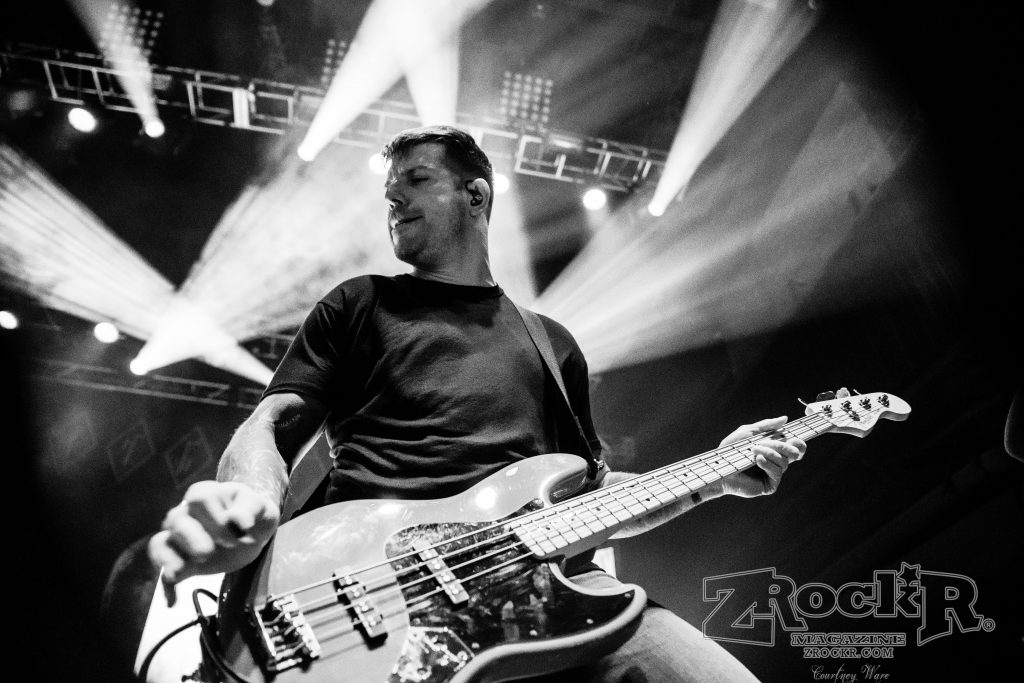 Front man Spencer Chamberlain and backup singing drummer Aaron Gillespie bring some of the most consistent vocals and energy, but the heart of this band lies in the best keyboard player in the game and only original member, Christopher Dudley. He will be literally wearing the keyboard by the end of the set; twisting his body around the front and head banging harder than anyone should ever do with a flat surface underneath them.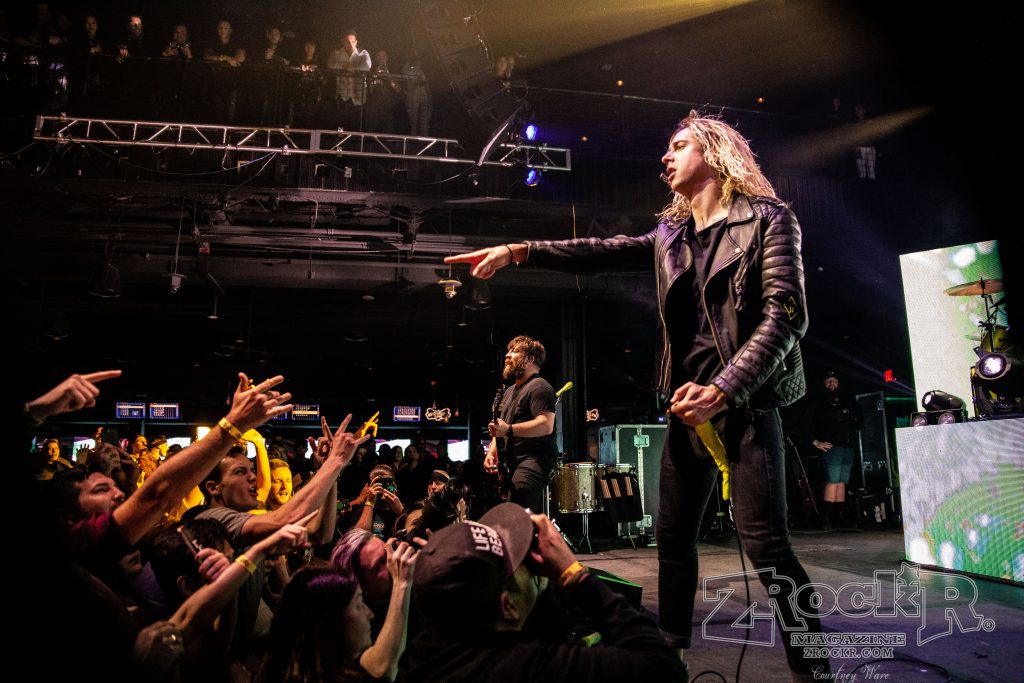 Since 2016 only brought us two albums of performances, it was truly special to finally hear song of of albums Lost in the Sound of Separation and Disambiguation. Being able to hear songs from the Erase Me validated that we'll be enjoying Underoath's determination and passion for years to come.
It's a true honor to be in this time and place to witness shows like this. That time is 2018, and that place is Brooklyn Bowl in Las Vegas.
PHOTO CREDIT: ALL PHOTOS © COURTNEY WARE PHOTOGRAPHY AND ZROCKR MAGAZINE