Kottonmouth King
Brooklyn Bowl, Las Vegas
January 26, 2019
I'm not going to ask you guys what comes to mind when the Kottonmouth Kings come up. They've been a guilty pleasure act (Not so guilty anymore, I really don't give a fuck. Ha!) for me since the the early 2000's, but I wouldn't consider myself a "kween" or any of the names they've given their most diehard fanbase. The background for this specific act grew very difficult to follow through the years, so I couldn't even pull out legitimate sources regarding what happened between the past members. However, I did keep watch on D-Loc, (Dustin Miller) and Johnny Richter (Timothy McNutt) through the last ten years or so. The last time I had seen Richter play was at Beauty Bar just a few years ago, in fact.
Kingspade
Keeping tabs on those two proved very helpful. I had heard about the release of Krown Power in 2015, but I found myself most excited when I saw the release of "Who We" that dropped last year under the Kingspade name. (I believe they're identifying as KINGSPADE PTB now, which to me looks like an ode to the album P.T.B. that was released in 2007.) At any rate, there is new music coming from both the Kottonmouth Kings and Kingspade names.
Locals and openers…
The Kottonmouth Kings have never been shy about their genre blending, so it makes sense that on this bill you get a very healthy dose of rock/punk/hip hop.
Charlie Madness was up first. He is a local hip hop artist. He and his crew amped up the crowd as well as giving out CD's, rolling papers, and stickers. I always think this is a cool thing for artists to do. It definitely builds a more personal kind of relationship with the fans.
Afterwards, friends of mine and the zine, Baker's Dozen played. They are a local rock act with stoner influences. This was probably the best that I had seen them play. Also, I'll admit it had been a while since I had seen them. You can find them playing Count's Vamp'd on a pretty normal basis, and I promise you'll never leave disappointed!
Following the locals there was CeeKay Jones, who is a very intense hip hop performer with heavy roots in the east coast punk rock and hardcore scene. As if those two things don't contrast enough, he is also a pretty successful songwriter and co-producer. (Check https://ceekayjones.com/ for more information.) I personally will be keeping tabs on him. I really loved his intensity and all around diversity as an artist, and as someone who has been involved in the music industry as long as he has been.
More than just a one hit wonder…
CrazyTown was up next… First of all, I'm going to be beyond cliche here when I say that I don't know their catalogue outside of "Butterfly." Despite not knowing their music other than their hit song from way back when, I will say that I was pleasantly surprised by the amount of harder rock and clear punk influences. It is also mention worthy that the last couple years I have heard good things about their live performances. I had to see it to believe it.  There wasn't any disappointment in the slightest. The band members are ripped and energetic, and they sounded killer. A perfect addition to this bill as an opener. Their style complimented the Kings very well.
Forget The Past
Getting into this whole Kottonmouth Kings piece, it's very important to note the change and growth that has taken place within the remaining members. The main stage show consisted of D-Loc and Johnny Richter. Since it was just them, it only made sense in this line of shows that they play a healthy compilation of not only Kottonmouth songs, but also songs off of the P.T.B. Kingspade record. These were very well organized through the setlist. We didn't see too many new or old songs clumped in places they shouldn't have been.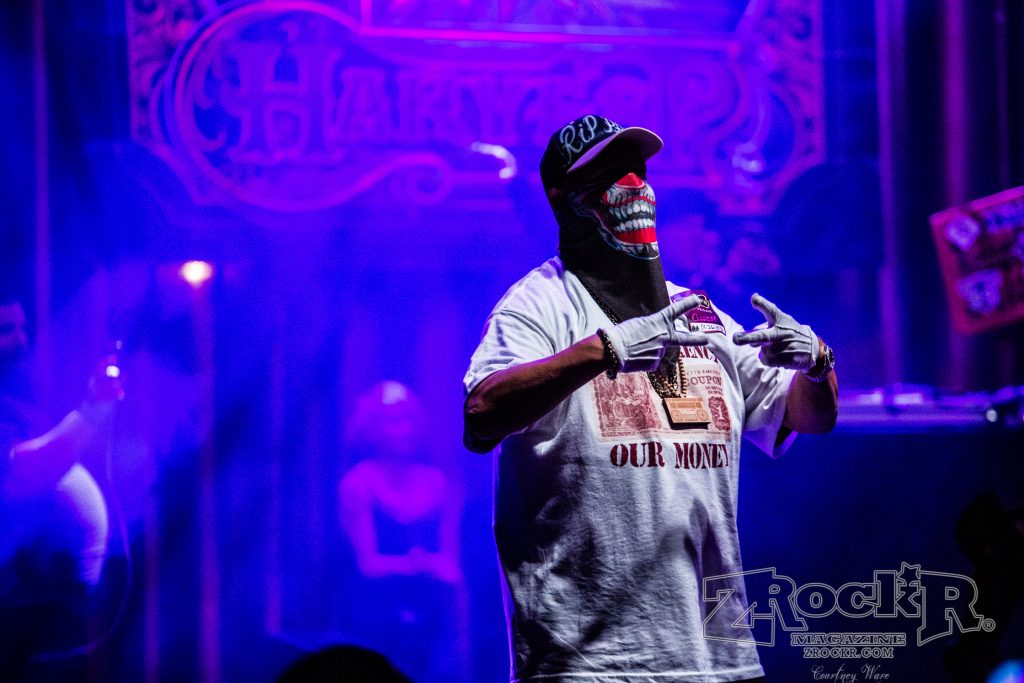 The duo opened up with K.O.T.T.O.N.M.O.U.T.H. Song, straight into the latest Kingspade track, "Who We." (Which, by the way… that bass hit shook my whole body. It was absolutely crazy. But I love that song!) followed by  their verses from the No. 07 hit, "King Klick." Mid set we get more classics such as "Tangerine Sky", (Richter was pretty much in the crowd for that one…) and "Where I'm Going", and then those Kingspade tracks, "Who Run This" and "We Ride'n." Immediately following the Kingspade tracks they did one of their ultimate classics, "Bump." They close out their set with "Positive Vibes," a very laid back, soft rock vibed song from the 2002 album, "Rollin' Stoned." The entire crowd sang in unison, this track shows the absolute unity of the Kottonmouth fans. Very much appropriately called, "KMK Fam."
Dynamics
The dynamic that Richter and Loc have has always been something special, and I haven't seen many duos who function on their level. They compliment each other in such an interesting and original way. Their flows and styles are so different, but somehow groove together perfectly to create something completely new. I have always considered myself a pretty casual Kottonmouth Kings fan. When it comes to Kingspade and the solo stuff that each of these artists have released through the years, that's the stuff I truly consider myself a fan of. However, I can safely say that I've always been able to sit here and comfortably vibe to almost any of the Kottonmouth catalogue. Something about the RIP HOP style that really satisfies my need for diversity in my personal music collections.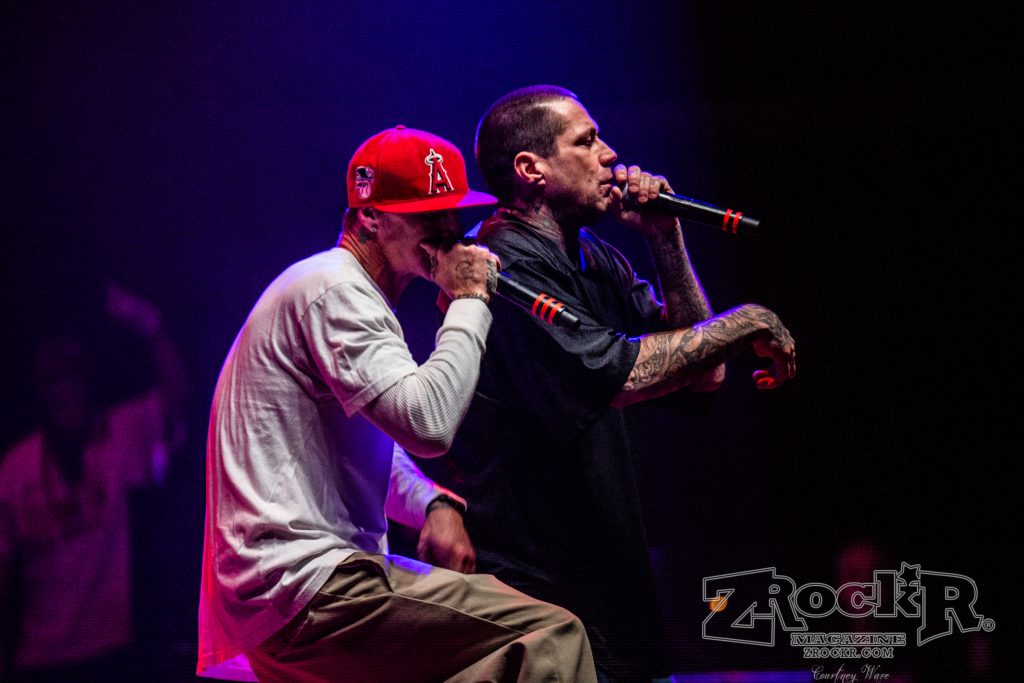 Out with the old, in with the new
In this new era of the Kottonmouth Kings, we will see a number of releases, artists, and products under the name KINGMAKER. No longer are the days of SRH and Subnoize references. But as D-Loc mentioned on the stage the other night, you can either stay mad at the past, or take a step into the future and run with the growth of the new music and direction. (This is paraphrased, but that's basically what he said.) Kottonmouth Kings are more than just a name at this point. It's pretty clear that Richter and Loc are pushing through to not only keep the KMK legacy alive, but to also create a new path for it with the help of other supporting artists, as well as another founding member, Saint Dog. KINGDOM COME was released on 4/20/2018, and this is very apparent in this release.
"Kingmaker Music founded by D-Loc of the Kottonmouth Kings isn't a record label, It's a movement built over 22 years. We are a group of artists, producers, and other like minded visionaries working together to create music for the fans, Not just create noise for profits. We do what we want, how we want, on our own pace to create the right sound. A true king is beholden to no one except its subjects, you our loyal fans and supporters that make what we do possible. Thank you for all the love and support as we continue in 2019.
Welcome to the new Kingdom my Kings and Kweens. this is the new Kingmaker revolution."
This flavor of genre blending is most suitable for fans in the likes of Tech N9ne, Cypress Hill, Twiztid, etc. The presence of old school punk rock is most notable on every Kottonmouth Kings record since the year 2000. As well as the punk rock vibes, the reggae rock vibes are also prominent. Mix this with their DJ's and original rapping styles, and you get their Psychedelic Hip Hop Punk Rock sound, otherwise known as RIP HOP.
PHOTO CREDITS: All photos by Courtney Ware for ZRockR Magazine – ©ZRockR Magazine – ALL RIGHTS RESERVED
Here are some recommended / favorite tracks of the writer's:
Kingspade PTB – Who We (2018)
https://www.youtube.com/watch?v=LFHbTZ8MssI
Kingspade – Who Run This (2007-08)
https://www.youtube.com/watch?v=jvj_OoWHTMc
Kottonmouth Kings – Tangerine Sky (2002)
https://www.youtube.com/watch?v=msYymGo-g44
Kottonmouth Kings – Where I'm Going (2008)
https://www.youtube.com/watch?v=jigwFk44C0A
Kottonmouth Kings – Bump (1998)
https://www.youtube.com/watch?v=BUYzNowsgyM
Kottonmouth Kings – Headspin (2018)
https://www.youtube.com/watch?v=spbhmSQ9lZU
Kottonmouth Kings – Loyalty Is Royalty (2018)
https://www.youtube.com/watch?v=vsWRo8uLzyE