For Quiet Riot, it's been a long and interesting ride! Even with numerous tragedies along the way, including the death of vocalist Kevin DuBrow in 2007, the group has largely persevered, remaining together in some shape or form. The quartet, now featuring frontman James Durbin, and longtime members Frankie Banali, Chuck Wright, and Alex Grossi, still plays for audiences all around the world. We even got a documentary on the band a few years ago.
I'll be the first to admit I was somewhat skeptical about Frankie Banali's decision to revive Quiet Riot following DuBrow's death, but he and his heavy metal comrades in arms have largely continued to satisfy. The band's lone studio effort with vocalist Jizzy Pearl, released back in 2014, felt like more of an attempt to modernize, but following Pearl's departure and the eventual arrival of vocalist James Durbin, the group took on more of a throwback sound. There have been a handful of replacement vocalists in the band in recent years, though so far, Durbin seems like the best match and the one who comes closes to capturing DuBrow's levels of energy on stage and in his musical performances. In October 2017, long-time drummer Banali was deservedly honored by the Rock Godz Hall of Fame. Clearly, these guys keep busy and aren't ready to stop bringing the rock and roll.
In 2018, the band performed at the Frontiers Rock Festival; it was their first performance in Italy ever! The release has been captured for this new live release, which is being released on CD, DVD, and Blu-ray Disc (the latter release being Quiet Riot's first-ever Blu-ray). As I was only sent the audio portion, this review is strictly for the audio version(s).
I'm glad to see the 80s metal scene is still alive and well in 2018, and perhaps nowhere is it better represented in the current incarnation of Quiet Riot, a band which endures with no real loss in quality of their music, despite the death of their classic vocalist. The current band features Banali, their longest-lasting member, pounding away behind the skins like a madman; it's almost impossible to believe this rock and roll powerhouse is pushing 70! Also in the rhythm section is long-time bassist Chuck Wright, who like Banali, has involvement with the band which stretches back to the classic Metal Health record, on which he played on two tracks before eventually becoming Rudy Sarzo's full-time replacement in the group.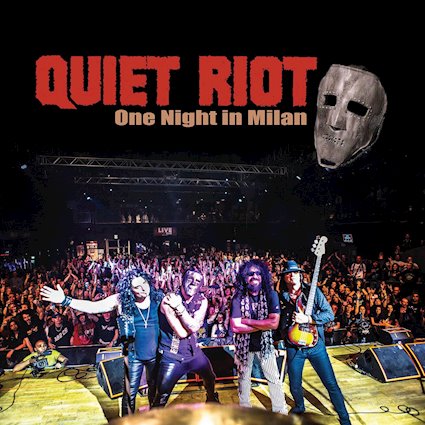 Let's not overlook the work of the other members of the band, either. Guitarist Alex Grossi, who's stint with the band began in the early 2000s, definitely wows with his playing. Quiet Riot has been home to some of the best guitarists in the business, including the likes of Randy Rhoads (RIP) and Carlos Cavazo. This guy has had some big shoes to fill, but he's proven himself more than up for the challenge. The same can be said of vocalist James Durbin, who was brought in as a replacement for Seann Nichols (the group recorded their Road Rage album with Nichols singing, but delayed its release to let Durbin rerecord the vocals after hiring him). Durbin is a charismatic frontman and could very well be the best of the band's singers following DuBrow's death in terms musical and stage chemistry with the band. At times, while listening to this album, I could swear the ghost of DuBrow was peeking his head in. Durbin's that good. Definitely looking forward to eventually seeing this incarnation of the band live for myself.
So, the performance is damn good, but what about the setlist? Quiet Riot is one of the those bands with a sprawling discography stretching back 40+ years. That means no shortage of material to choose from. They could taken the boring and obvious "Quiet Riot play their hits" approach. But Mr. Banali and company aren't content to do things the easy way. Yeah, most of the major hits are here – "Metal Health," "Cum On Feel the Noize," and "Party All Night," to name a few.
But the band doesn't stop there.
The Road Rage album, Durbin's debut into the band, is represented in the form of two cuts, both of which sound excellent. In terms of deep cuts, we get the title cut from the underrated Terrified album, and the equally underrated (but no less excellent!) "Whatever It Takes" from Down to the Bone. These are songs I didn't think I'd ever hear the band doing live, but again, they manage to impress and surprise here. Another big surprise comes in the form of a performance of "Thunderbird," complete with a Randy Rhoads and Kevin DuBrow dedication speech from Frankie Banali, and even the piano intro!
There are, admittedly, a few missing cuts I would like to have seen done, including "Put Up or Shut Up" and "Twilight Hotel." It also would have been nice to get at least one song from the Randy Rhoads era (given the fact the band takes time to pay tribute to him) and one from the 1988 QR album with Paul Shortino, but these are minor quibbles with what may end up being my pick for "Best Live Album of 2019."
Quiet Riot still kicks ass. The spirit of 80s rock and metal ain't dead, and in their performance at the Frontiers Rock Festival, Frankie Banali and company lay your doubts to rest. Are you fan of Quiet Riot or 80s hard rock/metal in general? Then One Night in Milan belongs in your collection. VERY HIGHLY RECOMMENDED!