Silverstein/Hawthorne Heights/As Cities Burn/Capstan
January 31, 2019
Brooklyn Bowl, Las Vegas
Oh Silverstein… If you're my age, (I'm almost 30…) and didn't care too much for radio music 15 years ago, (or now for that matter…) you MIGHT remember the days of Purevolume, MySpace Music, and the pre pop culture take over of Hot Topic. These outlets made a vastly diverse set of non-mainstream music ranging from death metal, hardcore, punk and other genres available to the public. And it was around this time where we saw an underground second wave of emotionally driven rock music that wasn't quite up enough to be played on mainstream radio.
(EXAMPLES: First waves began with Black Flag/Husker Du, secondary waves with AFI/Senses Fail, and today's waves with Sleeping with Sirens/Pierce the Veil)
And if you were a kid during this time and didn't happen to use the above mentioned outlets to find some of these not-so-popular bands… you likely heard about them from your friends. (Thanks, Julia!) This is how I heard of Silverstein and Hawthorne Heights.
Capstan
It is mention worthy that almost every post-hardcore show that I attend there is a solid crowd right off the bat. Right at the beginning, at LEAST 99% of the time the venue is halfway filled. (Or so it looks anyway.) Tonight was no exception as Capstan took the stage. Capstan is another band from the Florida post punk/post hardcore scene. That's right, people. A Day to Remember is not the only post hardcore band that comes from the panhandle state. They have supported this tour since the beginning of it. It kicked off in NOVEMBER! So for a slightly smaller opener band to hang for that long on a major anniversary tour is a pretty big fucking deal if you ask me.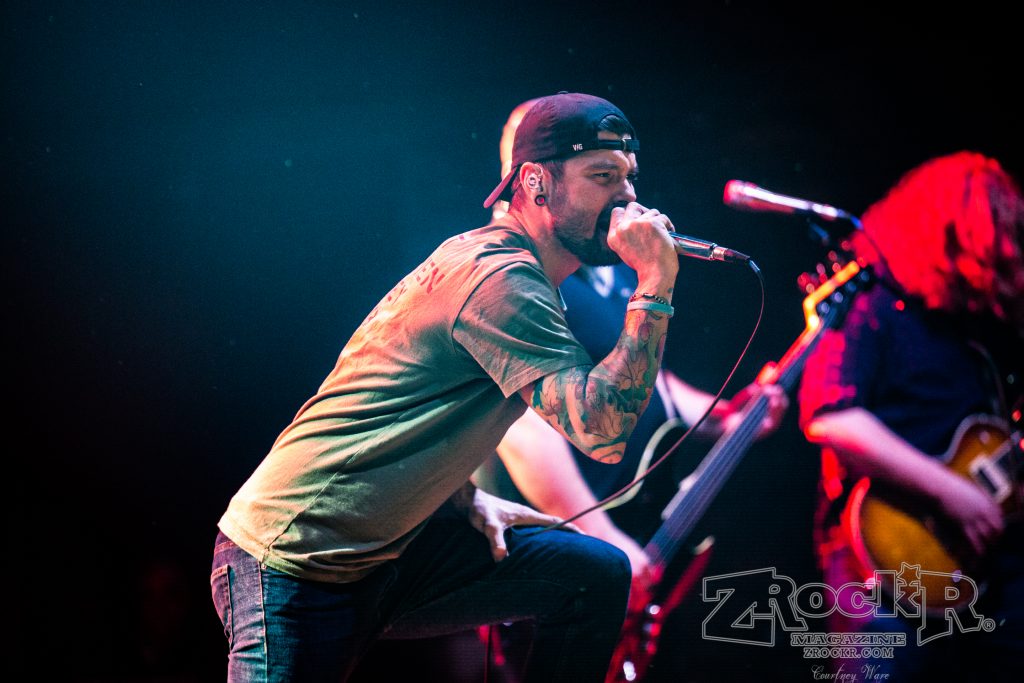 Bassist Andrew Bozymowski made the band as a whole stick out for me when he spoke about how fortunate they've been since the very beginning to have been supported by the people around them. In such a cutthroat industry, I think this gives hope to other artists and musicians that are really trying to push through the barriers. Capstan was formed in 2012, and had their first EP release in 2013. They have been touring in direct support of Silverstein and Hawthorne heights along with As Cities Burn. You can pick up their latest release, 'Stars Before the Sun' (11/2018) on FEARLESS Records. It is also available on all media streaming outlets.
As Cities Burn
I'm going to try to not go overboard with As Cities Burn, because I really had been waiting to see them since around 2006 or so. I actually had no idea they broke their hiatus until I saw the flier for this tour. 'Son, I Loved You at Your Darkest' was on regular rotation back when I had my little pink 4GB iPod when I was younger. I will be honest in saying that I didn't really keep up with the updates or the back and forth that went on after that first album was released.
Their last full length album titled "Hell or High Water" was released 10 years ago last month, and there is currently a single floating around on the YouTube, as well as spotify and directly from the band's website. This is exciting to see, especially since they put on an incredibly high energy performance. I am excited to see the future of this TN/LA based post hardcore pioneer unfold.
http://www.ascitiesburn.net/
https://www.youtube.com/watch?v=OHy5Xo8ftRc – As Cities Burn – 2020 AD
Hawthorne Heights
After Capstan had left the stage, the backdrop for this next performer was completely revealed. (which means As Cities Burn performed with Hawthorne Heights' backdrop in the background.) The banner read, "I used to listen to Hawthorne Heights in high school." HA! Well played, Hawthorne Heights. Well played. This band's first two albums were on HEAVY rotation when I was 15 or 16 years old and I'm definitely not ashamed to say that they helped me cope with some of my then problems. But this banner rang true among the crowd, and you could see it in everyone's faces as they smiled and took their cell phone photos of the words they saw on that banner.
Rest in peace, Casey Calvert…
I never got to see Hawthorne Heights prior to this. Not that I can recall, anyway. I had heard some back and forth opinions regarding their performances through the years. The only people who I've heard talk badly about their performances did not actually care for their music. And that's fair. We are all free to enjoy whatever music we want. Personally, I enjoyed the performance and the nostalgia it provoked as I sang all the songs that I knew. Vocalist JT Woodruff made it clear right away that they would play as many old songs as they were able in their 45 minute slot time. And that they did!
The Ohio emo band has been a four piece since original guitarist/screamer Casey Calvert passed away in 2007. (The Silence in Black and White was released in 2004, and If Only You Were Lonely was released in 2006.) Calvert's death was completely accidental, and was caused because of a fatal interaction prescription medication. About halfway through Hawthorne Heights set, JT had the entire crowd pull out their phones and put their flashlights from their phones on…
After speaking briefly about people we've lost in general, they go onto play the song, "Bring You Back." The entire venue was lit up by cell phones and I haven't seen something quite so special like this in a while. It was really easy to feel choked up a little bit, but at the same time feeling a sense of togetherness… I knew everyone in that crowd could relate to that feeling. They closed out their set with their initial big hit, "Ohio is for Lovers," DUH. And the entire crowd is singing. It's shows like this that make me cherish my youth and the music that emerged from that time.
BAD FREQUENCIES, was released in April 2018 on Pure Noise Records, and it is available on all major music outlets, go check it out here: https://hh.lnk.to/badfrequencies
Silverstein
Silverstein's 'When Broken Is Easily Fixed' was released in May of 2003…. Just let that sink in for a second. While I can't remember exactly how or where I first heard this band, I will say that I had a copy of the EP that was released prior to this album, titled 'Summer's Stellar Gaze,' which was released in the year 2000, which is the year this Canadian band formed. With it being 2019, I cannot fucking believe that it's been that long since these guys made their debut.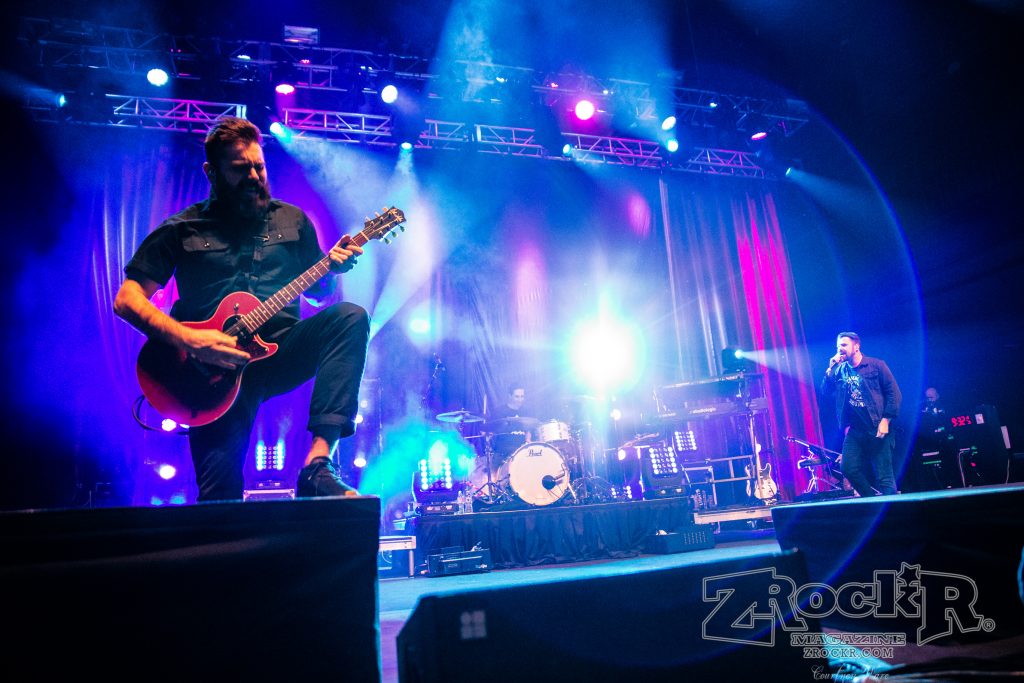 At any rate, this tour in specific was a full on 15 year anniversary of that first full length album. FIFTEEN YEARS. And I'm pretty sure the Vegas date was a popular demand add on, but I can't remember if that's what I heard, to be honest. With it being 15 years, we got a very special performance by Silverstein. I'm not sure how I missed the part where it was said that two sets would be played by Silverstein, but that's exactly how this show played out.
15 years…
Obviously, the first half of their time on stage would be the performance of 'WBIEF' in its entirety. At about halfway through this album performance, vocalist Shane Told tells the crowd that upon re-listening to the album, they had NO IDEA just how much extra instrumental work went into the tracks of this album. So, in order to not take away from the experience, an extra person was on stage to fill in and add into the intensity that is this emo/post hardcore classic album.
I just really have to mention the humble nature that these guys embodied on stage. Told explained to the crowd just how much they love coming to Vegas, and after finding a list of past shows they've done here, I realized that I've been going to see Silverstein for well over a decade. I remember Rock the Block in early 2010, as well as Extreme Thing 2009, along with the show they played with Rise Against at the House of Blues in 2008. Things have blended together through the years so I'm positive that I've seen them more than just these mentions.
Las Vegas Nostalgia… Circa 2004
I never got to go to any shows at The Huntridge, but I hear nothing but amazing stories about that place and I always half smile when I drive passed the Charleston/Maryland intersection… Told mentions that there was a show that local rock act THE HIGHER headlined there for them once, and it was because The Higher had a following out here, and Silverstein knew nobody here really knew who they were yet. No joke, I looked over to the girl who was standing next to me and said, "WOW! The Higher!? I feel so old!!!" She smiled and agreed. Oh the nostalgia. (I still have a poster of The Higher on my wall, guys…)
Appreciation…
Other than these highlights I couldn't really pinpoint all the details of the rest of the show.(OH! They did have the vocalist from Capstan join them for a song! That dude KILLS it on vocals… just saying!)  It was one of those things that you really had to be there to understand or appreciate. If you, like me, still have a love for the proper blending of punk, hardcore and metal elements, a Silverstein show is not ever going to disappoint you. These guys clearly have no desire to actually slow down, and it looks like there is a bright future ahead still for these guys.
I will personally be looking forward to the 'Discovering the Waterfront', 'Arrivals & Departures', and 'A Shipwreck in the Sand' anniversary tours. I'm hoping that I will be given the opportunity to cover those ones as well. Those albums are what REALLY got me into the post hardcore genre…
In closing…
Silverstein hasn't had a release since 2017. Dead Reflection was released in July of that year. By all means, go find it and listen to it! This band is timeless, and again, it's worth the time if you've got it.
For tour dates, merch, and all things Silverstein related please visit their website:
www.silversteinmusic.com
ALL PHOTOS BY COURTNEY WARE FOR ZROCK'R MAGAZINE 2019, All Rights Reserved