Gloria Bell is directed by Sebastian Lelio. The movie stars Julianne Moore, John Turturro, Michael Cera, Caren Pistorius, Brad Garrett, Jeanne Tripplehorn, Rita Wilson, Sean Astin, and Holland Taylor. The film is a remake of Lelio's earlier film Gloria.
Gloria is an aging divorcee who tries to live a day-to-day live, visiting with her children, working a day job, and spending her nights in a disco club. Her life changes when she meets Arnold, a fellow divorcee who she forges a bond with, but who struggles in juggling his relationship with Gloria and his own children and ex-wife, much to Gloria's dismay. Will the two be a lasting match, or will old attachments keep the twosome apart?
Julianne Moore has long starred in many popular and critically-acclaimed films, and it's great to finally see a film in which she gets to take center stage and showcase her talents as an actress. Despite its all-star cast, Gloria Bell is largely a study revolving around the life and the daily interactions of a single character. The episodic approach works here, though a handful of scenes feel unnecessary, and others, including the all-star cast, feel like they could have been better fleshed out.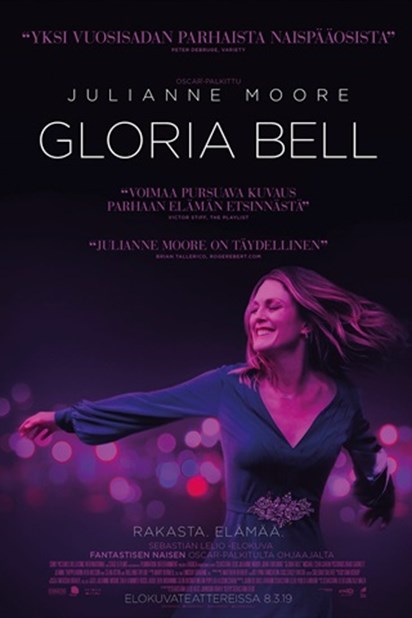 There are not enough good things to be said about Julianne Moore's performance in the movie; it's first and foremost her film (hence the title). As Gloria, she shines in nearly every scene she's in, whether she's dealing with a cat sneaking inside her apartment, interacting with her love interest or children, doing yoga, or helping a co-worker cope with the harsh realities of everyday living. She endures rough times and tragedy, as well as some celebratory and lighthearted moments, and Moore proves she's up for anything the movie throws her way. It's a dramatic film but isn't above comedic elements as well, which prevent the experience from becoming too melodramatic.
The shooting style also supports the character study approach well, with the majority of the movie being comprised of close-ups of Moore, while using the wider aspect ratio to still include other characters in the frame. It's a creative yet uncomplex technique which serves the film well, and never lets us forget who the central focal point of the film is.
Despite this being Julianne Moore's film, the supporting cast is surprisingly strong, including the likes of John Turturro (Barton Fink) as her kind-hearted but insecure love interest, Holland Taylor (Two and a Half Men) as her mother, Brad Garrett (Everybody Loves Raymond) as her ex-husband and father of her children, and Michael Cera (Superbad) as her son.
While I'm in love with Moore's performance here, there are a few shortcomings to the movie at large. While the episodic/vignette-style storytelling revolving around Gloria herself tells the story well, some scenes feel tertiary and unnecessary – one scene of the movie is literally her and a bunch of other random women making what could best be described as "chicken noises" (I'm not making this up!) There is too much emphasis on certain plot elements and not enough on others; I definitely wanted more of the scenes of Moore interacting with her co-worker, for instance. As is, there are too many tertiary characters and underdeveloped elements; the biggest disappointment is seeing talent like Cera, Taylor, and Garrett reduced to what are largely supporting roles despite their comedic talent, and being relegated to "straight man" roles at that.
While Gloria Bell isn't a perfect film, mainly due to its underuse and underdevelopment of certain plot points and characters, Julianne Moore carries the film from start to finish, giving an amazing performance which deserved recognition and award nominations. Despite the shortcomings, there's more than enough to recommend Gloria Bell.
Rating: Three stars out of four.
DISCLAIMER: All images in this review are the property of their respective copyright holders, including A24, FilmNation Entertainment, and Fabula. For promotional purposes only. All rights reserved.