Us is directed by Jordan Peele. The film stars Lupita Nyong'o, Winston Duke, Elisabeth Moss, Madison Curry, Shahadi Wright Joseph, Evan Alex, and Tim Heidecker.
When she was a young girl in 1986, Adelaide Wilson went into a hall of mirrors on the Santa Cruz Boardwalk, and found a doppelganger of herself, an event which traumatized her. Three decades later, with a family of her own, Adelaide travels to her family's summer home, still haunted by the visions of that night so long ago. Their lives take a mysterious turn when a family of strangers arrives in their driveway, who look exactly like them. Who are these strangers, and why have they paid the family a visit?
Us is the second film directed by Jordan Peele, following the critically-acclaimed Get Out, which had its theatrical release in 2017. While I found that film to be a bit inconsistent due to its tonal fluctuations and lacking direction, it definitely did show Peele's potential talent as a director. While Us isn't quite a genre-defining masterpiece, it's in all ways a step forward for Peele, who created a haunting, chilling atmosphere without falling back on jump scares, and top-notch casting and chemistry with the actors. It's a little too long, and at times, too funny given the overall theme of the film, but this moviegoer was impressed with the final product.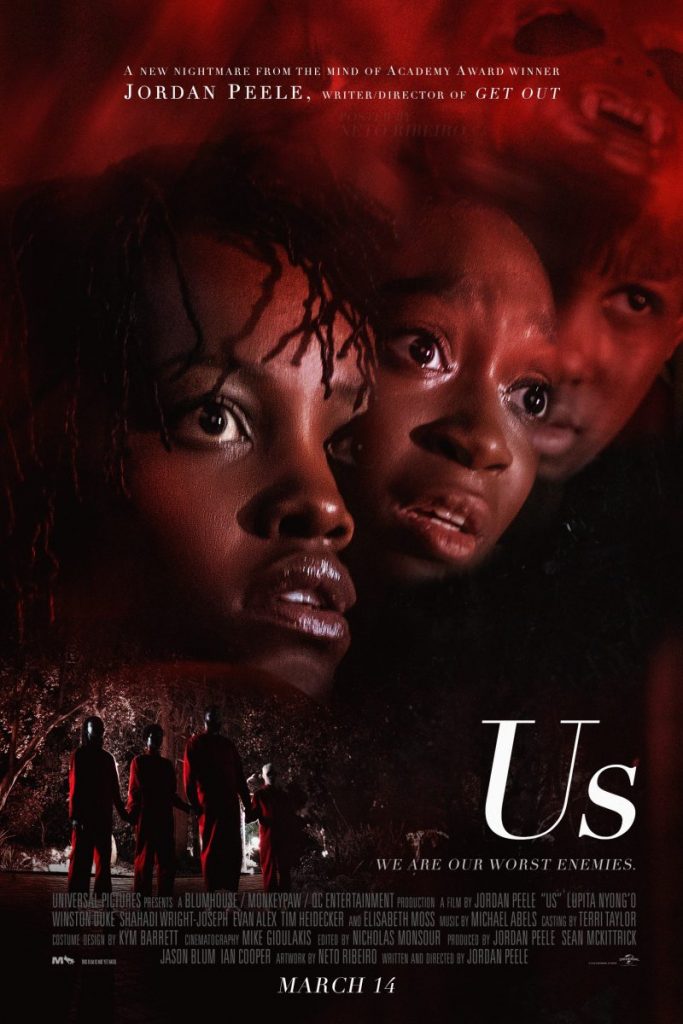 In any film, casting is everything. Fortunately, Us employs a diverse and talented array of actors and actresses. Lupita Nyong'o, who seems to be showing up in every movie these days, is brilliant as an every-woman scarred by a traumatic childhood episode who finds herself facing her demons down, quite literally. Those portraying her family members feel genuinely authentic in their roles, as do the family friends. What's truly impressive here is each member of the main cast also plays a doppelganger of their "normal" character, requiring them to essentially give two performances. That they're satisfying in both roles speaks for itself.
Horror is one of the most difficult genres to do justice to, particularly in a world of unoriginal movies dominated by cheap jump scares and diversionary tactics to distract from said movies' lack of originality. Say what you will about Get Out; no one can deny it was an original film. Us ups the stakes even more, creating a chilling and haunting atmosphere which doesn't have to fall back on cheap tricks. The actions of the doppelganger characters are completely and totally unpredictable, and for the most part, I was kept guessing and thrilled throughout.
The only real weaknesses are that some of the tonal inconsistencies from Get Out rear their heads again; at times this horror film is a little too funny for its own good, mostly due to Winston Duke's antics (not bashing the casting by any means, though). The other issue is the overlong run time; as much as I liked the movie, it's about 20 minutes too long. Viewers may not fully "get" the explanations behind the film's events/premise at the end, and the big "reveal" at the end wasn't exactly unexpected for this long-time moviegoer. Still, the strengths outweigh the weaknesses.
Us is another original and satisfying horror film from Jordan Peele, who I know will go on to direct even more satisfying movies as the years pass. The casting, the atmosphere, the unflinching violence; Us scared the hell out me, and it's well worth checking out. But it's not for the squeamish for the very young!
Rating: Three stars out of four.
DISCLAIMER: All images in this review are the property of their respective copyright holders, including Universal, QC, Monkeypaw, and Perfect World. For promotional use only. All rights reserved.