All Those Wasted Years is a Hanoi Rocks biography written by Ari Vantanen, which has been translated into English. The book features interview content with band members/associates/etc. as well as many rare photos.
All These Wasted Years is the long-awaited biography of Finnish rockers Hanoi Rocks, who rose up from poverty to become revered in multiple countries with their unique music style and look, but who never quite reached mainstream stardom due to many tragedies and challenges, not the least of which being the death of their drummer in a car crash in December of 1984. The book also looks at the attempts to revive the band over the years.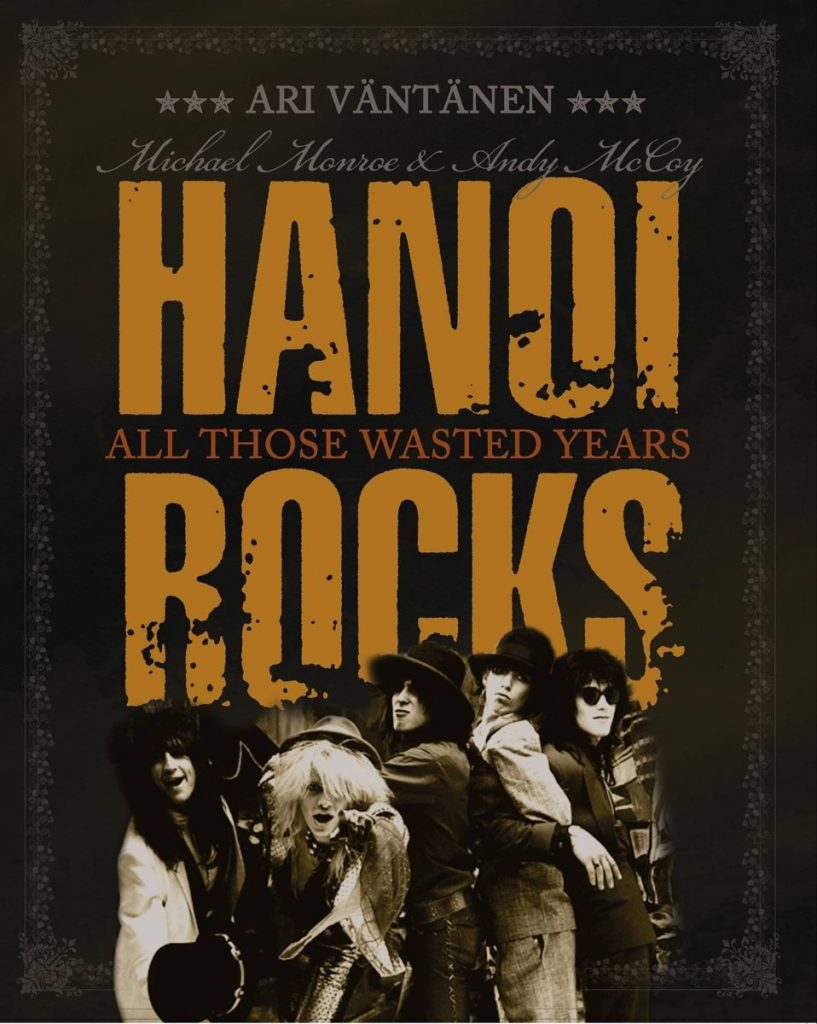 Hanoi Rocks is one of my favorite bands ever, and if you're reading this review, odds are they're one of your favorites too. The group was a massive influence on many bands in the 80s, many of whom eventually and ironically eclipsed them in popularity. While not the first book covering the band (I unfortunately haven't read any of the others), it's one which attempts to be truly comprehensive. The book is a wealth of information anyone who's a fan of the group, though it does suffer from a poor English transaction and editing, and an uneven approach between an autobiography and a coffee table book. That said, I'm sure fans will love it.
As far as the positives go, there's a ton of info to be had here. You'll see rare photographs of the band, including many of the lesser-known members and lineups. The stories in here must be heard to be believed; the band certainly had their share of debauchery! It's impressive how many interviews with former band members and other associates and fellow musicians were compiled for the book. You'll see the band's story not only from the point of view of an omnipotent author/narrator, but also the individuals involved themselves, which helps to paint a picture from various perspectives, which is something this story requires. There are also lengthy discography sections at the back, chronicling pretty much every album/reissue/etc. you can imagine!
The photos deserve plenty of praise as well, as the author has compiled an impressive collection from various sources, including the former band members' own vaults. From band photo shoots and concerts to more casual shots of the group members, it's an impressive array which shows the band from angles not often captured in musician biographies. In addition to photos being featured on several of the pages of text, there are a handful of sections devoted exclusively to photos.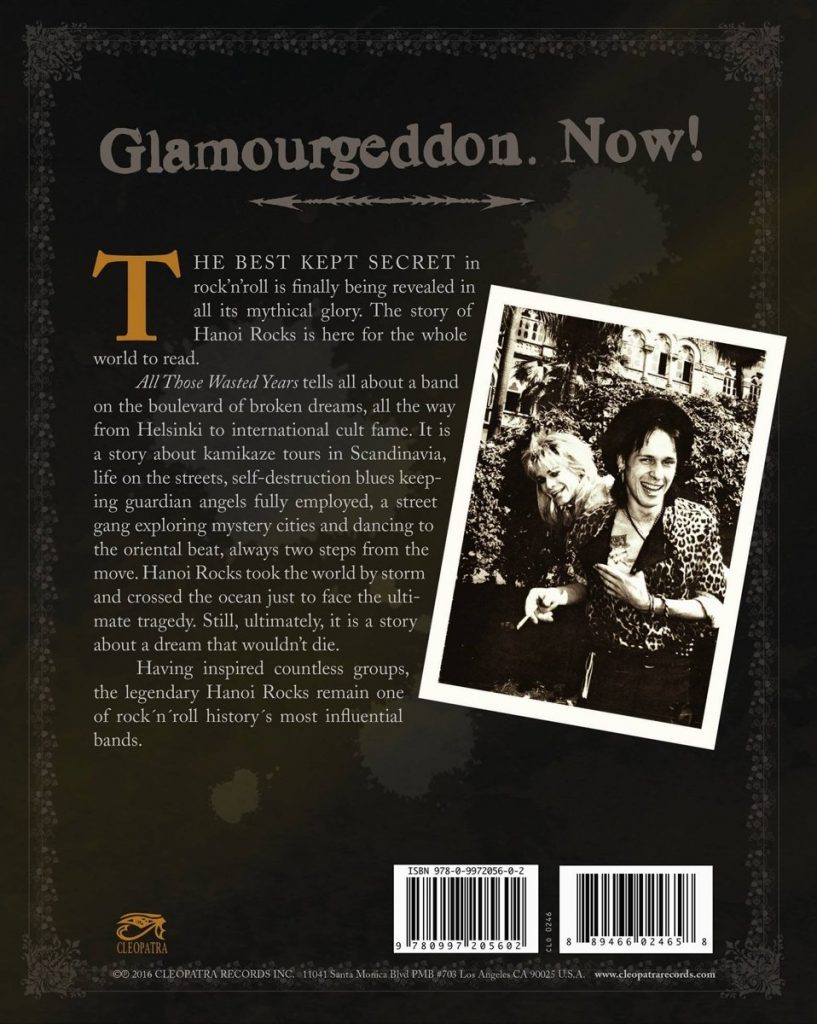 It's also worth noting that the book includes a 7" single of previously unreleased sessions, giving fans another incentives to get it.
However, as much as I like the book, it's not perfect. Clearly, the author wasn't sure if he wanted to make a Hanoi Rocks autobiography or a coffee table book. There's a wealth of information and some great photographs to be experienced here, but one can't help but wonder if it would be better as two separate volumes, one covering the photos and the visual aspect, and one which is exclusively the band's biography. The large size of the book means it's not really practical to read if you're traveling or on the go, as many other band's biographies are.
Another issue is that the book doesn't cover the band members' non-Hanoi material, aside from some brief worded epilogues. So the narrative of the book skips from the mid 80s to the early 2000s without warning. The info in said epilogues is nice, but it would have been nice if we could get more info on it, especially considering someone like Michael Monroe has a pretty substantial non-Hanoi career, not to mention he still tours and does solo shows with ex-Hanoi bandmate Sam Yaffa.
The other issue with the book is the weak English translation, which is laden with typos, misspellings, incorrect grammar and punctuation, and the like. These instances come up far more often than should in a professionally-released book, and will stick out like a sore thumb on more than one occasion.
Despite the flaws, All Those Wasted Years is a worthy and long overdue look at Hanoi Rocks for fans. If you like the band, you owe it to yourself to order this one.